The greatest desks combine the professional features you want in a work surface with the elegance and friendliness you want in your home's interior design. All you need to do to create the ideal work-from-home setup is choose a superb home office desk, match it with the appropriate office chair, add an ergonomic keyboard, and slip over your reliable computer mouse. Of course, it might be challenging to select just a few of the top home office desks available; this is where our suggestions come in.
Height-adjustable desks are popular nowadays because they allow people to work without bending, reaching, or twisting their bodies into unnatural postures, but they aren't for everyone—or every budget. You can also shop for computer desks, corner desks, wall-mounted desks, and more kinds. With these considerations in mind, here are the best desks to make your workspace more productive.
1. Babin Height Adjustable Standing Desk (54% Off)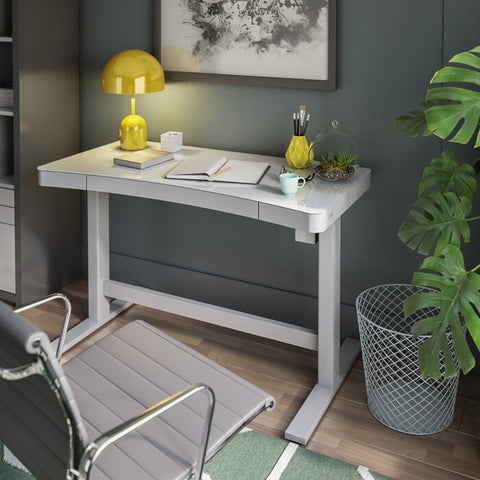 Standing desks are becoming more and more common since they let you switch up your posture during the day. This Babin adjustable standing desk has a glass surface that doubles as a dry-erase board, a robust steel base, and the ability to adjust to three different heights with the touch of a button.
Most standing home office desks lack storage, but this one has a metal drawer with dividers to keep materials in order. In order to help with cord management, a built-in USB connector is located underneath the digital control panel, which is located in the bottom-right corner of the work surface.

2. Walker Edison Modern L-Shaped Tempered Glass Computer Desk (68% Off)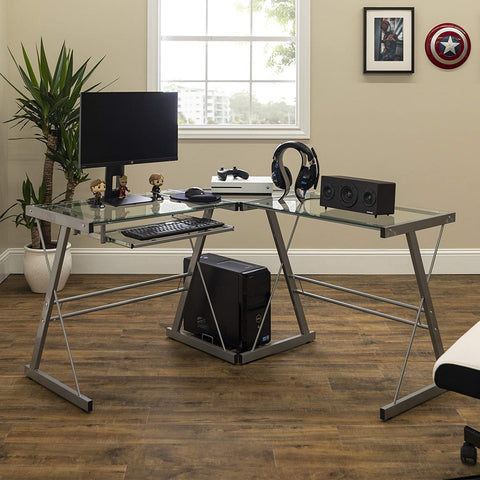 With plenty of room for numerous screens and electronics, the Walker Edison L-shaped computer desk is ideal for gamers. The desk is supported firmly by steel legs and features tempered safety glass, which also gives it a clean, contemporary appearance. But don't worry, reviewers claim that it is fingerprint-proof. You can arrange your work supplies on one side of the L and your computer on the other. The desk incorporates a removable CPU stand and a sliding keyboard tray.
Most had positive things to say about the desk. "Very stylish, sturdy desk with a lot of desktop real estate. Best in class for the price." one raved. Another wrote: "Gorgeous and functional desk for the price, the only issue is that it isn't very deep, so if you want to put a computer monitor and keyboard on it, expect your elbows to hang off."

3. Nathan James Telos Home Office Computer Desk with Drawer 

(24% Off)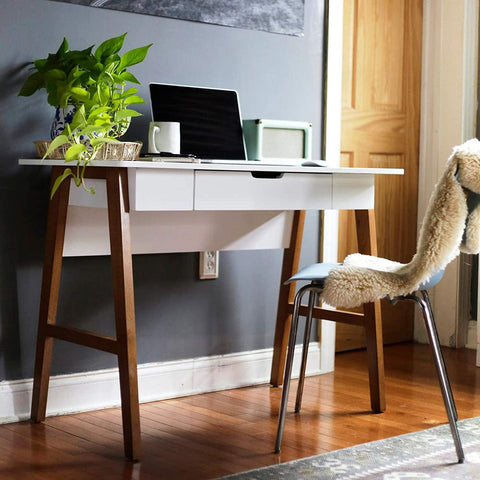 Want to add something to the budget for your home office? Your greatest option might be Nathan James' Telos Desk. This wooden item with a white top and an integrated drawer is designed in the Scandinavian style. It is spacious enough for a keyboard and monitor at 42 x 29 x 20 inches while still being small enough to fit in a small place. The Telos Desk must be assembled at home, but if you acquire it from Amazon, you could add the professional assembly to your order. In addition to the affordable price, the desk is complemented with a lifetime warranty.

4. Homary Mular 3-Drawer White Writing Desk with Storage Cabinet 

(57% Off)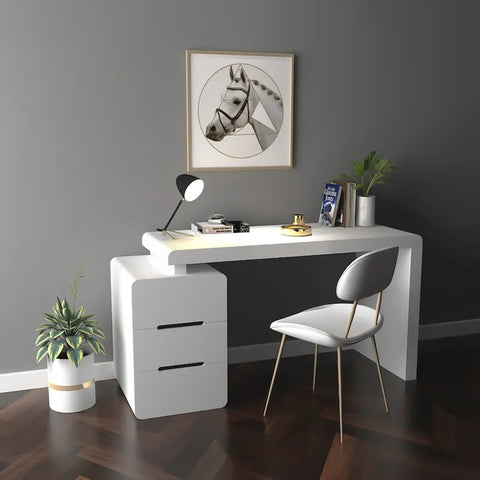 Homan's Mular Desk features a clean and basic design that will go with almost any decor. Storage with multiple drawers provides greater space for paper, documents, or accessories such as batteries, pencils, and wires, and is sturdy enough for daily use. The movable storage makes it easy to manage room space, and the versatile design makes it perfect for small or large offices. It would produce your unique design with long-lasting premium usage because it is made of MDF. It will be an excellent addition to your home office.

5. East Urban Home Cuuba Libre L-Shape Desk 

(24% Off)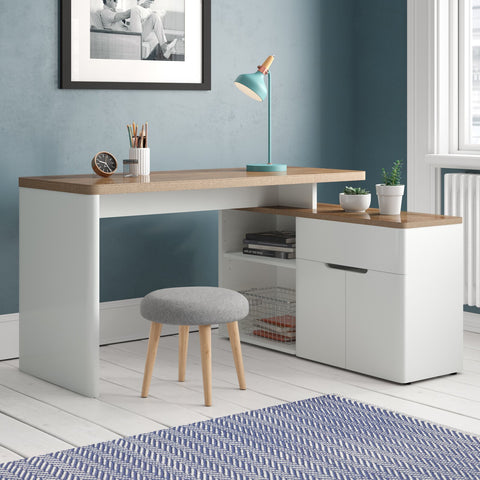 Do you need more storage or a larger work surface? The Cuuba Libre L-Shaped Desk is the ideal remedy. This L-shaped workstation was constructed using mortise-and-tenon joinery despite not being composed of solid wood for increased longevity. Due to the finished back, you are not limited to placing it in a corner and you can even change the direction.
With an additional 23-inch extension, the main desk measures 55 inches wide by 30 inches tall by 23 inches deep. There is a lot of storage available on the Cuuba Libre, including a cabinet, a sizable drawer, and two shelves. Additionally, a hole in the back allows you to hide your connections.

6. Trent Austin Design Fallon Desk (39% Off)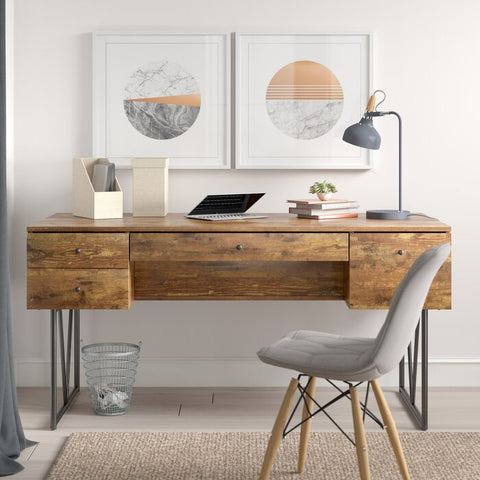 This elegant home office desk is from Trent Austin Design, which is made of engineered wood and has a distressed finish for a rustic vibe. It comes with four drawers for your vital paperwork and office supplies, providing enough storage space, and is suitable for larger spaces.
We adore how the V-shaped patterns provide an additional layer of accent with each leg. The final rear has a shallow recess to store wires and power strips despite the lack of cord management. There is plenty of space for a laptop, table lamp, and accent pieces on the 63" broad rectangular surface of this desk. Given its 300-pound weight when fully completed, it is best to assemble it in the room of your house where it will be kept permanently.

7. Zipcode Design Kendal Desk (6% Off)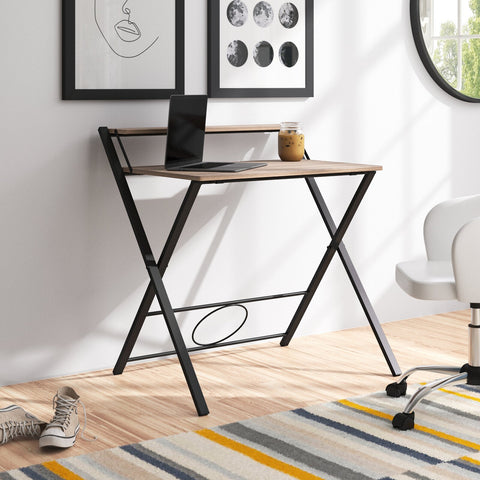 If it was not feasible to get a regular desk, this one will hit the mark perfectly. When not in use, the Kendal Desk can be folded flat and hidden for small storage. It is only 32 inches wide and approximately 32.5 inches deep. Despite its diminutive size, the X-shaped metal legs and manufactured wood top of this desk are strong enough to support up to 90 pounds. The top level has enough space for a flat-screen monitor. It also has a small ledge shelf where you can display decorations or office supplies, and since everything is already assembled, assembly is a breeze.

---
---
0 comments