Interior designers frequently combine the TV and fireplace in some ways, most frequently in the form of a rustic or classic fireplace and a TV hung on the wall above the mantle. Despite the fact that we admire the design and concept, relatively few homes really feature fireplaces.
But that doesn't make it hard to pull off this combination. Recently, we discovered some very unique TV consoles with built-in fireplaces. Electric fireplaces have several significant benefits over gas or wood-burning ones. For instance, you don't have to purchase or prepare wood or connect them to a gas connection. An electrical outlet is all that is required. A vent or chimney are not required, nor is a permit required to build an electric fireplace. Electric fireplaces are safe to use around children and pets since they don't emit pollutants or grow too hot to the touch. They also require relatively little upkeep.Below, we're going to list some of our favorite models.
Walker Edison Farmhouse Fireplace TV Stand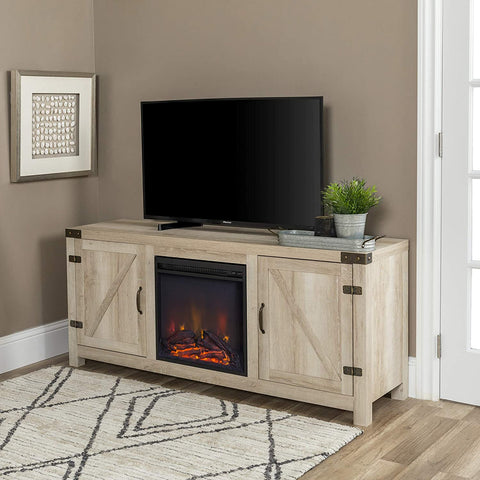 Given that Walker Edison is a highly reputable brand for furniture and provides a high-quality product, its manufactured furniture is pretty well-known in the market. As a result, we're opening our list with Walker Edison's most well-liked product.
The Walker Edison Fireplace TV Stand is the first choice on our list today, and it has earned this ranking justly by currently holding the top spot in the market. This is a really sizable electric fireplace that can accommodate TVs up to 65 inches in size and has two sizable barn doors for further storage. In comparison to other options of a comparable size, it is also a very affordable alternative.
Regarding the fireplace, it is possible to use the Walker Edison Fireplace TV Stand without the electric fireplace inside during the summer. The fireplace's own 4600 BTU heating capability is sufficient to cover an area of around 400 square feet. The Walker Edison Fireplace TV Stand can hold a load of up to 150 lbs without experiencing any issues.

Twin Star Cottonwood Fireplace TV Stand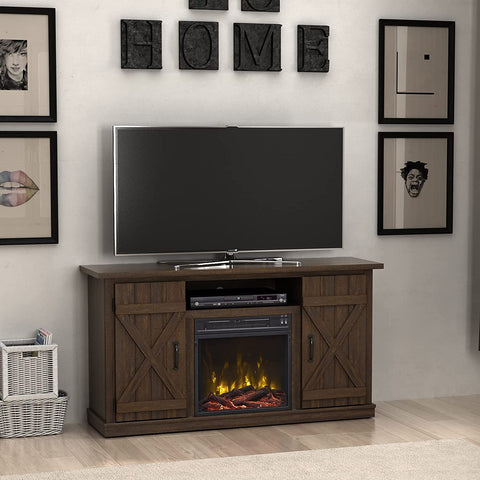 This alternative is available in a variety of light and dark neutral tones, can lend comfortable sensations to a contemporary family room for a genuinely rustic fireplace TV stand. It accommodates TVs up to 55 inches in size and has two barn-door-inspired cupboards with vintage pewter hardware that complement the stand's creamy faded appearance. Each cabinet has a single adjustable shelf and plenty of storage space.
The 18-inch-wide electric fireplace in the middle has only one setting, but some customers say it generates a lot of heat. The sole drawback, which is unlikely to be a deal breaker, is the lack of a remote control.

Corner Fireplace Media TV Stand Console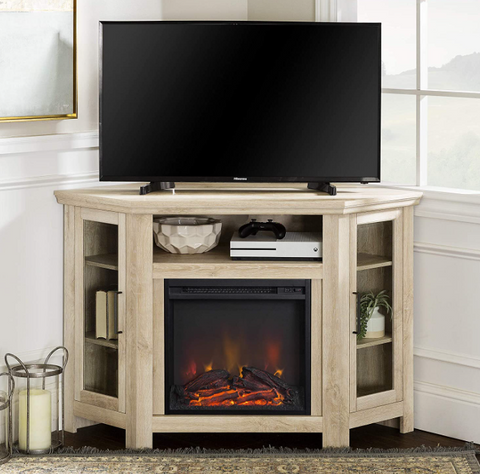 A corner console is an excellent solution for people who are limited on space or do not want the TV to be the focal point of the family room. This lovely fireplace TV stand accommodates screens up to 55 inches in size and has two adjustable shelves on each side hidden behind tempered-glass doors, ideal for displaying photographs, books, or ceramics. There's also a large open shelf for storing gaming gear or a speaker.
The fireplace produces 4,600 BTUs of heat, which is enough to warm a 400-square-foot room, and the console is available in a variety of various neutral finishes, including espresso, gray, and a conventional brown, but there is no remote control.

Walker Edison Fireplace Modern TV Stand Console for Flat Screen TV's Up to 65″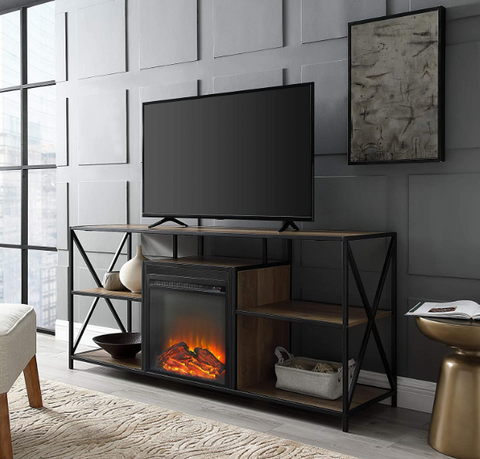 The design of this 60" console is pretty stunning. It has a metal frame with hardwood surfaces and is robust and durable while also being lightweight and graphical in appearance. The design is fairly varied, with elements of rusticity as well as modernity and an industrial touch. An 18" electric fireplace with LEDs and simulated logs is integrated into the middle of the unit.
"This shelf unit is very sturdy. Easy to put together with good instructions. Wood is covered with laminate, but looks real, will be easy to clean. Fireplace flame look really fake, but it adds ambiance!" , said one buyer with a five-star review.

Orren Ellis Delaine TV Stand for TVs up to 88" with Fireplace Included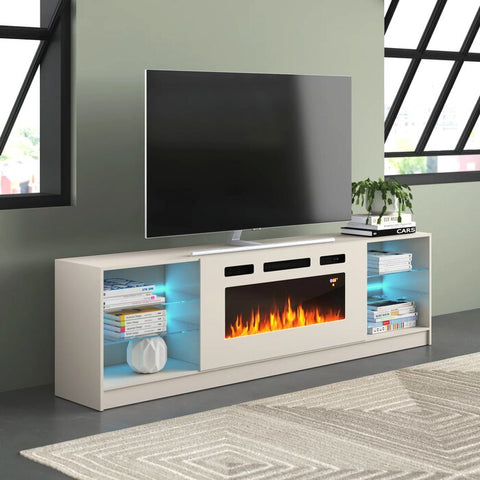 With open storage and clean lines, this fireplace TV stand also functions as a stylish entertainment zone. This simplified choice for TVs up to 88 inches is quite slick if you're like décor with tricked-out neon lights if you have a huge screen and are looking for something stylish to place it on. The fireplace's flames may be customized in a variety of colors, and the shelves is adjustable.
The fireplace is large and broad, and it produces an astonishing 5,100 BTUs of heat, which can warm places up to 400 square feet. You may also operate anything from your sofa, as the stand includes a remote.

Walker EdisonMid-century Fireplace TV Stand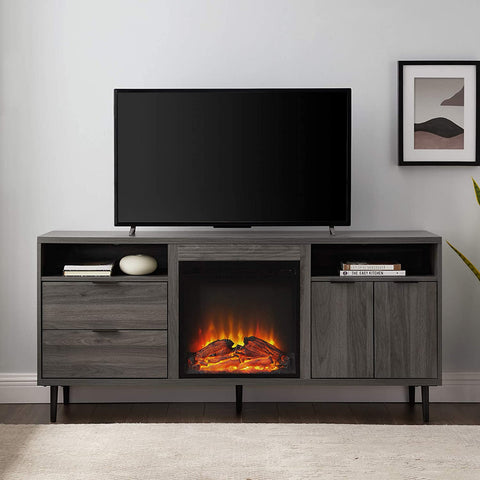 Most fireplace TV stands are conventional or rustic, making it difficult to find ones with mid-century modern vibes. With a sleek appearance, tall, angled, and tapered legs, and smooth grain with a matte finish, this item is in target for historical elements. It has a double-door cabinet with movable shelves on one side and two drawers with metal tracks on the other, both topped with open shelves.
The console is built of high-quality MDF and has a 250-pound capacity, making it suitable for TVs up to 65 inches in size. Additionally, the fireplace's LED flames and heat are regulated individually, albeit there is no remote.

Floating Electric Fireplace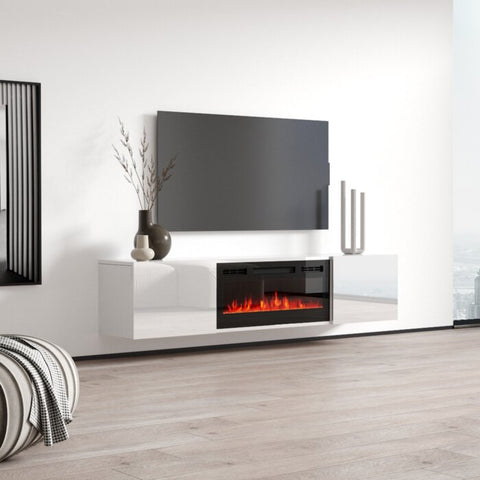 I debated whether to emphasize the white or black variant of this floating fireplace. Both are ideal for modern contemporary living rooms. This fireplace TV console will provide atmosphere and establish the tone in any room it is placed in. The remote control may be used to switch the device on and off, select one of three flame colors, and configure the temperature, timer, and dimmer.
It has a 5100 BTU rating and requires 110 volts to get the party started. Because the heating capacity is about 150 square feet, it is ideal for smaller settings.

BELLEZE Modern 70 Inch Electric Fireplace Mantel TV Stand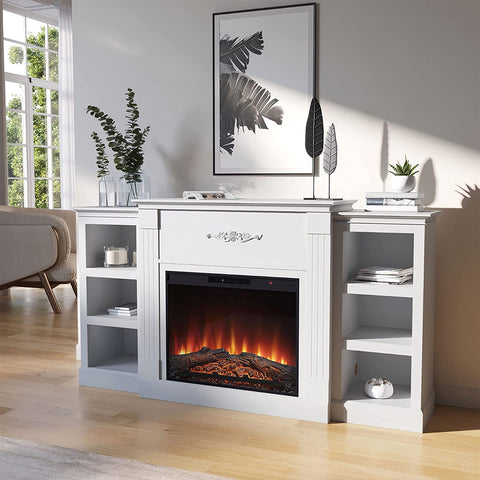 Finally, we have one more premium option for our list of the best electric fireplaces. Because it accommodates up to 68-inch TVs, the BELLEZE Modern Electric Fireplace is the greatest solution in terms of returns and future-proof installation. This electric fireplace also has a mantle to give it the appearance of a real fireplace. It also has the most storage space, with 6 open compartments and 2 extra platforms on both sides of the TV stand.
On the other side, the heater is also rather attractive. First of all, with a 5100 BTU thermal capacity, it is the most potent choice. This makes it an effective room heater for medium to large living rooms, together with the 400 sq. ft. coverage area. The BELLEZE Modern Electric Fireplace is a very dependable alternative, and the company is willing to let you test it out for 100 days before you decide whether it's the correct purchase for you.

---
---
0 comments