Among furniture lovers, vintage coffee tables are a very common form of furniture. These coffee tables are a wonderful addition that can enhance your spaces in a very sophisticated and aesthetically pleasing way. When it comes to "vintage style", a wide range of meanings and historical periods will be mentioned. However, we will concentrating on settings that make us think of the 1950s-70s, including mid-century modern furnishings, brilliant colors, and eccentric designs. In addition to their attractive appearance, vintage coffee tables are also well-known for their functionality. They may appear to take up a lot of space in your home, but actually they almost always contain concealed storage and can even make the most of your floor space. As a result, we're here to throw some light on vintage coffee table options in 2022.
1. Ikea Stockholm coffee table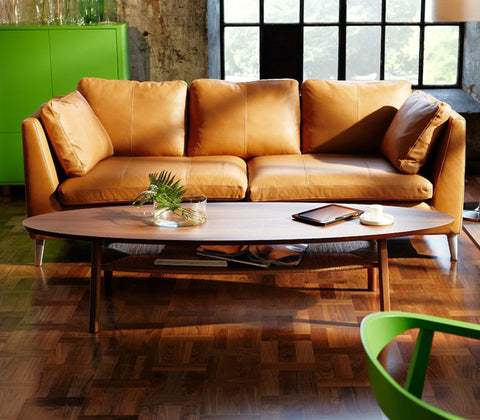 The $300 Stockholm Coffee Table from Ikea has a lot to recommend it. For starters, the shape is perfect for cramped places, and the thin, textured shelf that sits beneath the tabletop guarantees that you won't have to sacrifice storage. The narrow oval shape, along with the traditional wood stain, maintains this coffee table feeling contemporary and adaptable, going especially well with Scandinavian or midcentury modern interior design aesthetics.

2. EdMaxwell Rustic Vintage Round Coffee Table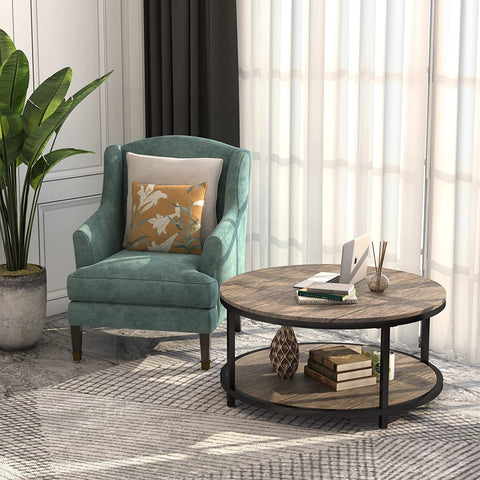 The rustic and industrial coffee table from EdMaxwell is built of high-quality materials and has a  fashionable color texture. It serves as a coffee table as well as a sofa table and a cocktail table. See how incredible and useful this piece of furniture is? This coffee table has a 2-tiered huge space, so you can store or set anything you like there, including magazines, vases, remote controls, and other home furnishings. Additionally, a premium 16mm thick MDF board was used in the construction of this mid-century coffee table. Its construction includes powder-coated iron tubing and 25mm metal legs.
This vintage rustic coffee table includes several of compartments, as well as a low shelf where you may keep things like books, snacks, and toys. Simply put, this coffee table is the ideal table for small flats or even large mansions because it makes your space look beautiful and well-kept. This traditional coffee table will always make your space look and feel more attractive with its warm tone, regardless of how your home or room is decorated.

3. Westelm Mid-Century Pop-Up Coffee Table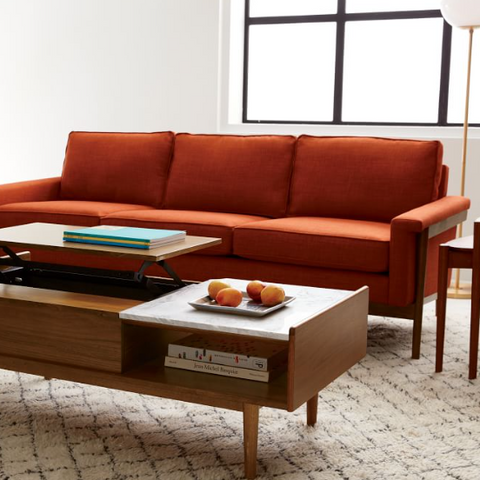 When folded shut, the "pop-up storage coffee table," as it is officially known, has a distinctive 1960s aesthetic, which is a major selling point. In fact, the table has a side that lifts up to show some hidden storage space, which is great for concealing books, magazines, or anything else you want out of the way when unexpected visitors drop by. The other side has marble leaf, and below that is some further storage, albeit more exposed.
Not just a good-looking design combining minimalism and sharpness that mid-century is known, this lift-top coffee table also takes usability and functionality into account. In addition, you can choose single or double pop-up depending on your requirement.

4. FurniChoi Wood Rustic Vintage Cocktail Table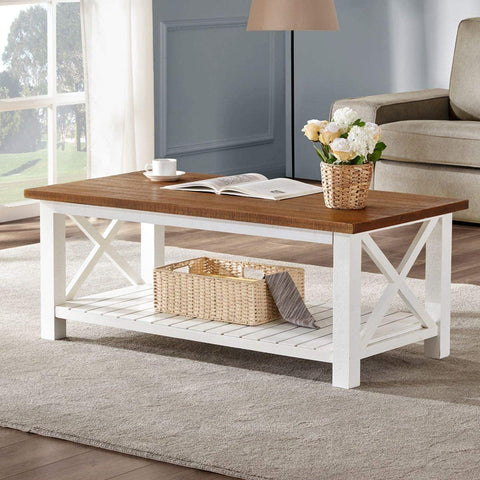 FurniChoi is ideal for owners of modern farmhouses. This vintage coffee table is one of the most understated yet exquisite pieces of furniture that would complete the aesthetic aspect of your living space. This coffee table's size is great for placing in front of a couch or sofa. It's convenient to grab some snacks when you're relaxing. Your home or living room will look more well-organized and tidy thanks to the generous storage space this awesome vintage table offers for your frequently used items. Additionally, the generous tabletop will provide space for additional uses and decorations.
Let's have a brief discussion about the construction and styling of this rustic-looking coffee table. First of all, the coffee table's industrial and chic design is highlighted by the eye-catching paint's uneven color. More importantly, this lovely coffee table features classic X-construction, which further enhances its suitability for living rooms with a vintage or rustic design.

5. Potterybarn Kaplan Reclaimed Wood Lift-Top Coffee Table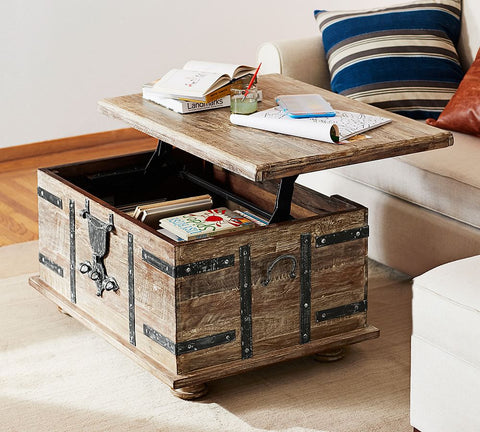 A large suitcase or even a trunk can serve as a unique coffee table, adding a vintage touch to your living room. A vintage trunk has personality that a new or modern piece of furniture does not. The Kaplan Reclaimed Wood Lift-Top Coffee Table will become the hub of activity in your living room because it has hidden storage and a hinged top that lifts so you can use a laptop or set up a board game. An old trunk discovered in India served as the inspiration for the striking custom hasp and metal braces. It has a distinctive appearance that is also environmentally friendly because it is made entirely of reclaimed wood and washed with water.

6. WLIVE Wood Coffee Table with One Drawer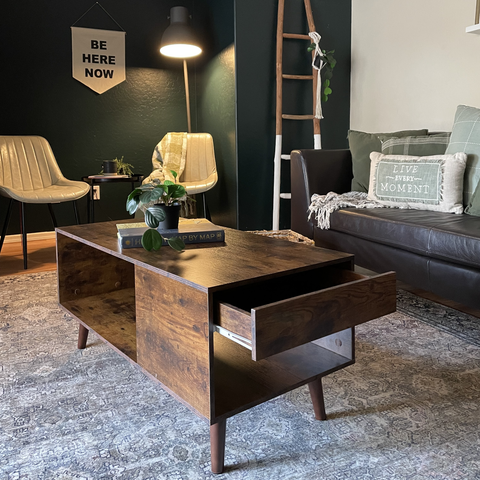 The open design of this mid-century coffee table makes it unique. It also has a mid-century modern appearance and a natural wood-grain finish with a softly textured feel. As a result, it will give any living room a straightforward yet stylish charm. It has a lot of room for storage. The open compartment make it simple to grab anything placed on the table. You can simply store your board games, cups, books, and other items in it. You can also use it to decorate the tabletop with a flower vase or decorative tray.
Additionally, this mid-century coffee table is a piece of adaptable furniture. This wooden table can be used for a TV or moved to the middle of the living room for board games at night or a cup of tea or coffee in the morning. Aside from that, the engineered wood construction and angled pinewood legs give this vintage coffee table a sturdy construction. This indicates that it has a maximum weight capacity of 110 pounds for holding items like food, newspapers, coffee, other drinks, games, etc.

7. Care Royal Vintage Industrial Farmhouse 43.3 inches Coffee Table with Storage Shelf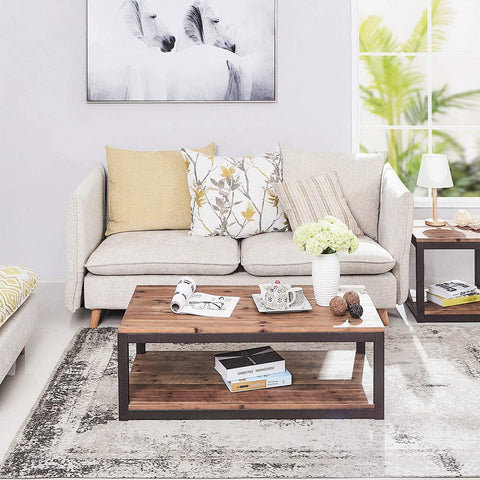 We'd like to show you another superbly crafted and tasteful vintage coffee table from the Care Royal company. This coffee table gives your home or living room a fresh new look by fusing the traditional vintage style with a straightforward modern design. The tabletop and bottom shelf are constructed from 100 percent durable recycled wood that is taken from old structures and is left in its natural state. As a result, you not only get a beautiful coffee table made of high-quality materials, but you also help preserve the environment and cultural heritage.
Every table is different and special due to its knots, grain, uneven surfaces, cracks, old scratches, nail gaps, and color patterns. The robust, rust-resistant, rustic brown metal frame that supports this sturdy vintage coffee table well and has a bumpy finish is also included with the piece. A coffee table with many uses is this kind. It can serve as a cocktail table, a table for displaying decorations in the living room, den, playroom, office, and other spaces. The open shelf on the bottom of the coffee table gives you extra storage space, incidentally.

---
---
0 comments