Charming, comfortable, and stylish, farmhouse design is a wonderful way to decorate your home. This design can work in practically any home, whether you've embraced it for your whole home or just a few pieces here and there. To draw together an eclectic collection or to give unexpected warmth to minimalist or contemporary designs, farmhouse style is a terrific option.

Try looking at your light fixtures if you're looking for rustic décor inspiration. Antique-inspired, warm industrial, and shabby-chic are all options for farmhouse lighting. Start with your materials, such as wood, metal, and glass, if you want to nail your farmhouse lighting ideas. In addition, don't forget to replace the lights. Your farmhouse lighting ideas might truly stand out if they have an intriguing form or an antique bulb.


An elegant and worn-in sense is achieved by combining wood, metal, and glass uniquely. For your inspiration, we've put together a collection of 10+ farmhouse lighting designs.
1. Industrial Farmhouse Wavy Glass Island Chandelier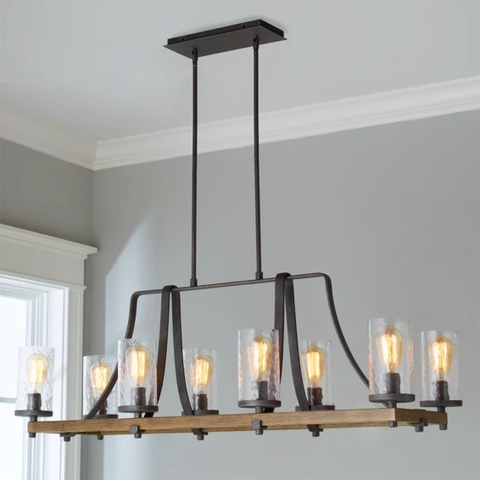 Make a statement with this industrial farmhouse island light. The Distressed Weathered Oak metal base is given heft by the thick, rustic metal bars of the rectangular frame, which are coated in a deep, textured Slate Gray. Glamorous big wavy glass shades bind the ensemble together in style. Kitchen islands, foyers, and over dining tables all benefit from this chandelier.
2. Coastal Cottage Ceiling Light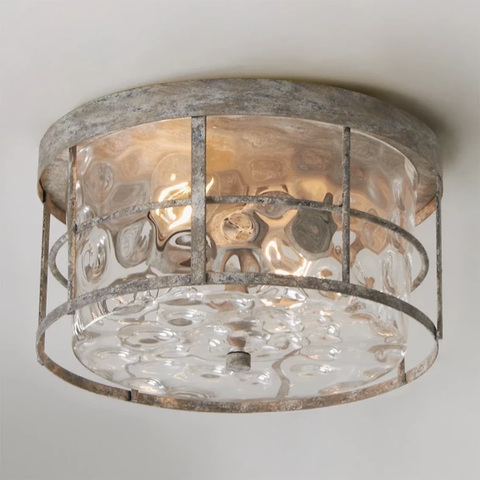 This flush mount, with its clear water glass and rustic appeal, goes well with a wide range of design aesthetics, from the contemporary farmhouse and country lodge to the traditional colonial and seaside cottage. Whether you're looking for amusing ceiling light ideas for the dining room, the bedroom, or a children's room, this light is an excellent option. These lighting fixtures, which are based on lighthouses and other nautical characteristics, can connect to themes that are more than just coastal. Each fixture is unique because of the small variations in the hand-applied finishes.
3. Open Weave Rattan Chandelier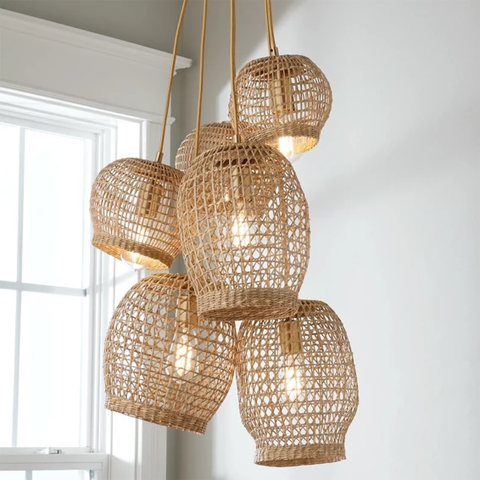 This six-light chandelier is adjustable, and it is made out of loosely woven seagrass baskets clustered together with rich solid brass hardware that has been rubbed by hand. Ideal for hanging from the vaulted ceiling of a beach house entrance or over the table in a country kitchen. The hardware of this pendant is made of pure brass, and it is put together by hand at our manufacturing plant in Richmond, Virginia. When dealing with a natural, woven material, it is impossible to create two items that are completely identical in terms of color, pattern, or form. (Small Shade 7.75 inches wide x 6.25 inches tall; Large Shade 9.75 inches wide x 11.5 inches tall)
4. Young House Love Wicker Bell Pendant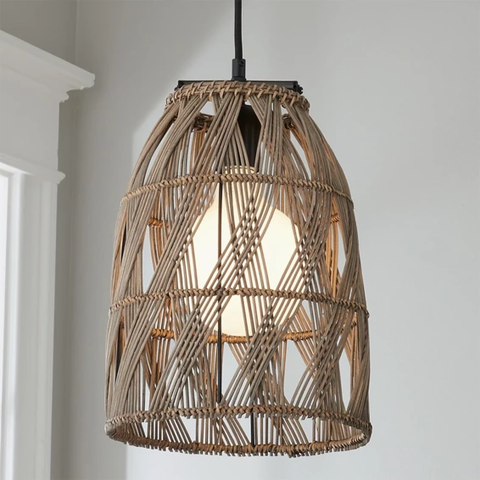 This Young House Love dimmable pendant light fixture is the ideal way to provide a bohemian or beachy ambiance to any room with its airy, open weave and all-black hardware, which manages to keep a contemporary feel at the same time. For addition that is not just ornamental but also useful, try suspending this braided hanging light above a kitchen island, in a foyer, or in a stairway. The pictured bulb is not included in the purchase. Because wicker is a natural material, no two wicker bell pendants will ever look precisely the same in terms of color, tone, or weave pattern. This is because no two wicker bells are ever the same.
5. Rustic Wooden Cage Chandelier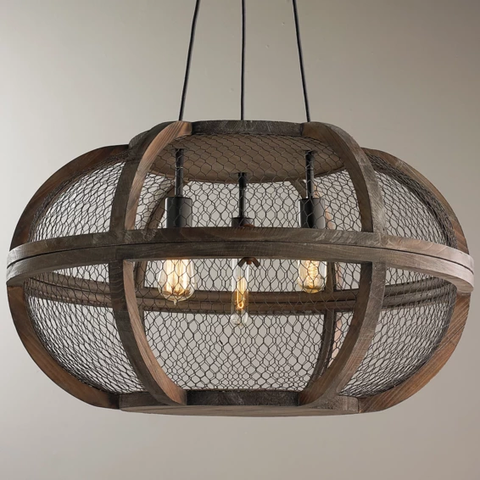 To create a chandelier in the industrial style, chicken wire mesh is wrapped over damaged wooden frames. This pendant lamp would look fantastic hanging over an old farm table or in the kitchen of a country cottage. Accents with a bronze finish are consistent with the overall design of the lamp. The socket arms can rotate somewhat. For a more retro appearance, try using Edison lights. Three cords for an 8-foot pendant that is black. The triangle-shaped pendant canopy is 1.25 inches high and 10 inches wide (16.5" H x 27" W). 3 sockets of 60 watts each with a medium base.
6. Colorado 5-Light Black Modern Farmhouse Rectangular Box Dining Room Chandelier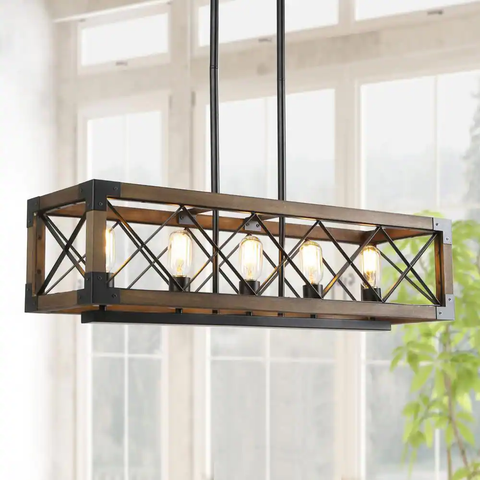 The greatest option for lighting your kitchen island is provided by this contemporary farmhouse 5-light dining room chandelier. It has a classic box style. This ceiling light's metal and wood components make it robust while yet retaining its charming appearance, giving it significant farmhouse appeal. When it comes to traditional kitchen lighting, the combination of black and wood pieces is an absolute must-have. This will give your house an appearance that has stood the test of time.
7. Stratton 10-Light Black Wagon Wheel, Industrial Farmhouse Dining Room Chandelier with Bulbs Included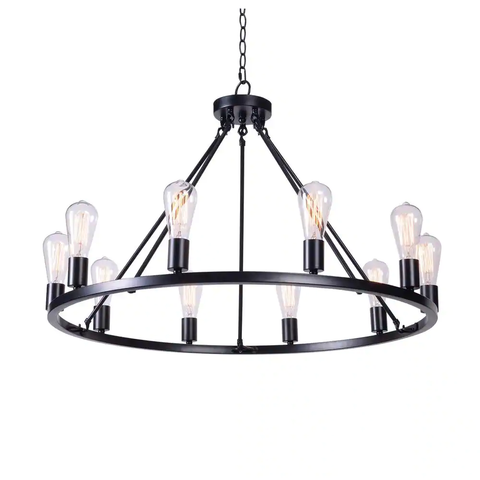 The Stratton Chandelier has a design that is part gothic and half industrial, and it has a style that is a part rustic farmhouse and part industrial. It would create a striking centerpiece in either your dining room or your kitchen. The Stratton has a finish that is described as being matte black. This fixture may be hung from the ceiling in either a regular or vaulted configuration, and the incandescent lights that come with it can be aimed either upwards or downwards.
8. Black Caged Chandelier, Farmhouse 4-Light Drum Bronze Modern Round Chandelier Island Pendant Light with Faux Wood Accent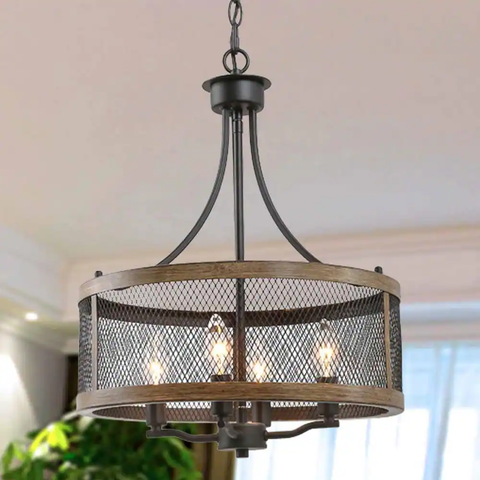 This 4-Light Farmhouse Drum Chandelier Ceiling Hanging Light from LALUZ will breathe fresh life into your home and bring it into the modern-day. The eye-catching black pendant lamp was designed in a style that was inspired by industrial and farmhouse architecture. It has a drum shade, fake wood embellishments, and candlestick lights (bulb not included). This spherical chandelier will look fantastic in any setting, whether it is lodge farmhouse, rustic, classic, or even mid-century modern and contemporary. With its open-caged frame, the contemporary chandelier with the two-toned black and bronze finish illuminates your room in a way that is both brilliant and cozy, therefore contributing to the overall ambiance of the room. The kitchen island, living room, bedroom, dining room, foyer/entryway, and hall are just some of the other places where the transitional design of the industrial chandelier looks wonderful.
9. 12 in. 4-Light Modern Black Semi-Flush Mount Ceiling Light with Seeded Glass Shade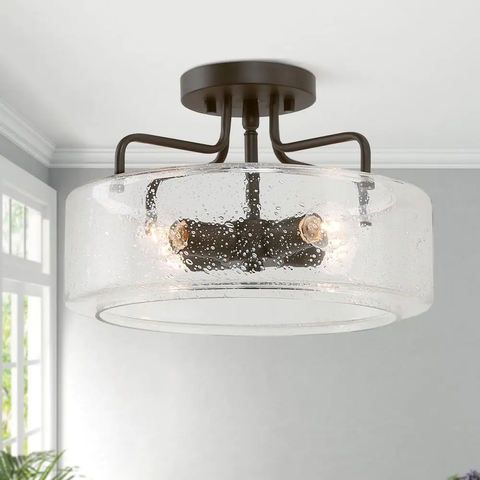 The modern industrial farmhouse is the source of inspiration for this LNC 12 in. 4-Light Modern Black Semi-Flush Mount Ceiling Light with Seeded Glass Shade. The bronze metal finish and the clear seeded glass shade of the modern farmhouse flush mount ceiling light generate a welcoming atmosphere with clean and bright illumination. The whole semi-mount light fixture is an excellent example of how well modernism and vintage style can be combined. Because of its one-of-a-kind appearance, the flush mount light fixture is going to be an excellent option for the island in the kitchen, as well as the dining room, the living room, the foyer, and the entryways.
10. Farmhouse Chandelier 6-Light Black Wagon Wheel Rustic Island Chandelier with Clear Seeded Glass Shade and Rope Accents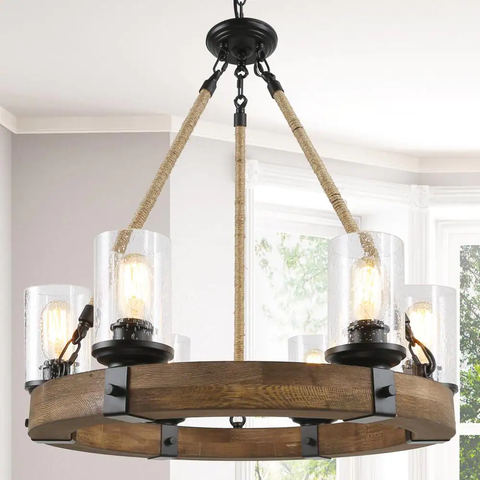 As you adorn your home with this LNC Farmhouse chandelier 6-Light Black Wagon Wheel Rope Rustic Island Chandelier with Cylinder Seeded Glass Shade, you'll get a sense of the rustic farmhouse lifestyle. Using natural rope and solid wood to fashion a creative chandelier in the form of a wagon wheel, this chandelier has a one-of-a-kind rustic appearance as well as an impressively long lifespan. Not only does the cylinder shade made of seeded glass deliver superb light lighting, but it also gives the ideal view. In general, this traditional chandelier is an excellent choice for a wide variety of settings, including your dining room, kitchen island, living room, porch, bedroom, and so on.
---
---
0 comments