During the middle of the twentieth century, a design movement known as midcentury modern (MCM) arose. Vibrant hues coexist with simple geometric shapes in this design aesthetic. For the first time in decades, there is a revolt against ornate detailing as new concepts are developed that combine the mass manufacturing and technology developed early in this century with a more positive perspective for the future.

It's hard to believe that MCM has been around for over seven decades. However, since our way of life has evolved so much and because your house is not a museum, the furniture from yesteryear may no longer meet your demands. Midcentury modern credenzas make excellent TV stands, as seen by the several examples I've seen. It's a beautiful piece of furniture, however storing your router and xbox in there is a bit of a challenge. So, today we're going to show you 10 MCM TV stands that fit the needs of families today.
1. Wlive Retro Brown Midcentury Modern TV stand
The WLIVE midcentury modern TV stand is stylish and has a unique wood grain, but it is also very useful. This TV stand goes well with a variety of modern decorations. It's not only a TV cabinet with storage space, but it's also a beautiful piece of furniture that you can put in your living room or bedroom. This entertainment center has a soft-close hinge, so it won't pinch or make a noise when it's closed. It also has 2 side cabinets with a lot of storage space. The open shelf can be moved around to make room for the TV box, router, game console, and other TV parts. There are holes in the back that let cables for different devices go through. This TV stand is made of engineered wood, which makes it stable and long-lasting. The foot pads on the legs keep your floor from getting scratched. The whole thing is 54.3" wide, 15.7" deep, and 18.9" tall. This TV stand can hold 50-, 55-, or 60-inch TVs. I love its size and how it looks. The size is great, and it looks like real wood but doesn't feel like wood. The look of mid-century modern is expensive. It was easy to put together, but the legs don't look like they screw in, so they'll be easy to take off. Maybe it was because I built it myself. But I wish they would think about screwing the legs in differently, like the middle one does. 

2. All Modern Esteban 57.5'' Sheesham Solid Wood TV Stand
The texture of this TV stand harkens back to the 1950s. Elegant lines and tapering legs evoke mid-century modern design in this TV stand made of genuine sheesham wood. With two open shelves, the cabinet doors display a carved hexagonal design that accentuates the inherent grain diversity of the wood. According to the manufacturer's website, assembly should take no more than 45 minutes. However, following the instructions, assembling the cabinet requires just the installation of the legs, which should take less than 20 minutes.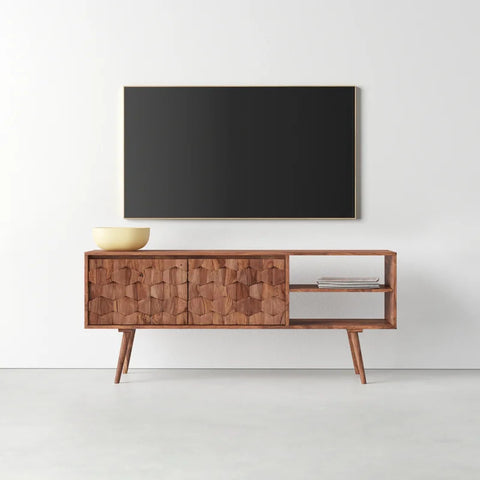 3.West Elm Mid Century Modern Media
This is more of a media center than a television set. Easy-to-use, high-quality storage. From the 1950s and '60s, American contemporary style inspired our Mid-Century Media Storage, which inherits its narrow legs and beveled edges. The series is designed to be the centerpiece of any living area, with plenty of space for books, devices, and storage drawers and cabinets.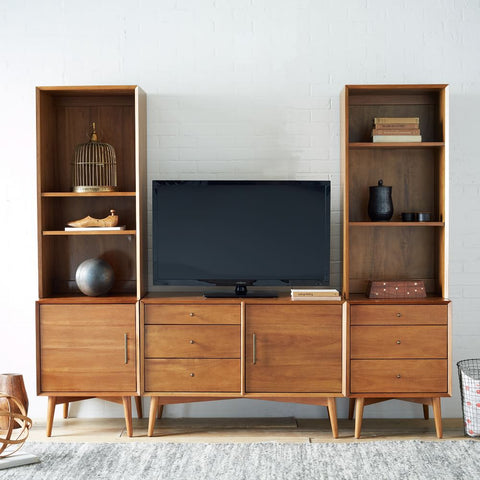 4.  Article Nera Media Unit
Regardless of whether the TV is on, the Nera Media Unit is the center of attention. Elegant, but never stodgy, the Nera is crafted from veneered walnut with chevron wood grain patterns. What if you can't bear to leave with that DVD season of that small-town romance? The perfect solution is two soft-close drawers. Let the world know about your best-looking books by putting them on display here. You'll be able to do so thanks to a fixed shelf that's just the right height.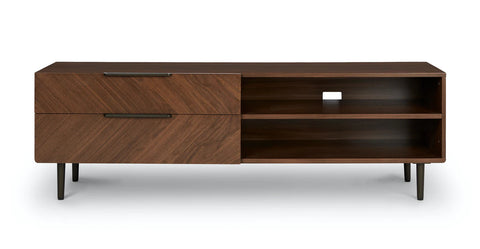 5. Houzz Rivera TV Stand
This wood TV stand with splayed legs gives both the natural character of wood and the attractiveness of mid-century style. The profile is clean and sturdy, and the stand itself is solid wood. It offers ease of use and utility thanks to its four drawers and cabinet space in the center, while also contributing coziness and structure to the overall design of your home décor.


6. Apt2B Bronson High Media Stand
The Bronson Media Stand has a classic aesthetic thanks to its solid Acacia wood construction, gold drawer handles, and stunning mid-century design. This means that it will continue to look amazing in any contemporary living area for many years to come.

The Bronson High Media Stand has four drawers on the top, and below it has four sliding doors that open up to provide more storage space behind each door. This stunning TV stand has a sophisticated profile and is ideal for housing electronics due to the inclusion of a cable passthrough in the design. An excellent option for any family house!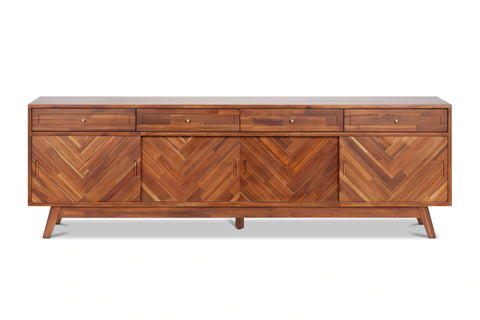 7. Povison Rustic Slatted Media Console
This collection is a stunner from the mid-century era; it is painstakingly created, and it was intended to create places that are warm and inviting. This TV stand is crafted from air-drying elm solid wood, and it has four large cabinets that are designed for storing electronic equipment. This series is an absolute must for anybody who is obsessed with design due to its circular shape and vertically slatted elm doors.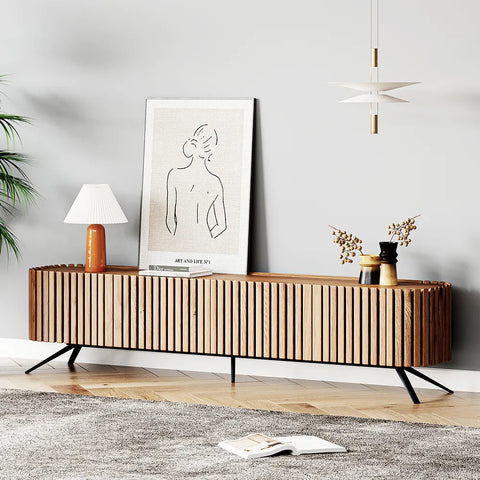 8. Homary Palley Modern Oval TV Stand with Storage
This TV media cabinet will instantly update the look of your living room or media room. This TV stand has a distinctive oval shape thanks to its clean lines and rounded edges. The combination of a stone top and a white base adds depth and dimension to the overall design. It has enough storage space for your books, CDs, and DVDs in two drawers as well as two shelves. The shelves include two glass doors, so you can show off your collection and keep it dust-free.


9. Moss Design WashPark Media Console
The WashPark media console is a modern media unit that provides a distinctive and sturdy design to enjoy for years to come.

This Scandinavian-style cabinet has a huge soft-close drawer for easy, out-of-sight storage and a wide, open rear shelf above the drawer. The WashPark is built like a tank, so it can support your heavy electronics without a problem. Available with light oak and dark wood selections.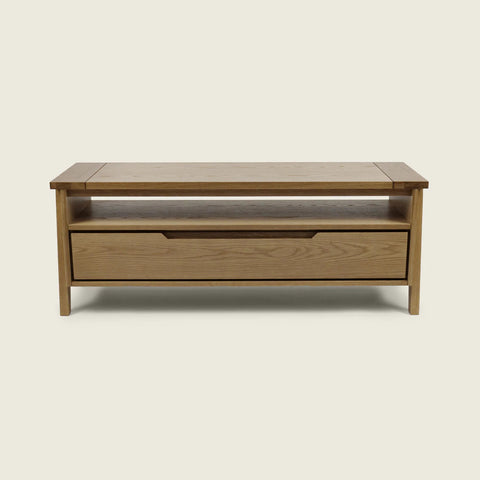 10. Ashley Furniture SEI 70" Simms Media Center
It's time to take things down a notch with this low-profile TV stand/media center. Elevated, high-end looks are achieved with a narrow, low-profile design. The addition of cane-front sliding door fronts and tapering legs adds even more charm to this console, making it perfect for settings with a contemporary or mid-century design aesthetic.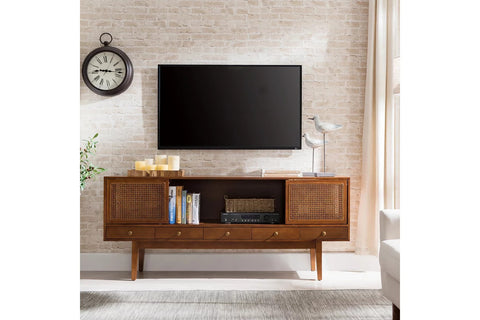 ---
---
0 comments