Farmhouse coffee tables are the ideal piece of furniture to include in any living area because of their charmingly aged look and sturdy structure. They are so adaptable that they may be used in nearly any interior design style, from streamlined Scandinavian rooms to spaces with a shanty-to-chic aesthetic.

There are several considerations you'll want to make when you go to a furniture shop to get a new coffee table to place in front of your couch. One of them is the size of your living room.

Because you are investing, you will want to choose a table that not only complements your taste but also fulfills the requirements of your home. You should also choose a table of superior quality that you will be able to hand down to the next generations.

When you go shopping, you'll have a lot of alternatives to choose from, but making them at home is just as simple. Everything is determined by the aesthetic that you're going for, so let's make sure you get the proper one!
1. vidaXL Solid Reclaimed Wood Coffee Table
Your living area will have a character of its own with the addition of this antique-style wooden coffee table. Its top, which is made of solid wood, and its legs, which are made of robust iron, combine to give it a secure and durable place for you to set your drink, as well as a vase, fruit basket, or other beautiful objects. It is also possible to use it in the living room as a coffee table or a side table. Since the tabletop is constructed of genuine reclaimed wood, each piece of furniture is one of a kind and varies somewhat from the next. The qualities of other types of wood, such as teak, mango wood, and acacia, may be seen in furniture that is built from salvaged wood. Reclaimed wood is gorgeous in addition to being strong, sturdy, and long-lasting. The apparent grain structure and signs of wear give each item its history, which contributes to its one-of-a-kind appearance. The coffee table is completely handcrafted, and this aspect of its design contributes to the incredible vintage vibe that it exudes. Recombining, polishing, painting, and waxing are just some of the steps in the process that are carried out with the utmost attention to detail. Take notice that the colors might vary from one piece to the next, giving each of our coffee tables its personality.
2.Volker Contemporary Hexagonal Burnished Honey Coffee Table
This stunning Volker Contemporary Hexagonal Burnished Honey Coffee Table is the perfect piece to bring a little of contemporary style into your living space. This one-of-a-kind geometric table has a low profile that makes it ideal for admiring the sunburst top made of mango veneer that has been given a burnished honey finish and delicate light gray glazing. It has a 43.8-inch depth, a 48-inch width, and an 18-inch height.
3.vidaXL Solid Wood Coffee Table Rustic Reclaimed Weathered Side End Couch Stand
This wooden coffee table with an antique finish has a classic allure and is sure to become an heirloom-worthy part of your living space. The coffee table is so versatile that it may also serve as a sofa table, a table for the living room, a side table, or an end table. The coffee table is handcrafted from solid reclaimed wood, making it sturdy, long-lasting, and aesthetically pleasing. It has the qualities of several types of wood, such as teak, mango wood, acacia, and so on. Whether it's polishing, painting, or lacquering, each stage of the procedure is carried out with the utmost attention to detail. Because of the skilled workmanship and the natural beauty of the wood grains, each piece of furniture is one of a kind and somewhat distinct from the others. The assembly process is really simple. Take notice that the colors might vary from one piece to the next, giving each of our coffee tables its personality.
4.Unfinished Natural Slatted Coffee Table
This lovely farmhouse coffee table is made from reclaimed wood that has been naturally aged, and it has a spacious slatted storage deck beneath that can be used to store things like books, magazines, and decorative items. It has dimensions of 40 inches long by 17 inches wide by 18 inches high, and the height of the storage area beneath is around 9 to 10 inches. This item will give your home the ideal amount of rustic charm that it needs.

We utilize recycled wood in the construction of this item so that it maintains its authentic rustic appearance. Additionally, we take great care to ensure that the surfaces are as splinter-free and sanded smooth as is humanly feasible. It is important to keep in mind that this is recovered wood; hence, there is no way to guarantee that the surfaces will be as smooth as new wood:)

We take great care in handcrafting every one of our products, so you can be certain that you will get the greatest quality available in every facet, from the color finish to the structure and longevity of its construction. You are going to adore this item!

Please bear in mind that all of our goods are crafted by hand from salvaged wood, which means that no two items will ever be the same. In addition, old nail holes, knot holes, and cracks are to be anticipated with these one-of-a-kind pieces; they are all a part of what gives them their unique character.
5.Snow Flower Mango Wood Hand Carved Standing Coffee Table Chest
With the help of our Snow Flower Hand Carved Standing Coffee Table Chest, you can bring the immaculate beauty of winter into any room decor and make it more vibrant. This hand-crafted solid wooden trunk is raised off the ground on ball feet for added stability. The trunk is adorned with a complicated mandala pattern that was hand carved. When opened, the lid is fastened on top using three outside hinges, and it lays completely flat. Solid mango wood, a tropical hardwood that is farmed as a renewable crop, was used in the construction of this chest, which can be used for a variety of purposes.
6. Amy Rustic Weathered Gray Wood Storage Coffee Table 52"
Acacia planks that have been exposed to the elements have a finish that is both smooth and distressed, giving the appearance of having more depth than it has. As the natural lines of the reclaimed wood wrap around the softly molded corners, subtle architectural features fulfill both the form and function of the building. An ingenious slide drawer that is large and conceals itself behind a cutout provides a contemporary and imaginative function. Variations and flaws in the finish are to be anticipated and welcomed due to the handcrafted character of the item and the fact that it was hand-finished.
7.WLIVE Lift Top Farmhouse Coffee Table with Storage
This coffee table is an excellent example of a traditional farmhouse style coffee table. It features a combination of wood and metal, a sturdy structure, and a stylish shape; as a result, it coordinates flawlessly with the rest of your furnishings and is ideal for use in the living room, the office, and the reception area.Because the mesh visible door panels and beautiful magnetic handles are placed on both sides of the side cabinet, it is simple and convenient to access the contents of the cabinet from any position around the table.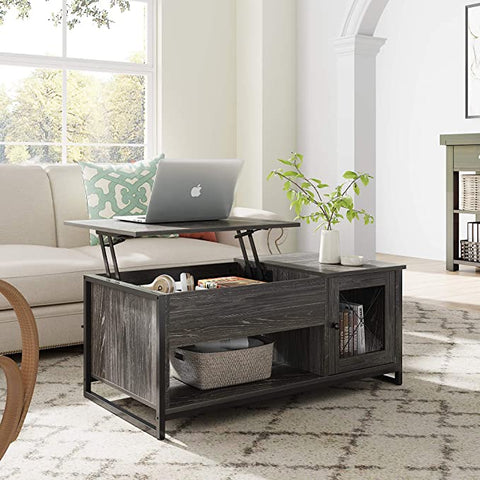 8.Winter Storm Reclaimed Wood Coffee Table w 2 Drawers
If you look beyond the snowflakes, you'll find that there are many other hues below. If you look closely, you'll see that our solid hardwood Winter Storm Coffee Table has a white coating, but if you look even closer, you'll see that there are various hues just beyond the white layer. If you continue exploring, you will also find two drawers where you may store all of the little items that you need to have close at hand. The legs of our cocktail table are fashioned after cabrioles, and the table top extends beyond the frame of the table. Reclaimed wood from Gujarat was used in the construction of this classic table for the living room. The natural passage of time has allowed the older wood surfaces to become organically seasoned. No more paint or color is applied.
9.Picket House Furnishings Jordan Coffee Table in Latte
Your living area is going to be the talk of the neighborhood when you put in the Picket House Furnishings Jordan Coffee Table! This coffee table is in the shape of a rectangle, and it has a wide open cubby area. Ideal for stowing away your most treasured coffee table books and for showcasing your most cherished decorative accents. The coffee table is constructed out of real Brazilian pine, which with time will develop its unique color and grain pattern. This is just another one of the table's many wonderful features. Because of this, it will make a wonderful addition to your house, year after year, and may even be handed down from one generation to the next.
10.Elsmere Reclaimed Wood Standing 5-Drawer Square Coffee Table Chest
You are going to fall in love with our Elsmere Reclaimed Wood Standing 5 Drawer Square Coffee Table Chest if you have a thing for numbers or patterns that are a little bit wacky. This handmade multi-use storage box is made from solid oak and sits elevated off the ground on round tapered and angled legs. The lid is held in place by two external hinges and one chain located on the inside of the container. When you turn the piece over, you will see five pale blue drawers that have black numerals numbered 1 through 5 printed on them. The sides and back each have additional numerals as well as the slogan "Keep Smiling Happy" inscribed on them. Reclaimed wood was used in the construction of this unique coffee table chest. The passage of time has allowed the antique wood surfaces to acquire a naturally weathered and seasoned appearance.
---
---
0 comments