You want to redecorate your living room and you're looking for gorgeous industrial coffee tables, right? These gorgeous metal coffee tables give off a factory-chic vibe thanks to the exposed nuts and bolts that are featured on their surfaces. Since the coffee table is an excellent location for showcasing your sense of design, you should give careful consideration to the decorative option you choose for this piece.

The popular design style known as "industrial" draws its influence from several types of buildings, such as lofts, warehouses, and factories. A wide range of architectural styles, from farmhouse to Scandinavian, may incorporate aspects of industrial design into their interiors. The hallmarks of industrially-styled furnishings and decorations include a predominance of wooden or metallic components or a mix of these two materials.

It's hard to think of a more classic example of industrial design than these tables. The screws are visible on the sides of several of them, and they all have a handcrafted quality to them! Because they may be readily moved about, many industrial tables are equipped with wheels on their legs.
1. Signature Design by Ashley Valebeck Farmhouse Lift Top Coffee Table with Storage
Those who have an appreciation for the finest in rustic farmhouse living will find that the two-tone square coffee table combines the best of both aesthetics and practicality. A spring lift top and a hinged lid are paired in an ingenious split-style design. exposing a useful storage space behind the panel. Plank-effect style, distress marks, and industrial brackets are some of the designer elements that were incorporated for extra character.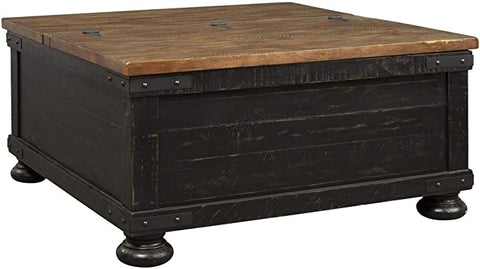 2. Rustic Country Coffee Table with Metal Wheels
This robust, distressed wood and exposed iron coffee table is an exquisite statement piece that will give flair to any living room, in any house. It is reminiscent of the industrial chic of years gone by. Because it is crafted from solid, textured, and weathered wood, this item is designed to last for a very long time. Exposed iron edges and accents have been added to this coffee table (or end table, or side table) to make it even more robust. This addition serves both a stylistic and functional purpose.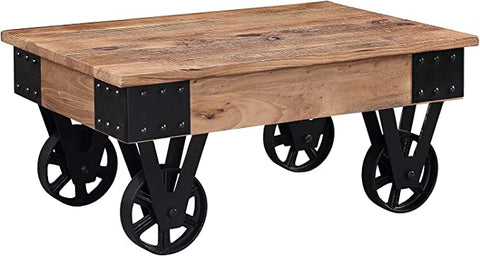 3. WLIVE Coffee Table with Storage Drawers and Open Shelf
This table, which has a straightforward industrial design, is versatile enough to function not only as a coffee table but also as a TV stand, making it an ideal addition to the furnishings of any space. It doesn't matter which side of the coffee table you're sitting on; the two large fabric drawers with easy-pull knobs make it possible to retrieve the goods quickly and easily.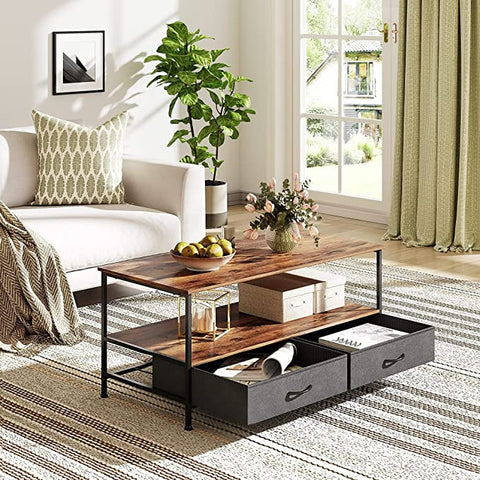 4. South Shore Industrial Coffee Table with Metal Legs
Currently, popular and cutting edge Go for the industrial aesthetic by selecting this solid coffee table that seems enormous and hefty but is constructed of MDF, which is a material that is easier to work with. This coffee table will undoubtedly be noticed quickly thanks to its substantial appearance, angled metal legs, and raw finish style. It is the perfect piece to add to or enhance the contemporary aesthetic already present in any house or apartment. Practical design The coffee table with the industrial finish is considerably easier to move about than a table made of genuine concrete since it has sufficient space for appetizers, a laptop, and a nice book, in addition to being far lighter. The table has a surface that is simple to clean, and its four angled metal legs have a rounded design. It can hold up to 75 pounds.

5. Modesto 42 in. Rustic/Natural Large Rectangle Wood Coffee Table with Shelf
While your visitors are proudly seated around the Alaterre Furniture Modesto Coffee Table, you may proudly entertain them. Your home design will be improved by the addition of simplicity and coziness thanks to the farmhouse style of this coffee table. Because it contains storage space, it will make it easier for you to keep your room in order. It brings a minimalistic and industrial touch to your living room because of the metal frame that it has. This coffee table exudes refinement and allure because of the hardwood surface it has.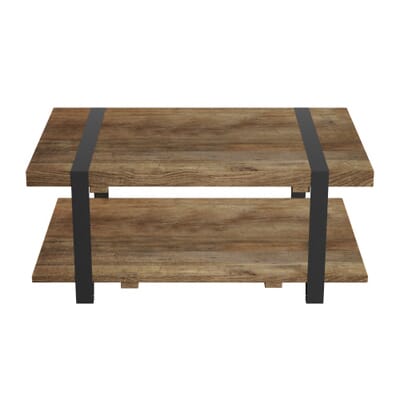 6. Ashwood 32 in. Gray/Black Medium Round Acrylic Coffee Table
Any space may be improved with the addition of this chic and practical end table from Household Essentials with ashwood construction. This end table has a contemporary design that will make it a great addition to your area while also working well with any existing décor. Your living room will have an air of industrial chic thanks to its metal frame, which is a highlight of this piece. Your living room will have a more polished and smooth look thanks to the acrylic top of this end table, which will also contribute to the overall minimalist feel of the room. It has storage space, so you'll have somewhere to put anything from the TV remote to a pile of magazines to read while you're not watching television. This end table, which has a finish in a gray color, is a great option for your space since it is adaptable and works well with a variety of decor styles.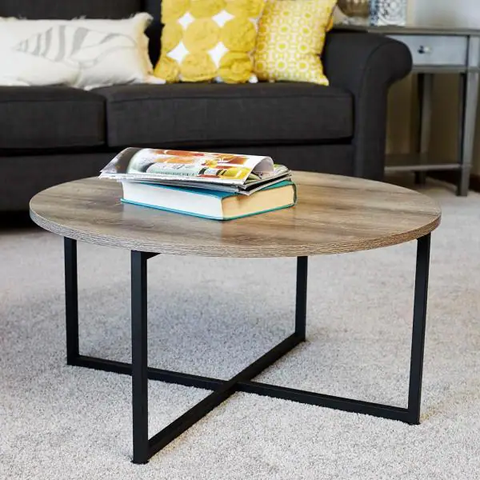 7.

Finch Reclaimed Wood Coffee Table
The Finch Coffee Table, crafted from reclaimed wood, is available in the ideal dimensions to complete the look of a sofa without overpowering it. This chic coffee table is made from recycled wood and boasts a circular top and base that complement several sitting configurations thanks to its adaptable design. The weathered top provides plenty of room for beverages, reading material, remote controls, and other items. The spherical base of the coffee table is made of robust and long-lasting iron, and it has a sleek black finish that complements the majority of different kinds of decorations.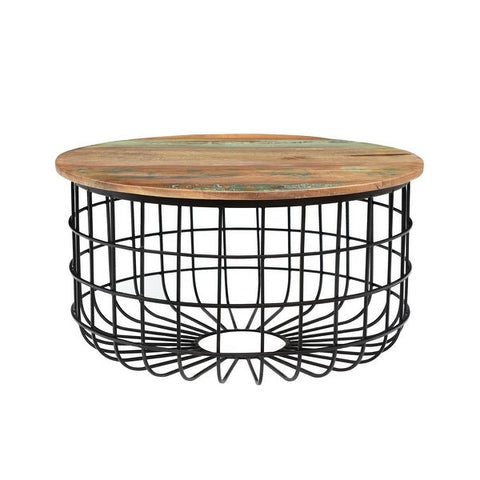 8. Algonac Modern Industrial Handcrafted Mango Wood Coffee Table by Christopher Knight Home
The Algonac contemporary industrial coffee table is designed by Christopher Knight Home and is sure to liven up the furnishings in your living space. This coffee table is built to withstand the test of time thanks to the fact that it was hand-crafted from durable and dependable iron for the table's solid circular base and natural mango wood for the tabletop. The top of the table opens up to reveal a large storage space, which is perfect for storing blankets and other decorative items.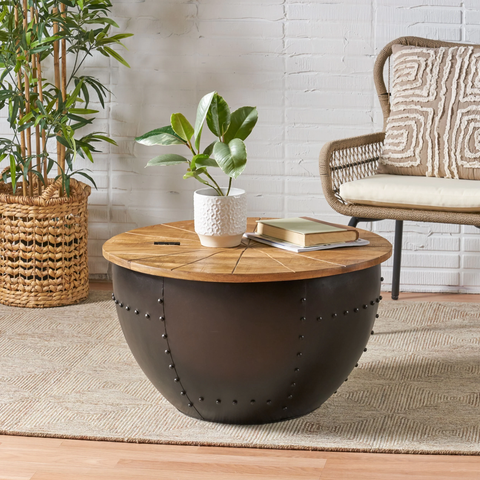 9. Moser Modern Industrial Coffee Table by Christopher Knight Home
This Moser coffee table from Christopher Knight Home will provide your living room or den with a sophisticated focal point that is both utilitarian and aesthetically pleasing. Both the distressed wooden table top and the bottom shelf of this table are constructed to securely hold any decorative objects, snacks, or drinks that you place on it. The robust and durable iron frame has an X-back, which not only offers stiffness to withstand twisting, bending, and rocking but also showcases exquisite details for extra charm and character. The powder coat finishes on this table give it an equal color throughout while also protecting the iron structure from rust and rust-related damage caused by dampness.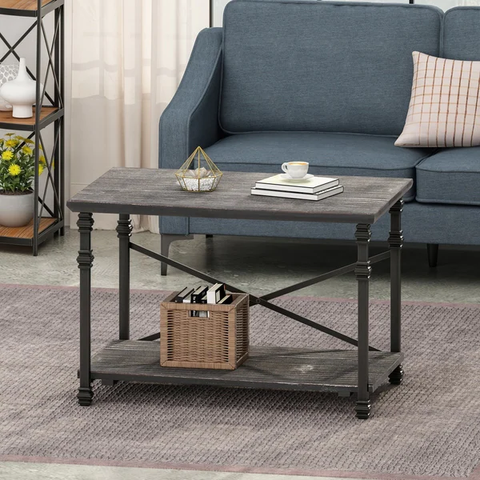 10. Handmade Butler Kira Metal Steel/Aluminum End Table
This Butler Kira drinking table can provide a new look to your living room. This table has a striking and industrial look thanks to its construction with a curving metal pipe frame and an oval-shaped metal top. The deep pewter finish gives the glasses a subtle sheen, and the raised edge profile keeps them from sliding over the side of the table.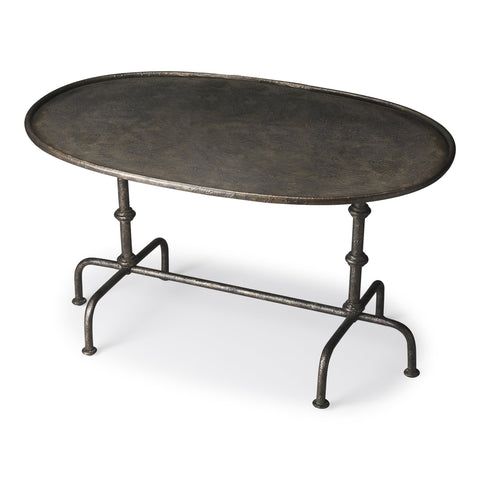 ---
---
0 comments