Not everyone (shout out to you, people who live in apartments! ), unfortunately, is blessed with the space required for a formal dining room. On the other hand, if you do happen to be in possession of one, you can begin to feel as if that blessing is really more of a burden on your life. Since dining rooms are not used as often as other rooms in the house, such as the kitchen or the living room (unless you're an exceptional hostess who puts the rest of us to shame), they typically go longer without being decorated than other parts of the house do.

If you're having trouble styling your midcentury dining room, you're not the only one. However, since plopping down some vintage furniture finds, like TV stand,  and calling it a day isn't enough to elevate your dining area, we've rounded up some of the most inspiring midcentury dining spaces to help you instantly elevate your dining area. Who could say? Perhaps you'll be throwing your very own 1950s-themed dinner party in the not-too-distant future.
1.Baxton Studio Britte Walnut Finished Rectangular Wood Dining Table
The Britte dining table is an easy piece to include into any dining environment because to its straightforward and uncluttered design. The Britte is crafted in Malaysia from long-lasting rubberwood and has seating for up to four people in a comfortable arrangement. Each person at the table has enough of space to move their arms about while benefiting from the contemporary aesthetic provided by the table's walnut brown finish and rectangular surface. The Britte is a piece of furniture that must be assembled and is supported by splayed legs, which provide a touch of mid-century charm to the piece. The Britte dining table is ideal for use in nooks and dining rooms that are on the smaller side due to its space-saving design. Dimensions: 29.50" High x 47.20" Wide x 29.50" Deep; Legs: 28.80" High
2.X Pedestal Dinette Table, Antique Metal/Espresso Bamboo
You've been looking for a piece of furniture that makes an industrial statement, and the stunning X Pedestal Dining Table from LumiSource is just what you need. The X Pedestal Dining Table is just the right size to comfortably seat four people, and it has a surface made of weathered bamboo wood and a striking metal base. Choose the one that looks the most at home in the industrial setting out of the many different available finishes.
3.78" Oval Artificial Marble Dining Table, White
Over the previous six decades, the dining table has evolved into a paradigmatic example of contemporary design due to its unbroken, organic form and enduring design. Before it was made available, people's houses were cluttered with cumbersome relics of a bygone era of industrialization. But for families to develop into the new world, they first needed to make the shift from the conventional square table to a piece that signified progress. Only then could they go forward. The table's circular top and tapering base have both been painstakingly lacquered with a surface that is resistant to scratches and chips. The base and proportions remain faithful to the original design specs.
4.Otago Dining Table, 54" Round Walnut
The Otago dining table has a diameter of over five feet and can comfortably accommodate up to eight diners in a stylish setting. This table has a modern but cozy appearance thanks to its base and top being made entirely of walnut, making it suitable for use in almost any kind of dining area. The semi-gloss surface, natural walnut color, and precise geometric form of the Otago complete the look of a modern piece.
5.Clark Dining Table - Pecan
This cozy and welcoming addition to your dining room décor is brought to you by the Clark Round Dining Pub Table. The table top of this circular dining table has a two-tone pecan wood treatment, which helps to create depth and accentuate the mid-century style of the piece. Table support is provided by legs made of solid wood and a metal stretcher, both of which compliment the table top. This circular dining table can be assembled at either dining height or gathering height, making it the ideal choice for a space as compact as a dining nook. To do so, just screw the tabletop into one of the two sets of screw holes. There is a need for assembly.
6.Rivol Mid-Century Modern 67-Inch Oval Engineered Wood Dining Table in White
With the Mid-Century Modern Style Rivol oval Dining Table in White, you can confidently host dinner parties after you have added this dining table to your room. You will know that you have a fashionable spot for your guests to sit. Durability and endurance are guaranteed thanks to its construction, which consists of high-quality solid wood for the frame and MDF for the table top. The straightforward nature of its design lends it a degree of adaptability that makes it well suited for use in a variety of settings, including dining rooms, kitchens, and breakfast nooks. Up to four people may sit at this table in comfort. Can be cleaned with a cleaning solution that does not include abrasives, followed by a fast wipe with a microfiber cloth. The legs are easily removable, allowing for convenient transportation even into confined places. Because it is offered in a wide range of classic hues, you will be able to discover something that coordinates with the design of your space.
7.Modern Small Space Extension Dining Table, Natural Oak
An extendable dining table with a stored extension has charcoal-grey lacquered metal wire legs designed in the form of an antique piece.

This contemporary dining table can accommodate an additional leaf, which can be concealed inside the tabletop when not in use. The Blit brand of goods includes both the standard and expandable versions of this dining table. This table can seat up to six people when it is completely extended. It is simple to use and has a stunning appearance!
8.Adam Round Dining Table
On this Adam wooden dining table, you and your loved ones or your friends may get together to eat, work, or play games. It has a classic mid-century modern design that will never go out of style thanks to its appealing walnut finish and oval form, which allow it to mix in with other pieces of furniture. The circular top is supported by four tapering legs that are finished in gold, and there are also comfy chairs that match that are available to complete the appearance. This table's compact size makes it ideal for use in a kitchen or studio apartment since it can be placed practically anyplace.
9. Aeon Furniture Quincy Dining Table In Walnut And Clear Finish
The Quincy dining table from Aeon is the ideal spot for a get-together with family and friends due to its exquisite design, which was developed with the idea of hosting guests. The transparent tempered glass top is 48 inches in diameter and 10 millimeters thick, revealing a solid Malaysian oak center base that has been stained with walnut and is supported by four gracefully curved legs. The beveled border contributes an attractive aspect, while the circular form readily fits up to six people, so providing an intimate space in which everyone can take part in the discussion.
10.Lippa 40" Square Wood Dining Table, Gold Cherry Walnut
Over the last 60 years, the Lippa dining table has evolved into a paradigmatic example of contemporary design thanks to its seamless organic shape and enduring form. Before it was made available, people's houses were cluttered with cumbersome relics of a bygone era of industrialization. But for families to develop into the new world, they first needed to make the shift from the conventional square table to a piece that signified progress. Only then could they go forward. The base and proportions remain unchanged from the first design, however the square MDF top of the table includes an easy-to-clean wood grain veneer, and the metal tapering base has a brushed gold finish.
11.Carlo Acacia Dining Table
This dining table takes a contemporary approach to the farmhouse design it was inspired by by contrasting the natural wood textures with the clean, geometric lines of an inlaid chevron pattern that looks like leaves. The startling edge that it adds to its circular form is provided by the strong proportions and black finish of its flared legs.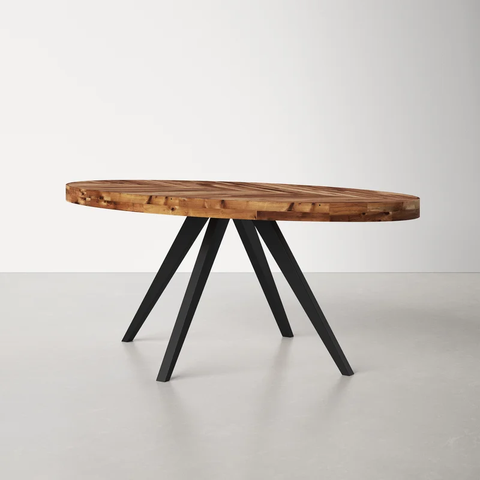 12.Adam Dining Table
The scaled-back trestle base of this dining table is constructed from solid walnut wood, and it has polished brass accents and flared legs that are inspired by the mid-20th century. If you want to host a dinner party for up to six people but don't want to clutter up your space, consider getting a tabletop made of clear tempered glass.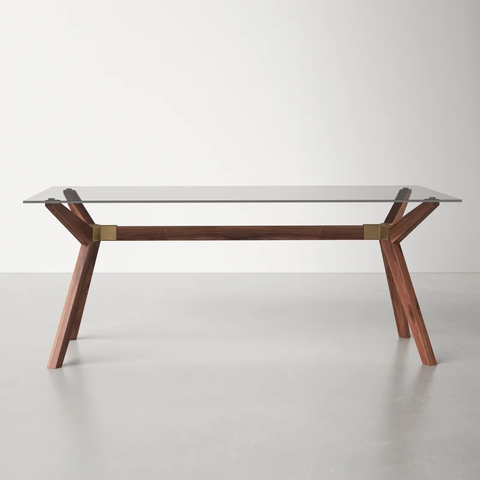 13.Hagen Dining Table
At this chic dining table, you may savor that meal you prepared from scratch or, let's be honest, your go-to takeout. This table has some major mid-century modern vibes thanks to its long, thin surface and its four geometric tapering legs. It is made out of both engineered and solid wood. The finishing features that turn this dining table into a must-have item are a crossbar made of black metal and mirrored highlights on the table's edges. This table's length of 87 inches allows it to comfortably seat up to eight people. Putting it together is as simple as attaching the legs.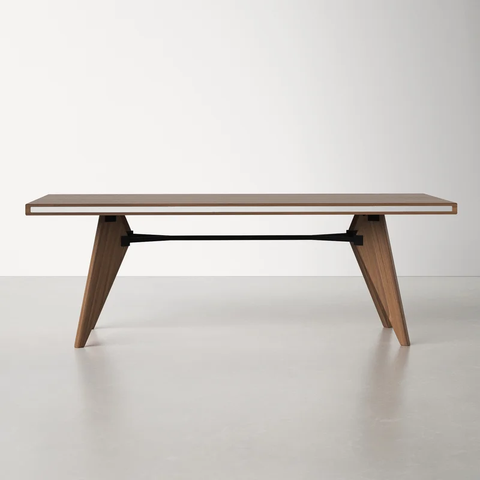 14.Vienna Solid Oak Dining Table
This dining table has a sculptural quality to it because to the way it manipulates darkness, structure, and materials inside the dining area. It has a rectangular top that is supported by an X-shaped pedestal base and is crafted from a combination of solid and engineered wood. The base has a triangular shape with an angular design. One of the legs has a finish that is identical to the table top's wood, and it supports the surface at an angle. The other leg has a finish that intersects it. This creates the impression that the table is floating in midair, with only its shadow providing it with any support at all. When it comes to design, we're all about that high-contrast look. This table has a width of 79 inches and can easily accommodate six people.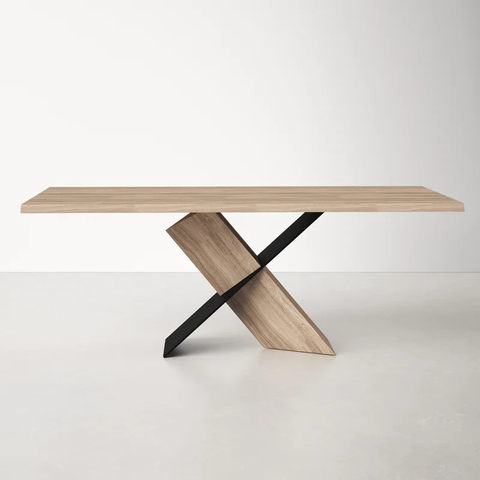 15.Dublin Extendable Solid Oak Dining Table
Have supper, but in a leisurely manner. This dining table has a structure of solid wood and a pared-down, minimalist design. It will provide an air of understated elegance to your living room. For a look that is understated but sophisticated, it is fashioned from a single piece of solid oak wood and has four square legs and a top that is sleek and rectangular. It has a warm wood grain finish, which keeps it casual enough for you to dress it up or down according to the occasion. Additionally, this table can easily be extended from seating eight people to seating twelve people owing to the inclusion of two leaves. This feature makes hosting dinner parties much simpler.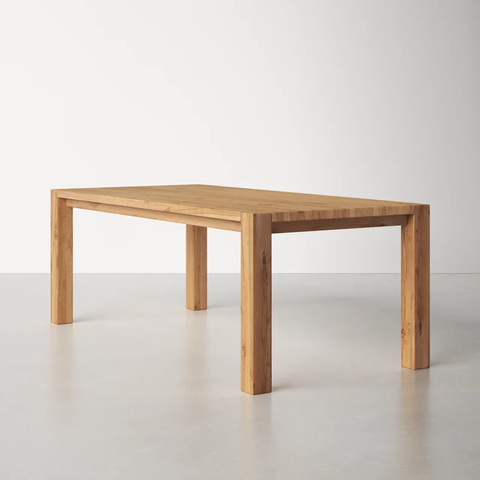 16.Raul Dining Table
Invite some friends, get some takeout, and enjoy your new contemporary dining table. This table is constructed out of both solid and engineered wood, and it is offered in a variety of finishes; hence, it is adaptable to a wide range of aesthetic preferences. The pedestal base of the broad oval tabletop provides stability for the oval tabletop. The length of this table is 95 inches, which allows for a comfortable seating arrangement for up to eight people. (Or you and your significant other may sit at opposing ends and pretend to be royals if that is more your speed.) There is a requirement for assembly.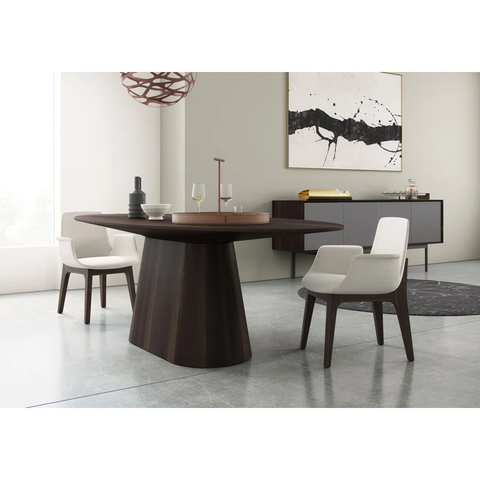 17.Gabrielle Concrete Dining Table
This dining table will be the centerpiece of some real industrial vibes in your dining space. Concrete is used in its construction, and the surface has a plain, unadorned appearance so that it may be styled with a variety of different things. The long rectangular top is supported by two big block legs, which contribute to the table's modest appearance. In addition, since it is constructed from solid stone, this table is very simple to clean; all you need to do is wipe it off with a towel. A word of caution: regardless of the size you choose for this table, it weighs quite a bit. Because there will be some assembling involved, we strongly suggest that you get together with a buddy or two.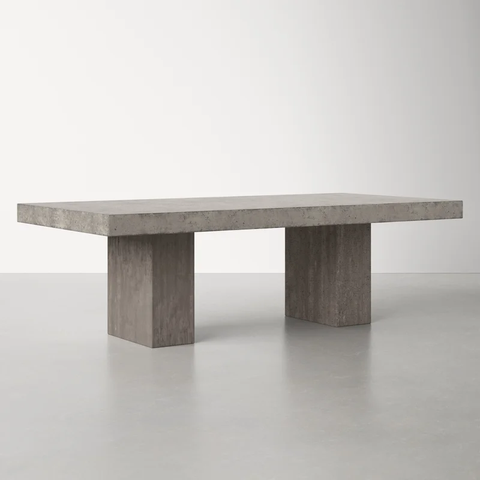 18.Avari Walnut Solid Wood Dining Table
Your dining area will have a more streamlined appearance thanks to the incorporation of this dining table made of solid wood, which combines streamlined minimalism with smooth, organic forms. It is made of solid wood, and the wood grain pattern may be oak or walnut depending on your preference. It has a circular top that is supported by four oval legs. For supplemental support, the lower halves of the legs are joined together in an X-pattern under the surface. In addition, it has a diameter of just 42 inches, making it an ideal size for accommodating up to four people at a time.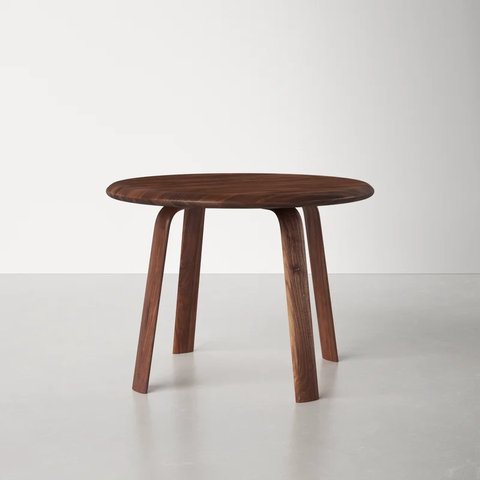 19.Chambers Dining Table
This dining table has a striking, sculptural appearance because to its contemporary minimalist design and its use of sharp angles. The table top is made of ceramic and boasts a long and slender oval form with a reverse beveled edge to provide a stylish homage to mid-century style. A sinuous, sail-like form is included on the base of the structure, which bends around the inside to provide a sturdy structure with an uncomplicated appearance. This table's design, which is long and narrow and can accommodate up to four people, lets you make the most of the space available to you.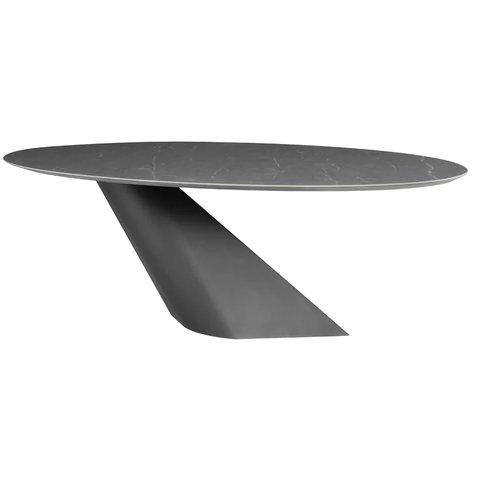 20.Raylan Extendable Solid Oak Dining Table
The Kent Dining Table has a domestic appeal owing to a pale finish that showcases the rich, swirling grains of the genuine American white oak from which it is constructed. The table's legs and tabletop edges are delicately angled, and its clean-lined design gives it an air of elegance. Depending on the attire you choose for the occasion, this table is an excellent choice for more formal gatherings. The Kent can easily go from a quiet lunch for the family to a lively celebration in a flash thanks to an attachable leaf that can be added to either end.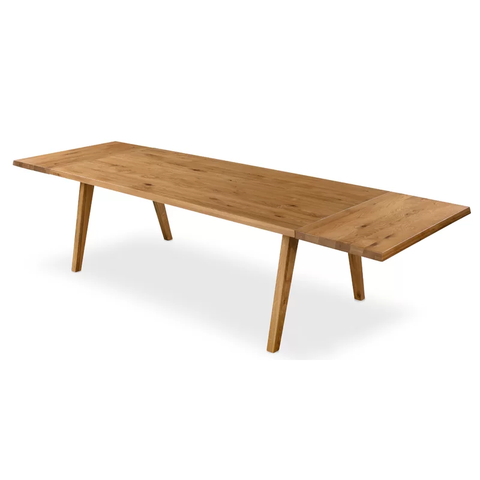 ---
---
0 comments