Everyone wants their home to be the most comfortable place. Wondering how to create a cozy home for yourself this Autumn? We round up some decorating ideas for you!
Living Room
When we talk about the heart of a home, the living room will undoubtedly come to mind, a place where we relax and chat.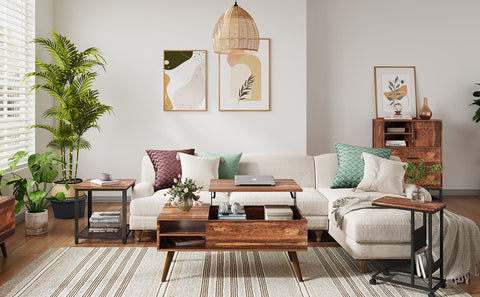 This cozy living room has an array of antique wood grain wood furniture, light floors and a wicker ceiling lamp, a comfortable sofa seat with soft lines, and a warm, neutral palette of beige and gray. Green plants scattered around every corner bring nature into the house, underlining the warmth of your living room in an ingenious way.
Assuming you are placing the furniture around a coffee table, make sure each item is complementary, with the same size space. I have to recommend all three pieces here, mind you, two pieces of furniture.
WLIVE Wood Lift Top Coffee Table 

is functional and beautiful at the same time. It has the combination of open shelves and shelves and drawers that can serve your all kinds of organizing needs.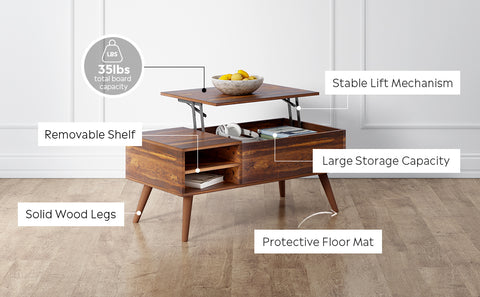 WLIVE C shaped end table
Want to check emails quickly from your bed or chat on your sofa? A flexible side table is perfect for working from home because a movable table will help you keep all notes&files closely within reach for use at any time.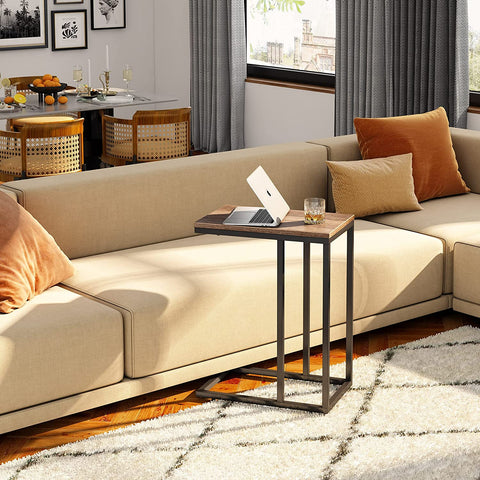 DEVAISELight Almond Power Lift Recliner Chair
If you want to indulge your weekend in movies, it's time to invest in an HD projector and a power lift recliner chair, which will greatly increase your happiness in daily life.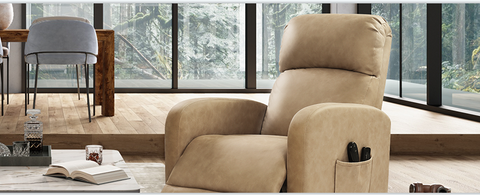 Bedroom
There's nothing that could be more urgent than to create a cozy oasis in our bedroom since the weather is getting cool. We consider that autumn is the time to refresh your bedroom to a warmer space. Refreshing your bed with set a 100% cotton bedding and add area rugs to give practical warmth while adding an extra oomph of coziness all winter long!
In addition to the basic furniture such as bed frame, wardrobe, bedside table, lamp, we will introduce two pieces worth-buy furniture to bring your bedroom a sense of comfort and completeness.
        1. WLIVEfabric 7 drawer dresser
Dressing up is both a pleasant process and a hassle. We sometimes grumble about the shortage of storage space since we have a great many of clothes and accessories for all seasons, which could not fit in a single closet or pile up in every corner of the wardrobe. WLIVE fabric dresser with 7 drawers is ideal for organizing your clothes, blankets, socks and other accessories. The multi-layer classified storage not only makes full use of space but also adds a touch of warmth to your bedroom.
      2.  M&W White Makeup Vanity Table Set with Round Mirror
How much makeup do you own? If you own many of each, you might want to have a separate drawer for nail polish, one for eyeshadows, one for brushes, and so on.  investing in this vanity table can be very practical! Even more to the point, the built-in 3-color LED light of the wood makeup vanity table equipped with a high-sensitivity smart sensor switch, provides comfortable visual lighting to makeup in dark without hurting your eyes and enables the perfect combination of pleasant light atmosphere and decorative functionality.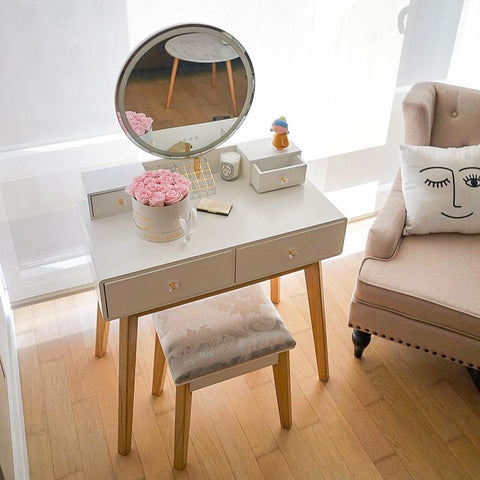 As was posted above, we hope you could collect more inspiration to make your home cozy from layout to furniture choosing and match whether it is an apartment or a large house. Ultimately, you are bound to benefits from the warm and inviting environment built by yourself!
---
---
0 comments