Every professional understands the annoyance of paperwork piling up on your desk. A massive stack of files, printer papers, and stationery can be a source of constant distraction and anxiety. COVID-19 has brought the office into our homes, adding to the difficulty of staying organized in small, home office settings. Using 2-drawer file cabinets to organize a workspace is one of the most popular methods. They must have drawers that are deep enough for files to hang upright. The idea behind drawer-based file cabinets is to save space, so selecting the right size for your needs is critical.
It can be challenging to find space for a home office, but these space-saving organizers are very effective. The drawers' width and height are sufficient to fit the majority of paper sizes, so it's important to choose one that will meet your daily needs. Based on customer reviews, we've created a list of the top 2-drawer cabinets for 2022. These items provide excellent convenience at a reasonable price without compromising on reliability, security, or mobility. You can analyze your needs and choose the best cabinet for your workspace with the help of the buyer's guide at the bottom of the page.
1.Devaise 2 Drawer Mobile File Cabinet with Lock
This 2-drawer option from Devaise is ideal for your home office or place of business if you prefer a filing cabinet with wheels. Its relatively small size allows it to fit under the majority of desks without limiting your movement. This filing storage unit has an electrostatic spray paint finish and all-metal, anti-rust construction. It can hold a lot of paper thanks to its weight capacity, more than enough for almost any user.
When it comes to privacy, this choice is the best if you want to take extra precautions. One lock on it secures the two drawers, safeguards your documents, and increases security in your home and workplace. If you are serious about organizing your paperwork to give your workspace a well-designed and efficient feel, this 2-drawer filing cabinet is well worth the money. With just the wheels attached, it can be moved anywhere without sacrificing stability or setup ease, and the fifth wheel prevents it from overbalancing when a drawer is open.

2.Sauder Clifford Place Lateral File Cabinet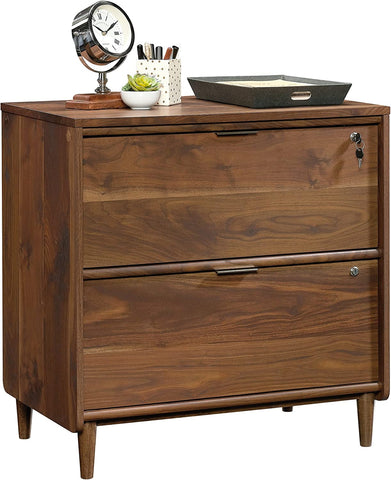 The Sauder Clifford Place Lateral File Cabinet in classic walnut will keep your office or workstation looking neat and stylish. The two spacious file drawers in this mid-century-inspired file cabinet open and close on smooth full extension slides. Each drawer can hold letters or legal size hanging files, allowing you to keep all of your important files and papers organized and accessible.
This lateral file also has a safety mechanism that restricts one drawer from opening at a time. Are you concerned about the security of your files while you're not in the office? Don't worry, each drawer comes with a key and lock for security. In order to keep all of your cords and wires neatly hidden, it also has a pre-drilled hole and a pass-through. This simply-designed lateral file cabinet in warm walnut wood grain features striking brass hardware, which blends well with other mid-century modern home or office furniture.

3.Devaise Rustic Brown 2 Drawer Wood Filing Cabinet
Devaise's 2-drawer filing cabinet stands out with its charming rustic look, which features a vintage wood grain finish and black matte metal handles. The mobile file cabinet has two drawers, each of which can accommodate letter/A4 file folders. This 2-drawer filing cabinet has adjustment holes, allowing you to customize the size of the hanging files by simply adjusting the location of the hanging bars. It can also be used as a printer stand with extra paper or documents, or as a bedroom dresser for household items.
Additionally, it offers the option of adding four lockable wheels at the bottom, allowing you to effortlessly move the cabinet 360 degrees. "The 2 drawer is perfect! Fits in the closet easily and is a perfect size. Drawers are sufficient and the cabinet provides easy access and is safety plus with a center fifth roller." The beautiful look, perfect size, and great storage are mostly appreciated by customers.

4.YITAHOME Pre-Assembled Vertical Metal File Cabinet with 2 Drawers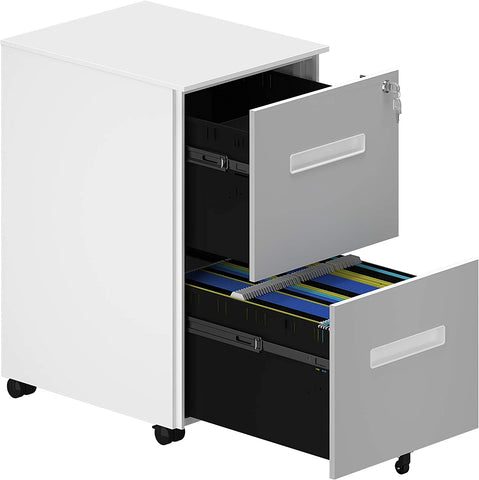 Yitahome's double-drawer file cabinet meets practically all of your home office requirements. With its simple design, lockable casters, and premium finish, this highly regarded, high-quality, and feature-packed alternative will fit your home office or office workstation. It has a heavy-duty steel body with a powder finish that can withstand years of operation. As a result, you may place a huge plant, a printer, a scanner, or any other piece of equipment or decoration on top without fear of denting the body. The entire file cabinet provides large storage space without occupying too much floor surface, making it a suitable alternative for cleaning your workplace and organizing your paperwork.

5.Lorell SOHO File Cabinet with 2 Drawers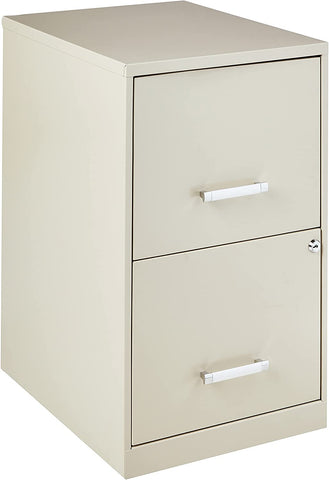 Lorell's cabinet features a clean and modern design that can fit into small areas without sacrificing drawer depth or capacity. This alternative is popular among office employees due to its unparalleled ease and low cost. The all-metal body and baked enamel finish of this product ensure water resistance, and it can last a lifetime under typical conditions. Its letter-size compartment area can accommodate most types of formal documentation, however, it cannot accommodate A4 or legal-size documents. Because this filing cabinet is inexpensive, you get minimal security, variety, and quality in exchange. Furthermore, while a filing cabinet will never provide the same level of security as a safety cabinet, the lock mechanism is still effective enough for professional use.

6.DEVAISE Mobile File Cabinet with 2 Fabric Drawers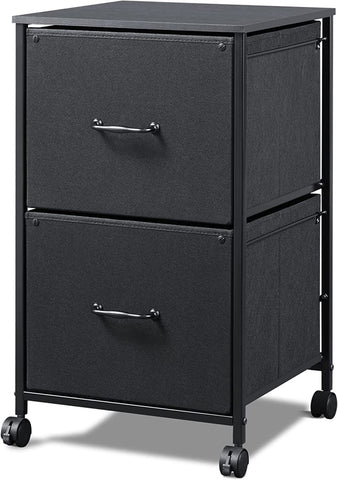 Devaise Fabric Cabinet is much more attractive in an office or spare bedroom than a traditional metal file cabinet. It takes up minimal room and the wheels make the cabinet portable. The frame is metal and solid, the drawers are collapsible with a bottom that you insert inside the drawer when you expand it. I would say if you're starting a business, this would be good before upgrading to a bigger office-type cabinet, or if you're a student and just want to keep personal home records and bills in order, this is also the perfect choice.
The vertical filing cabinet, which has two file drawers for A4 or letter size hanging file folders, can hold a lot of papers while using up little space, and it may even boost productivity by reducing clutter and facilitating access.

7.Bush Furniture 2 Drawer Cabinet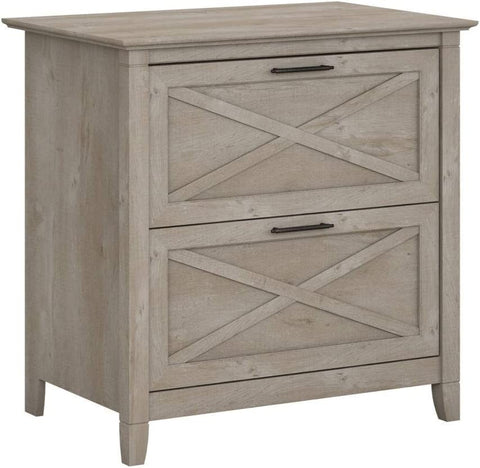 This filing cabinet made of oakwood by Bush Furniture was created especially for a home office to complement practically any home design and is available in eight different finishes. To complete the farmhouse appearance, the drawers have a cross design and antique bronze handles. Although there are no wheels for additional portability, the post legs give the cabinet a small amount of room underneath and help it firmly stay in place on practically any surface.
The two file drawers are manufactured with full-extension ball-bearing slides for smooth opening and closing and accommodate letter and legal size files. When placed side by side, this filing cabinet matches the height of most workstations, creating a roomy sensation and extended workspace.

---
---
0 comments