Customers are quite loyal to Ikea furniture because of its reasonable quality, reasonable price, and creativity. Since it provides almost everything you could need or want for your home, Ikea has a hold on its market like a professional wrestler waiting for the count.
However, recent supply-chain issues have made several of Ikea's best-selling items unavailable both online and in physical stores. So you might want to start looking for furniture somewhere else. Or you simply want something a little different since you have noticed that six of your friends all have the same Alex dresser in their bedrooms.
There are other flat-pack retailers in America besides Ikea, especially if you're looking for something a little more unique and without the exorbitant prices of upmarket stores. Curious? Fortunately, we discovered affordable alternatives to Ikea's furniture that are in stock and even offer quick shipping for free. In this article, I've selected three alternatives to IKEA's top-selling products to prove that you've found a more affordable substitution.
1. IKEA Alex Alternative: DEVAISE 5-Drawer Wood Storage Dresser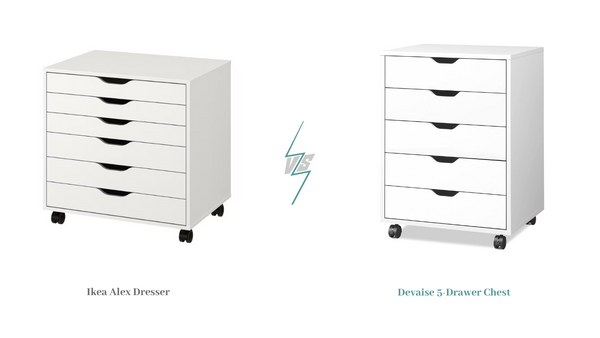 The IKEA Alex drawer is a popular option for people looking for useful, affordable storage solutions. The DEVAISE five-drawer chest is a good choice if you're looking for something with similar functionality but more adaptability. Due to its versatility, this storage option is great for small rooms because it can be used as a dresser, end table, or even a nightstand. This simple, compact piece offers lots of storage and organization space and measures 18.9 inches wide by 25.5 inches tall. The dresser is made of durable, scratch- and water-resistant particle board, making it perfect for use in the kitchen, bathroom, or other damp areas.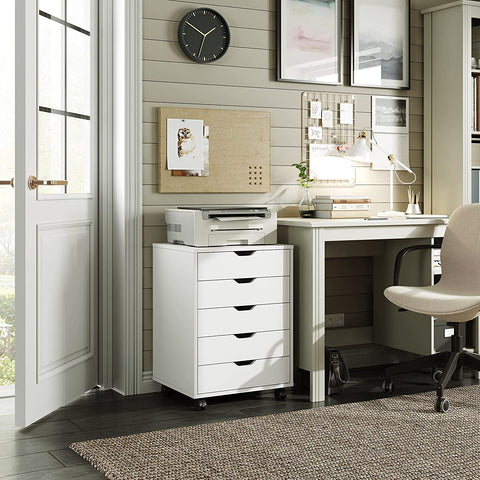 This cabinet provides plenty of storage space and makes it simple to keep your belongings tidy and organized, whether you need to store office supplies or daily necessities like make-up, hair care products, medications, and some other personal health items. The drawers open wide enough to allow visibility of the entire drawer and its contents. The drawers pull smoothly. When necessary, it is simple to wipe clean, and the absence of drawer handles prevents you from catching your brace, clothes, or anything else as you pass it. Additionally, the mobility and stability are also beyond question thanks to the 4 rolling casters including 2 front casters (which can also be removed) with braking function. Why then wait? Invest in a 5-drawer dresser from Devaise today to start taking advantage of all of its advantages!
2. IKEA IDANÄS Alternative: WLIVE Black 6 Drawer Dresser with Metal Handle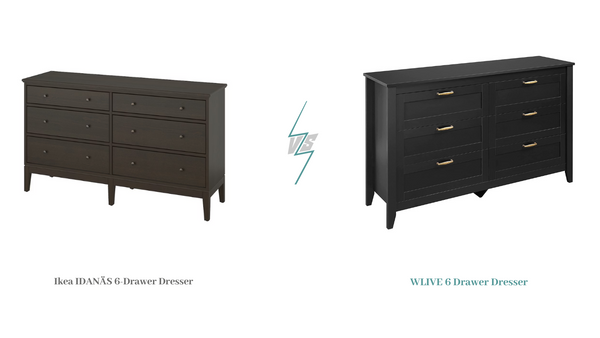 This dresser resembles the IDANÄS six-drawer dresser from Ikea in terms of style but is a little bit more compact and less expensive. Maintaining order in the nursery requires excellent organization, hence making sure you have a functional dresser because a well-organized nursery closet is the best way to combat the chaos. You can get some great ideas for maximizing your own storage space from this WLIVE double dresser. There is never enough storage, so finding furniture with additional storage is a bonus.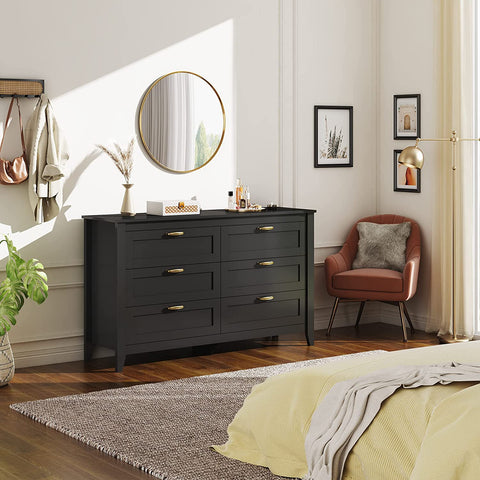 The WLIVE 6-drawer dresser is simply designed with concise lines and decorated with bright bronze-colored metal handles. It has 6 drawers, giving you plenty of room for all of your clothing. The wood dresser's load-bearing capacity is increased by the stable support provided by the bottom plank. Additionally, it has a tip-prevention mechanism to keep it from falling. As we all know, Ikea's well-liked Malm dressers and chests are attractive and affordable, but over the years, they have also tragically resulted in several injuries and fatalities due to their propensity to topple over if not securely fastened to a wall. Whatever you decide, keep in mind that the industry currently only has voluntary stability standards, so you're supposed to be aware of upright furniture and consider attaching it to the wall as a safety precaution—especially if it will be placed in a children's bedroom.
3. IKEA BEKANT Alternative: DEVAISE 3 Drawer Metal Mobile File Cabinet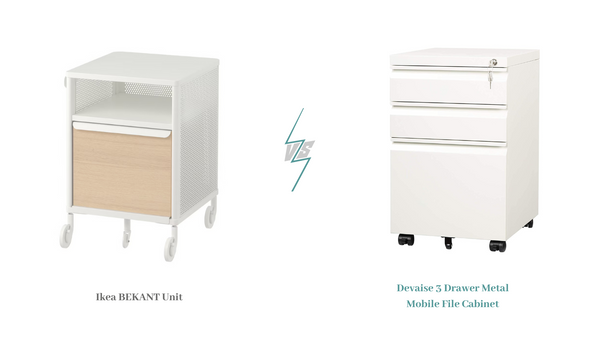 This DEVAISE 3 Drawer Mobile File Cabinet Under Desk is a great option if you're looking for an IKEA BEKANT Unit substitute that can maximize your small workspace or home office while also being easily moved under the desk. This compact file cabinet has three roomy drawers plus one cute little pen tray that are ideal for holding all of your office supplies, including books, rubbers, pencils, printing paper, scissors, and any other accessories. The bottom drawer is ideal for organizing all of your important documents because it can hold legal, letter, and A4-size files.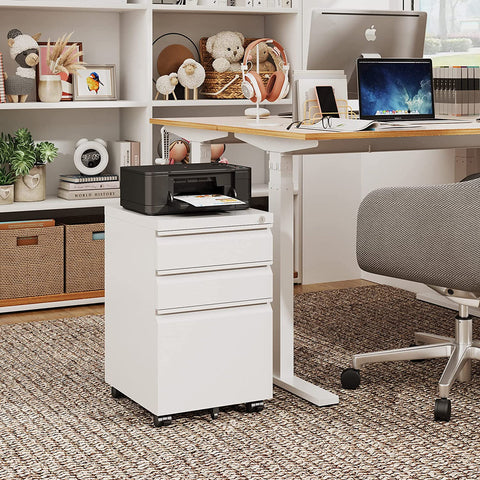 Plus, the cabinet conveniently fits under the majority of desks. This office file cabinet is constructed with a high-quality steel structure for long-lasting durability. It's also very easy to clean; all you need to do is wipe it down with a wet towel to make it look brand new. This versatile office furniture has a minimalist design that makes it simple to incorporate into any space or workspace. And unlike IKEA Alex drawers, which need numerous small pieces to assemble, this file cabinet is well made and only requires you to attach the wheels. With dimensions of just 14.6 x 17.1 x 23.6 inches and a weight of 33 pounds, this cabinet provides a large amount of storage without taking up too much valuable floor space.
---
---
0 comments