It's not a simple undertaking to find the ideal mid-century contemporary TV stand! Size, storage, weight, pricing, and design are just a few of the factors to think about. As a result of this, I've put together a list of 8 top media consoles that will match your design and storage demands. A broad range of media stands awaits your inspiration.
What is Mid-Century Modern?
The mid-century modern design style gained popularity in the middle of the twentieth century. It is often characterized by clean, basic lines and organic curves. Typically, mid-century objects include a simple design and natural materials such as wood and leather. It is a popular design for furniture and home décor, and it may be utilized to create a warm and welcoming environment.
There are various ways to integrate this design into your house, but furniture is one of the most popular. Frequently, mid-century contemporary furniture incorporates vibrant hues and geometric forms. A mid-century modern TV stand is a terrific choice if you're searching for a decorative and practical piece of furniture for your living room or bedroom.
Where to get a mid-century television stand
Style meets simplicity in this TV stand. This wood TV stand with splayed legs has a clean, sturdy form, as well as the beauty of wood and the charm of mid-century design. The door panels open to expose two huge compartments, giving enough storage space for periodicals, electronics, or any other goods you'd need to conceal yet maintain easy access. The adjustable open shelf in the center provides additional storage space and can be adapted to meet various heights. This entertainment center accommodates 50-, 55-, and 60-inch televisions.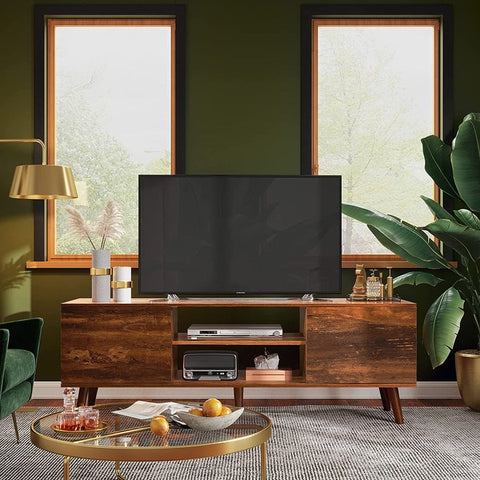 2. Urban Outfitters Ivy Media Console
Infuse your area with a contemporary boho look with this mango wood credenza. The long media cabinet offers a trio of woven, hinge-open doors to store with ease, beneath three open compartments for displaying your favorite books and collectibles. Propped on angular dual-bar base. Equipped with a trio of portholes at the rear for threading through cables. There was no assembly necessary save the legs. All you have to do is screw them on with an Allen wrench. 2 out of the 3 cabinets on the one I bought are fairly hard to open whereas one of the cabinets opens with ease. It just has little knobs for you to grip on therefore it makes it tough to get a handle on it. Kind of strange, but I didn't intend on putting anything in them anyhow.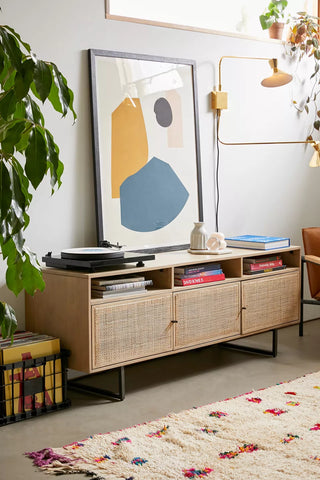 3. Povison Modern Louvered TV Stand
Choosing between storage and design for the living room? With this sleek TV stand, you have both. The slatted tv cabinet combines flair and usefulness to your home, making it ideal for a contemporary mid-century aesthetic. It has slatted doors, solid wood drawers, open storage, a cabinet with detachable shelves, cast metal legs with black plating, and an ash finish. The wire management perforations make it an ideal hiding spot for WiFi routers and TV cables. This contemporary entertainment center with a warm ash finish and two spacious cabinets is both a storage item and a work of art.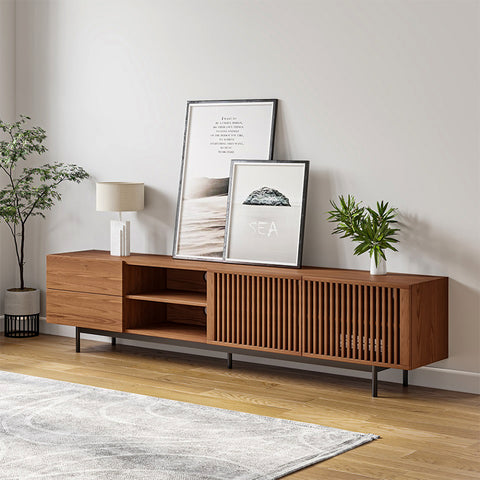 4. Forest Gate™ Grace 60-Inch TV Console in Dark Walnut
The sophisticated mid-century design of the Forest Gate Grace TV Console makes it the ideal foundation for your home entertainment system. This console is constructed with a sturdy MDF frame, slanted metal legs with rubber feet, roomy cabinets, and adjustable shelves. I enjoy the aesthetic of this product so far, however, I've spent two hours assembling it and have yet to attach the doors since some of the screws are too tough. I have tried many screwdrivers and still cannot get the screws in, therefore I will have to purchase a drill to complete the installation. I was really looking forward to assembling the item, but I'm somewhat disappointed that it's not as simple as the directions make it sound.

5. Walker Edison 60" Mid-Century TV Stand
With this Mid-Century TV Console, your living or entertainment space will be even more elegant. This piece of furniture provides enough storage space for your media components, gaming gadgets, and other electronic equipment. It features 3 drawers in the middle providing convenience and functionality while adding warmth and structure to your home decor. This robustly constructed wood flat panel TV stand accommodates televisions up to 55" wide. The adaptable design has three spacious drawers, a side cabinet with adjustable storage, and a rear cable management function.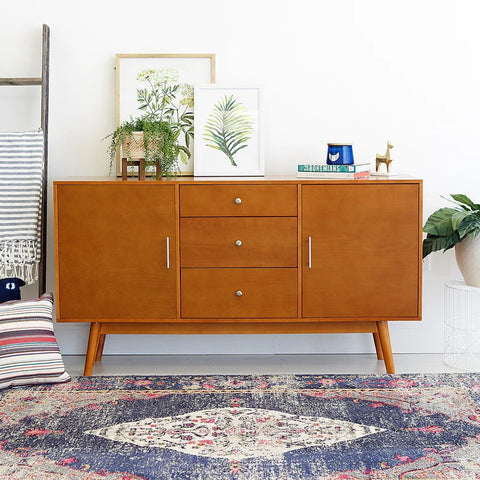 6. All Modern Hagen 76'' TV Stand
With such a statement TV stand, your interior design is nearly complete. It is crafted from solid and engineered wood and has a subtle mid-century modern form. The table contains two chevron-detailed cupboards for out-of-sight book and game storage. Two open shelves in the center provide additional storage and include cable management cutouts to capture those pesky cables. The metal foundation consists of two sled-like legs and stretcher bars and is finished in sophisticated gold color.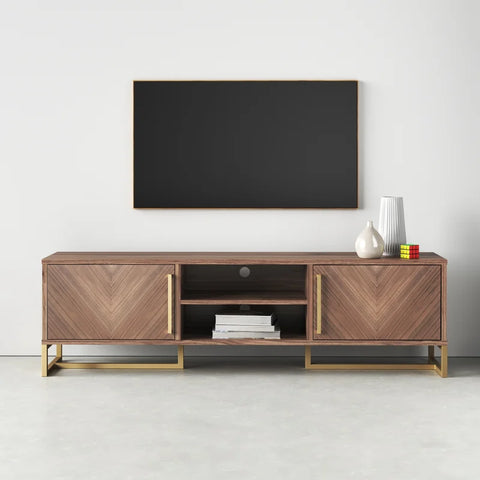 7. Apt2B Bronson High Media Stand
Solid Acacia wood, gold drawer knobs, and a stunning mid-century style give the Bronson Media Stand a timeless charm that will look amazing in any contemporary living area for generations to come.
The Bronson High Media Stand has four drawers on top and four doors that slide out to provide more storage behind each door. This exquisite TV stand has an attractive shape and is ideal for electronics owing to its cable passageway. A fantastic option for any house!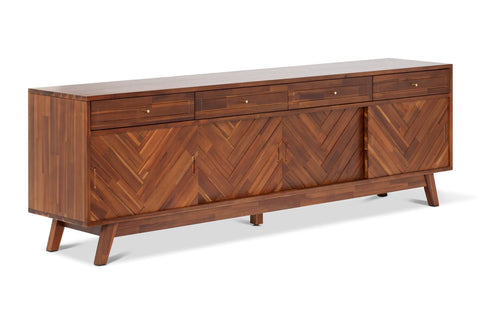 8. All Modern Gabe 70'' TV Stand
Can vintage elegance and storage be combined in a single piece? Yes, you can. This TV stand will infuse your living room or den with a mid-century contemporary style. Electronic devices, board games, and your old record player are stacked in vast open storage. The sliding cane doors provide simple access to electrical devices (or to cover up clutter when guests come by). Five compact drawers provide storage for card decks, remote controls, and current readings. This 70-inch wide TV stand can accommodate up to 70-inch flatscreens.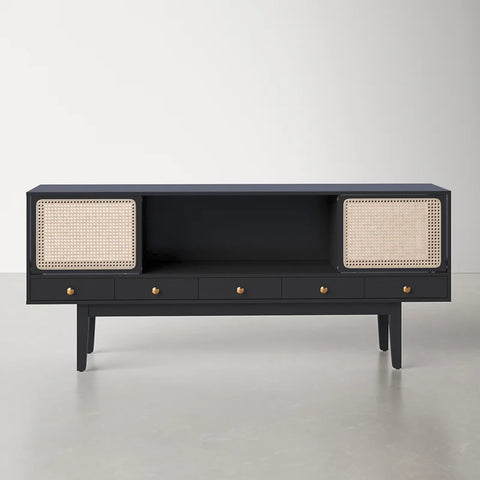 ---
---
0 comments