Maybe you're tired of piles of important files in your home office on your desk, or worse yet, your floor. Or perhaps the file cabinets in your office are aging and cannot be opened and closed easily. You nearly dislocate your shoulder every time you yank one file drawer open, and can't remember the last time any of them closed completely.
In other words, it's time to buy a filing cabinet. Now that you're ready to properly store, organize and protect your office files and documents, don't whip out the company credit card just yet.
Here are some recommendations for you.
Top 1 DEVAISE White 3-Drawer Slim Vertical File Cabinet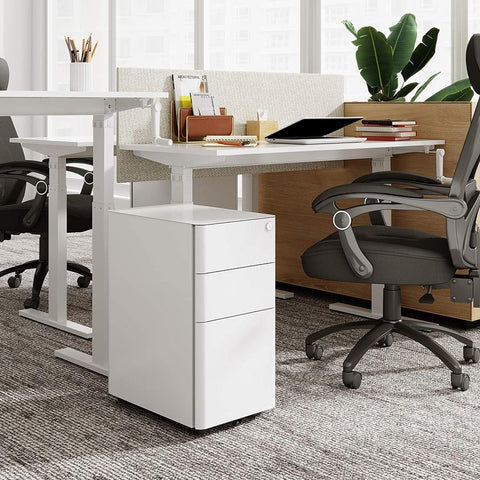 The 3 drawer file cabinet measures 19.7 x 11.8 x 22.8 inches and features three locking drawers you can use to store any document. Two of these drawers are stationary, while the remaining one can accommodate A4-sized hanging file holders.
This metal file cabinet is equipped with an interlock system, meaning that you can't open more than one drawer at the same time.
This modern file cabinet is stable, and it can hold up to 330 lbs of weight. Furthermore, moving it is easy thanks to a set of five casters.
This item is relatively small, so it can perfectly fit smaller environments. This three drawer file cabinet comes fully assembled, except for the casters.
Top 2 Blu Dot Dang 2 Drawer File Cabinet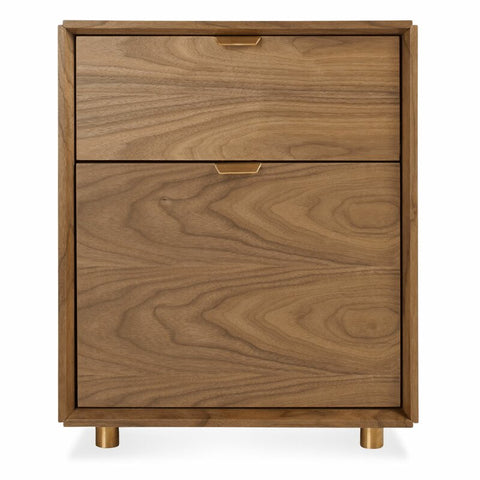 If you'd like to invest in a well-made, sleek piece for your office, look no further than Blu Dot's Dang two-drawer file cabinet. Made with solid wood veneer over engineered wood, it has a powder-coated steel base that provides more stability without compromising its modern design, complete with antique brass drawer pulls and feet.
This under desk file cabinet can fit legal-size and letter-size files and comes equipped with bars for hanging file organization. It also stands at 22.5 inches tall, 18.3 inches wide, and 16.8 inches deep, making it another great option to fit under your desk or to have in small offices. The setup is quick and easy because the file cabinet comes fully assembled and comes with a one-year warranty.
Top 3 DEVAISE 3-Drawer Wood File Cabinet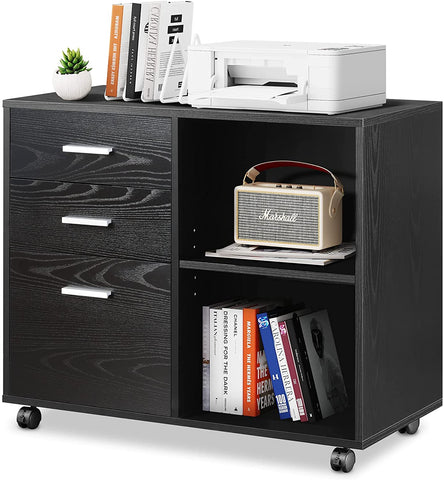 If you need a lot of storage, look no further than the Devaise mobile and lateral file cabinet: Its three drawers include two small top drawers and a larger drawer on the bottom for file storage with a hanging organizer for letter and A4-size documents. The extra open storage has adjustable shelving and is designed to have ample space for a printer or scanner, additional paper or documents, and office supplies. This file cabinet with shelves also has lockable casters on its two front wheels to keep it stationary as needed.
Made of manufactured wood, the printer stand file cabinet stands at 26 inches tall, 32 inches wide, and 16 inches deep, weighs approximately 56.5 pounds and can hold up to 150 pounds. Note that it only has a one-year warranty that goes into effect the day your file cabinet is delivered; it can cover missing parts, damaged or defective products, or a manufacturer defect. However, all warranty claims are subject to evaluation by the company.
Top 4 Lorell Deep 2 Drawer File Cabinet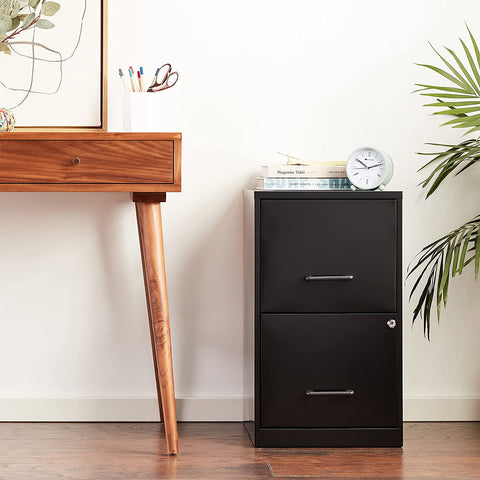 This locking file cabinet from Lorell is a solid choice for anyone looking for an affordable and compact stationary file cabinet. The two-drawer file cabinet is lightweight—weighing only 19 pounds—and can be easily moved around your home office, even without casters. 
Measuring at 24.5 inches tall, 14.3 inches wide, and 18 inches deep, the file cabinet is ideal for smaller home offices and workspaces. In addition to its size, this file cabinet is durable, with two lockable drawers that can store letter-size files and sturdy steel construction with a baked enamel finish. Plus, this 2 drawer locking file cabinet is covered by the manufacturer's limited five-year warranty, which is a great deal for the price compared to other more expensive options with shorter coverage.
Top 5 Sauder International Lux Lateral File Cabinet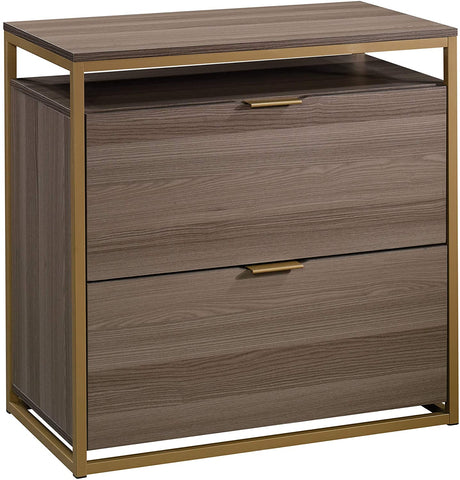 Sauder International Lux is a solid wood cabinet with metal accents that boost its charm and function. If you need a product that can fit most files and lasts for long, read on. The two-drawer cabinet needs only 30.32×16.54×29.72-inches of free space to work. Its drawers hold and secure up to letter-size/legal files, while the open storage at the top is suitable for storing pens, staplers, and other small items.
Sauder International Lux has a stylish wood and metal finish that enables versatile placement. You can use it in a corner in your office without it looking out of place. It also works well as a side table in offices and reception areas. Your creativity is your only limitation. Even though the drawer needs a bit of setup to work, you receive everything you will need to set up a functional system. You get all hardware-free and an instruction guide that covers its assembly.
Top 6 INTERGREAT Locking 3-Drawer Filing Cabinet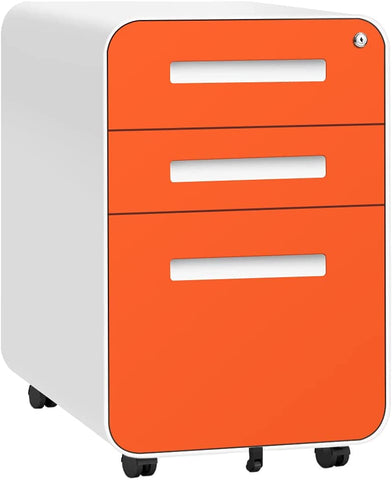 I change my office layout a lot—what's the best file cabinet on wheels? If movement is important to you, be sure to pick a style that has 360-degree wheels for maximum ease. They move in every direction and on most surfaces, so whether you've got hardwood floors or wall-to-wall carpeting, you should be all set. The good news is, many cabinet models—in loads of styles—feature casters, so it's not hard to find a pick that's right for you and also rolls with it, baby.  
This rolling file cabinet with a cold-rolled steel frame is high endurance and resistant to rust, but the adorable, retro vibe adds a stylish touch to the office.
How much room do you have in your office? How many files does the cabinet need to hold? How long do you need your file cabinet to last? If you like making significant office furniture purchases only once, please slow down, pay attention and make these important considerations before you buy.
---
---
0 comments