It may appear impossible to find a low-cost coffee table that is well-made and looks as stylish as its more expensive counterpart, but we assure you that it is not.
We know this coffee table exists because we discovered over 10 of them. We scoured our favorite online stores for the most affordable coffee tables available, ranging from traditional and timeless to modern and avant-garde.
The items on our shopping list will make a statement in any room, and they are organized from least expensive to most expensive (nothing costs more than $200!) to make your shopping experience even easier.
1. Rolanstar Lift Top Coffee Table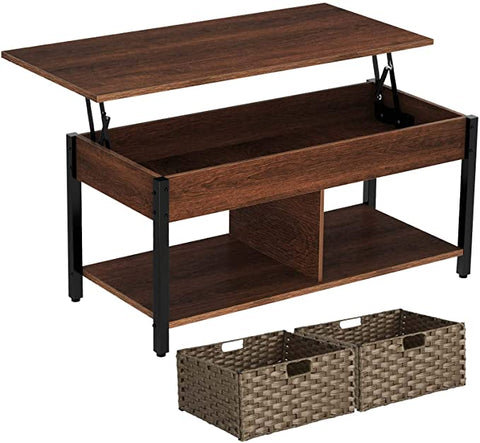 When it comes to the storage space master, Rolanstar Lift Top Coffee Table must have a name. A hidden compartment beneath the tabletop allows you to better allocate and organize your workspace while the lower open shelf is better for storing books and snacks. The matched rattan baskets could also increase your available storage space by keeping all your essentials handy and organized. The lift-top mechanism is an added feature to the basic function, which provides you with a large floating raised work surface with the size of 41.7" W x19.7" D.
Pros:
Floating work surface
Ample storage
Load capacity up to 100 lbs
Cons:
Slamming when closing
Careful assembly since the laminate covers lightweight fiberboard
2. IKEA LACK Coffee Table
The IKEA Lack Coffee Table is the most affordable option if you don't want to invest too much in your furniture, and its simple construction and design style can be incorporated into almost any decor style. The table measures 35-3/8 x 21-5/8 inches and has an open lower shelf as well. The LACK table is made of particleboard, as you'd expect from a budget pick, so it's not the most durable product. However, it remains an excellent value for anyone on a tight budget.
Pros:
Low-cost
Perfect size for a tiny apartment
Light enough for moving around
Cons:
Paints come off easily
Short service life
3. WLIVE Retro Brown Lift Top Coffee Table
Who says storage can't be so chic? No matter whether you're a book lover, gamer, or couch potato, Wlive Lift-Top Coffee Table consists of two secret storage compartments and one side open space with a removable shelf that will serve all you need. It measures 39.4" W x 19.7" D x 17.4-23.7" H, which will not take too much floor space. In addition, the tabletop lifts reveal even more capacity for working or casual meals. Out of all of the coffee tables with the moving top, this was the coolest looking and the most reasonably priced.
Pros:
Aesthetically pleasing
Removable Shelf
Plenty Storage
Soft-closing
Cons:
Hard to assemble
The limited load capacity of the lift top part
4. Sand & Stable Laguna Coffee Table
No wonder this best-selling coffee table is so popular since it is both affordable and stylish. Thanks to its solid wood and X-shaped metal design, this Sand&Stable Laguna Coffee Table adds industrial and farmhouse accents to your living room. The table measures 48 x 24 inches and has a large lower shelf for displaying trinkets or storing magazines.
Pros:
Strong metal frame and thick wood
Match your decor easily
Cons
Much darker than it looks in the picture
Uneven surface: the wood separated leaving gaps
5. Urban Outfitters Best Ottoman Alina Storage Ottoman
The Alina Storage Ottoman combines comfort and function of storage and footrest capacity. It is made from natural seagrass in a woven construction and will provide a 21-inch surface when you complete it with a lid. There is no gainsaying that it's a decent-sized coffee table for a house with limited space but has a distinctive style.
Pros:
Small space-friendly
Kid-friendly(round and sturdy)
Cons:
A bit of smell
Tiny
6. Wlive Concise Coffee Table with Storage Shelf and 2 fabric drawers
WLIVE Coffee Table is a combination of sleek industrial design and versatile storage space, including the large underneath the open shelf and 2 double-sides drawers allowing easy access to things no matter which direction you face. The overall dimension is 39.4" W x 19.7" D x 17.7" H, which could serve all kinds of organizing needs but will not take up too much floor space. Industrial, rustic, contemporary, and even some modern styles, what else doesn't it fit in?
Pros:
Blend with all styles
Extremely convenient with handles on either side  
Cons:
Cheap-looking baskets
Sharp edges
7. Novogratz Athena Nesting Table Set
Nesting tables are excellent space savers that can be arranged to meet your specific requirements. One can be placed in front of a sectional while the other serves as an end table, or they can be nestled together to create more surface space as needed. This popular Novogratz Athena Nesting Table Set has received rave reviews and could add an upscale and classic flair to your space. 
Assembled larger table dimensions: 18. 1" H x 32. 7" W x 32. 9" D.
Assembled smaller table dimensions: 22. 6" H x 20" W x 20" D
Pros:
Super easy to install
Gloss finish
Cons:
Fragile
8. Homieasy Industrial Coffee Table
If you're seeking a simple and stable piece, look no further than the Homieasy Industrial Coffee Table, which has a decent dimension for your living room:43.3" L x 19.7" W x 17.7" H.
This coffee table relies on a simple straight lines metal frame and is made of a high-grade smooth MDF board to achieve long-lasting usage. When you need to do work on the top, put your clutter on the bottom shelf to keep your apartment organized at all times.
Pros
Cost-effective
Resistant to wear and tear
Simple sleek design
Adjustable feet 
Cons:
Hard to assemble (misaligned screw holes)
Easy to leave fingerprints on the surface
9. SIMPLIHOME Monet Modern Industrial 32 inch Wide Metal Coffee Table
The Simple Home Monet Metal Coffee Table's sleek, industrial design makes it the ideal centerpiece for your living room. This table has a sturdy metal frame that measures 31.5" D x 31.5" W x 18.5" H, a removable tray top, and an open lower shelf for extra storage and display space. The top tray can be flipped over to provide a solid surface for laptops and tablets.
Pros:
Modern Industrial Looking
The removable tray top can be flipped for use as a flat surface
Easy to Assemble
Cons:
A little flimsy
Inappropriate size of the holes
10. Woven Paths Landmark Pine Solid Wood Farmhouse Coffee Table
Here's a simple rectangular coffee table with a natural and rustic look that feels right at home either in the country or the city. It is made from sturdy and solid pine and measures 39"L x 20"W x 16"H, adds an understated warmth and a contemporary rustic accent to your living space. No matter being used for casual meals or as a reading nook, this modern look will easily blend with your decor style.
Pros:
Low-cost
Sturdy construction
Comes assembled
Cons:
Rough and unfinished wood
With chemical smell
---
---
0 comments