Here is the ultimate list of top 10 best filing cabinets of 2022 below that are useful as well beautiful at the same time.
Home office funiture
is designed for improving working efficiency, especially ones used in workspace or office. But, even in the office, beautifying your work area is the great tip to reduce much pressure brought from work. 
1. 

DEVAISE 3 Drawer Mobile File Cabinet with Lock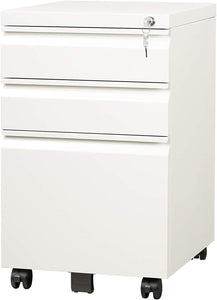 Devaise cabinets have both good looking and quality. It is the best seller on Amazon. It is fully assembled expect wheels. The interlock system makes sure that three drawers are locked and business private ensecued. It fits for most home office and perfect for fitting under your work station.  
Top 2 stationary drawers come with a free removable pencil tray which can easily store your rubbers, pencils, cissors, and any other accessories. For the third drawer, it comes with free hangers to adjust filiing room from letter size to A4 to legal size. 
Plus, the lined shape makes it much easier to open drawes with only your hand touching and in the perspective of appearance, white color matches perfect under your desks. It is deserved to the top 1 for Top 10 Filing Cabinets in 2022.
Purchase link: Devaise mobile file cabinet with lock
2. 

DEVAISE 

2-Drawer Mobile File Cabinet with Lock
All steel construction ensures the max weight capacity: 330 lbs; Overall Dimension: 14.6" L x 17.1" W x 26.6" H (including wheels).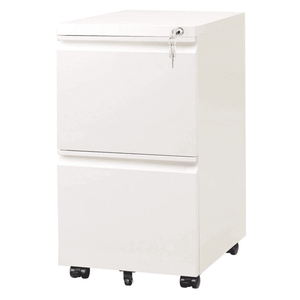 This locking file cabinet saves more space under the table but does not reduce space to hang over the filing cabinets. 1 hanging-file drawer with removable hanging bar accommodates letter, legal and A4 size file folders.
Appearace makes people much impression since its cute size and round curved shape make everyone likes it. 
Purchase link: DEVAISE 2-Drawer Mobile File Cabinet with Lock 
3. Printer Stand File cabinet
A printer is essential in an office and you definately consider purchase a filing cabinet which is capable to hold a printer stand on top. Also, when you need a printer, the filing cabinet needs much space to store enough paper under the printer. 
This filing cabinet with open storage spaces, file drawers and storage cabinet is designed to keep the office machines, paper, files and suppliers organized. It can be fixed beside or under desk. The sleek and modern finish is an easy fit for office or home study.
Purchase link: printer stand file cabinet
4. 

Stockpile 3-Drawer File Cabinet
Even though it's built like a tank with powder-coated steel, the Laura Davidson Stockpile has a stylish, modern look that makes it a nice option for contemporary office spaces. It features a built-in pencil tray and easy-gliding drawers.
But the only disadvantage of this product is its price. It takes more than $200. 
5. DEVAISE 3-Drawer File Cabinet with Smart Lock
This is the latest file cabinet with the smart lock and it only takes $176.39.
Same as other outstanding filing cabinets designed by DEVAISE, it has all the advantages of former file cabinets. The new smart lock has a numerical keypad, which lets you unlock your cabinet with a four-digit code instead of a physaical key. And with battery box to replace battery for unlimited use.
Purchase link: Devaise smart lock file cabinet
6. CommClad Commercial
The CommClad Commercial features four letter-size drawers in a tall, slim design that makes it ideal for use in tight spaces. You can keep the documents you need to access most regularly in the top compartment to minimize the need to crouch.
7. Lorell 17427 3-Drawer Mobile File Cabinet
We would be surprised if the Lorell 3-Drawer Mobile File Cabinet does not appear attractive to you. For features, it has 2 file drawers that accompany letter-size hanging files and a top drawer that accompany smaller office supplies. This one is very portable for the easy roll casters that it comes it. The top 2 drawers can be locked, too.
On a side note, this mobile file cabinet from Lorell is a best-seller. This should tell what a good cabinet it really is.
8. Space Solutions 3-Drawer File Cabinet
Here is another great bang for your buck. This letter size cabinet is definitely sturdy and has lots of room. They seem to slide open and closed smoothly as well. And, on top, there is a pencil drawer where you can put scissors, stamps, printer ink, etc.
It is lightweight, and the only assembly you need to do is putting on the handle. Plus, you can keep the top 2 drawers safe by locking them up.
9. Hirsh Industries Pedestal

The Hirsh Industries Pedestal is both sleek and versatile. The design of hidden casters is for an integrated appearance. Instead of handles that stick out, it's built with drawers that have small indents at the top, which gives the unit a flat profile and makes it easy to store. Plus, it arrives fully assembled. 
10. Songmics File Cabinet with 3 drawers
This Songmics file cabinet we would like to introduce to you is the basic : 20.5" deep 3 drawer steel file cabinet. With the 3 drawers, the bottom one is letter size cabinet while the top two are for storing small supplies. For other essentials, we have enough room to store them in the top two drawers. 
It operates using the smooth glide suspension and durable full extension slides allow you to pull out the drawers fully and support them without tilting. And, the fact that it has a perfect color match grey blue and this color for me is a bonus.
Are you ready to look at your office in a different light with a new file cabinet? You will be impressed with how a cabinet can save your space efficiently and aesthetically. Grab one of these now for a more effective work life.
---
---
0 comments