There never seems to be enough storage space, no matter how big your home is. There are always things that need to be put away in the kitchen, bedroom, and front hallway. Adding storage cabinets to your space is a great way to add shelves and hide the mess behind closed doors.

There are many different kinds of storage cabinets, so think about what you want to use yours for before you go shopping. Many storage cabinets end up being a catch-all for all sorts of things, but it can be helpful to keep only one type of item in each one. For example, kitchen storage cabinets work well in the kitchen and can also be kept in the pantry. Most of the time, they are made of wood and have two to four doors and several shelves that can be moved. You can put dry goods, dishes, cookbooks, small appliances, and other kitchen-related items in these cabinets. Many kitchen storage cabinets come in more than one finish, so you can find one that goes with the rest of your kitchen's style.

A home office storage cabinet is another type of cabinet that people often use. As the name suggests, it is often kept in the home office or study room, but it is also good for sheds and basements. Most of the time, this kind of storage cabinet is made from wood. They have  one or double doors that can often be locked and shelves that can be moved. You can put things like tools, toolboxes, office supply, and more in these cabinets.
1. Devaise White 5-Drawer Wood Dresser Chest with Door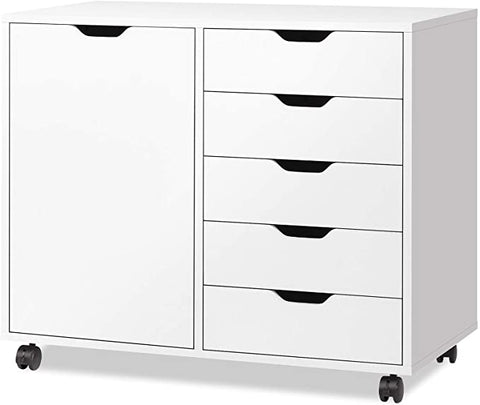 This chest of drawers with storage spaces, 5 drawers storage cabinet can perfectly fit any color schemes and tones, simple design, and practicality are great for office, studio, kitchen, or bedroom. The big desktop can house your printer or scanner, while one door with storage shelves may conveniently separate the area according to your needs. Crafted from robust particleboard for long-term usage, the Eco-friendly board is scratch-resistant and water-resistant. Rolling on four wheels, this printer stand may be moved and changed in the position freely. Built-built brakes on front two casters to hold it in place and improve stability. This firmly made dresser with an equally distributed maximum weight capability of 100 pounds. Love the overall quality of this cabinet! I was pleasantly delighted that the door features a "soft closing" hinge! The primary complaint is the bottom portion of the drawers is *almost* square, but maybe around a 1/8-inch discrepancy in length! Through trial and error, I determined the longer side needed to travel front to back. I also had not dealt with an adjustable door hinge, so I had to watch several tutorials on how to install it correctly.
2. 
Walker Edison Wood Dresser Bedroom Storage Drawer Organizer Closet Hallway, 6 Drawer, Caramel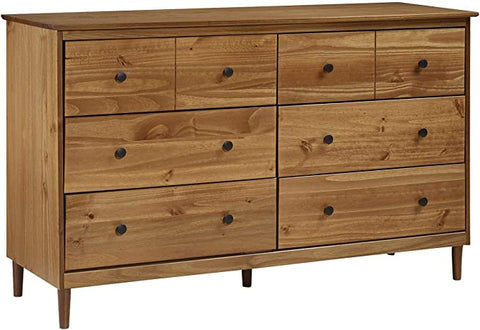 This large 6-drawer wood dresser has just the right amount of space for your clothes and has a classic, simple look. Its simple style makes it easy to match with many other styles, such as transitional and modern, so you can easily add it to your room. Made of solid pine and high-quality MDF that was harvested in a responsible way from renewable forests for a sturdy, eco-friendly design. The simple, round drawer handles add a subtle touch to the piece. This Mid-Century Modern dresser has two small drawers on top for things like socks and four larger drawers on the bottom for everything from t-shirts to jeans. The legs are tapered, which adds to the classic look and makes it easier to clean the space under the table. This dresser will be both useful and fashionable in your room.
3.Signature Design by Ashley Shawburn Modern Farmhouse 5 Drawer Chest of Drawers, Two-Tone Whitewash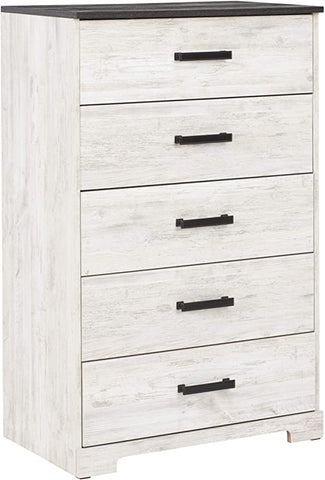 This five-drawer chest's stylish appearance gives a whole new meaning to the term "provincial." Hardware in a warm pewter tone gives this item a more industrial feel. Infuse your bedroom with a warm sense of nostalgia with this distressed whitewashed dresser's rustic gray planked oak wood grain finish and distressed whitewashed body. Ashley Furniture Industries created and produced this piece. Furniture, lights, carpets, accessories, and mattresses from a name you can trust. There's something for everyone's taste and wallet. The five full-size drawers may be utilized to keep your clothing clean and organized thanks to their metal ball bearings. 27.5" wide x 16.5" deep and 44.5" high; easy to assemble with provided hardware and instructions. It's been suggested by two individuals, so it must be good. The inside of the drawer is 23.50 inches wide, 13 inches deep, and 6 inches high. Assembling them was a breeze, and they look much more expensive than they cost. Since similar-sized nightstands cost between $200 and $400, I'm amazed at the low price of them. The nightstand has a substantial weight to it and seems to be a well-made piece of furniture. An excellent shade of gray. Is a little pungent out of the box, but it should dissipate in a few days. On each nightstand, we placed one screw from our stash of extras. To be on the safe side, I thought I'd mention it.
4.

Signature Design by Ashley Neillsville Industrial 6 Drawer Dresser, Butcher Block Gray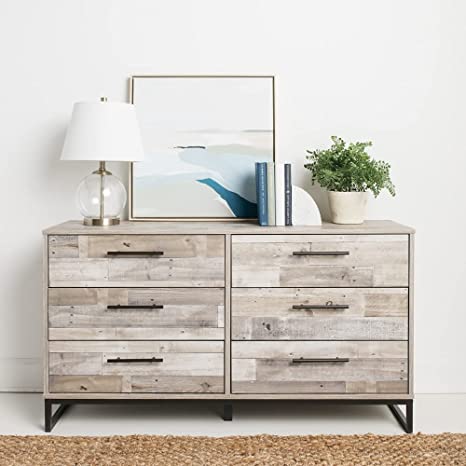 This dresser unit would be perfect for you if you want your bedroom decor to be as simple and uncluttered as possible. 6 drawers with dark pewter-tone hardware, metal ball bearings, and metal sled legs, made of engineered wood with a butcher block whitewash finish over reproduced oak grain. To give it a sleek, contemporary look, this dresser has a thin, ultra-linear profile and vinyl-wrapped drawer sides and backs for added strength and long-term use. This bedroom dresser, which measures 54" W x 16" D x 29" H, may be utilized to keep your clothing organized; it's also ideal for baby clothes or a child's room. Hardware and step-by-by-step instructions are both provided for your convenience. It's been suggested by two individuals, so it must be good. Assembly requires a screwdriver and hammer (both not provided). This dresser has a special place in my heart. With a graphic hardwood veneer over particle board, the quality is acceptable. It was so simple to put together that even I could do it in under an hour. It's simple to follow the directions. Each and every component/piece of hardware is there and undamaged. Sturdy yet not too hefty. All of the drawers were perfectly aligned.
5. 
Signature Design by Ashley Piperton Modern Replicated Sugarberry 4 Drawer Chest of Drawers, Black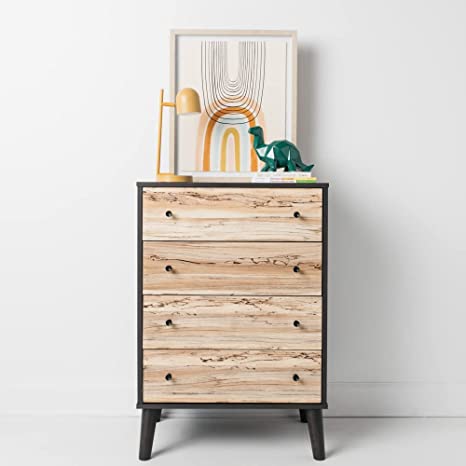 The Piperton four-drawer chest is a delightful piece of furniture that will look wonderful in your house since it strikes the ideal balance between traditional and modern design. It boasts an expressive two-tone design, with a dark charcoal finish over copied oak grain that has a genuine touch and a simulated sugarberry wood grain, and it is an uncomplicated combination of basic but modern style. The drawers include ball bearing glides, which allow for smooth opening and shutting, while matte black knobs and splay legs lend a finishing touch.
6.

Baxton Studio DISA Mid-Century Modern Walnut Brown Finished 6-Drawer Dresser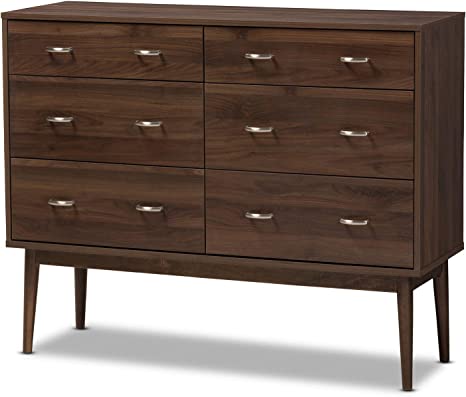 The Disa 6-Drawer Dresser is a flexible piece of furniture that compliments a variety of home themes, from colonial to contemporary, thanks to its sturdy construction and understated details, which results in a pleasing shape that strikes a balance between wood finishing and modernity. The dresser is built with engineered wood and MDF boards for durability, and it has six pull-out drawers that are mounted on metal runners for a smooth movement so that you can easily access your clothing and linens. The Disa has been given a finishing of walnut brown veneer for an enticing woodgrain, and it has been accentuated with sleek metal handles for straightforward practicality with a modern appearance. The Disa is supported by four sturdy legs made of solid wood, each of which has an angled design and a tapered shape. This adds a touch of Scandinavian style to your décor. The Disa is a product that must be assembled and was manufactured in Malaysia.
7.Poppy Mid-Century Modern Mango Wood 3 Drawer Chest, Natural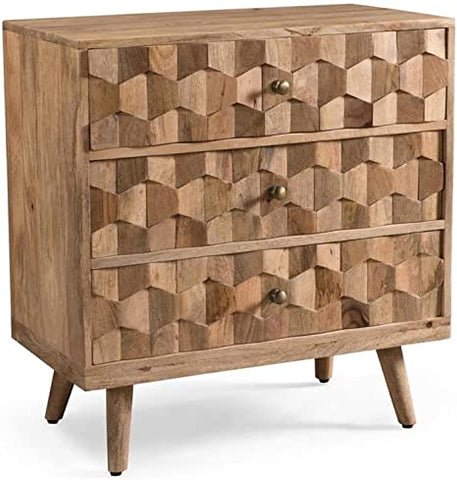 Our chest of drawers brings a touch of mid-century modern style to your living room with its trademark splayed legs and gorgeous wood frame. To rethink a conventional design, this piece uses clean lines and a surprising textured appearance. The rich browns of mango wood are accentuated by the natural spalting that occurs in the wood, making each piece unique. This hardwood not only has interesting patterns and takes stains well, but it is also thick and resistant to wear and strain. A gorgeous 3D weave pattern adorns the drawers, giving your house a lovely abstract appearance while also adding texture; A nod to art deco design, this piece adds a sleek, stylish touch to your home's decor. Three drawers in this accessory not only make it easier to keep your things but also provide a fashionable look to your house; The antique brass knobs on each of the drawers provide the right finishing touch to this item.
8.COZAYH 3-Drawer Accent Dresser with Mirror Fronts, Modern Farmhouse Accent Chest Clean-Lined Silhouette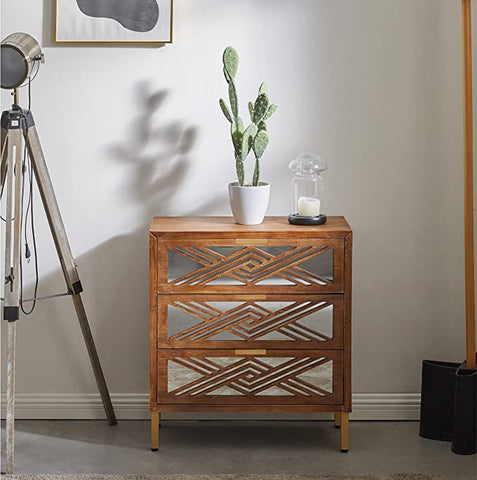 As soon as you open the package, this product is ready to use. Don't waste your time poring through complicated instructions or battling with mismatched holes. Blending solid and manufactured woods, it has a clean-cut form with mirrored doors and geometric overlays. Metal runners with secure stoppers keep the drawers quiet and safe.. For a room with little storage space but no compromise on design, an accent chest like this is an excellent choice.
9.
Modway Kali Mid-Century Modern Wood Dresser in Walnut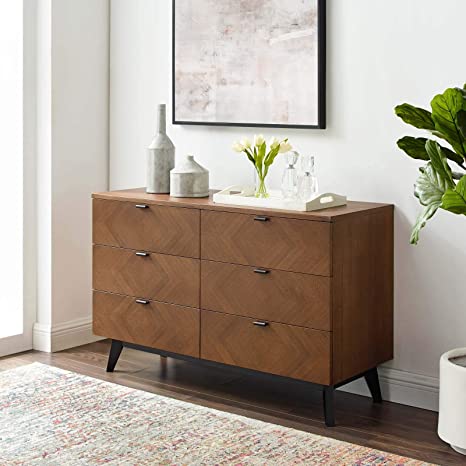 The Kali Wood Dresser's edgy mid-century modern design will transform your bedroom's aesthetic. Intricate geometric chevron patterns and six soft-close easy-glide storage drawers are included in the Kali Dresser. The Kali Dresser is made of solid wood and MDF particleboard, and its splayed black legs and non-marking foot caps give it a powerful presence in your master bedroom or guest room. Take center stage in your bedroom with Kali Wood Dresser and arrange your belongings.
10.Baxton Studio Wales 3 Drawer Contemporary Chest in Light Brown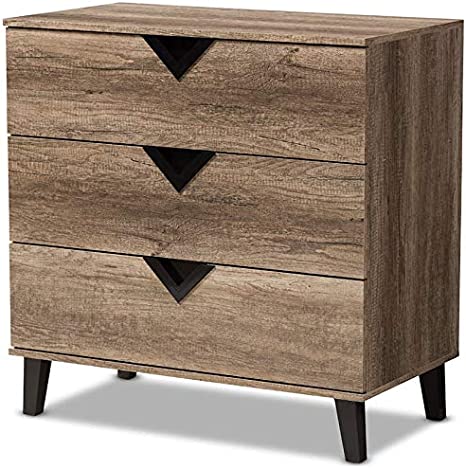 The Wales 3 Drawer Chest blends practical design with contemporary aesthetics. This wood impression veneered dresser contains three drawers with black triangle vinyl knobs, and its profile is in the shape of a geometric shape. The Wales chest is supported by angled legs that are black in color, creating a contrast with the oak veneered finishing. The dresser's long-term durability is ensured by the use of engineered wood in its construction. The Wales comes standard with three pull-out drawers that are mounted on metal runners for easy access to all of your apparel and bed linens. You are free to dust the space beneath the clearance any number of times you see fit in order to maintain its cleanliness.
---
---
0 comments