1. Walker Edison Maison Industrial Metal Mesh Door

 TV Stand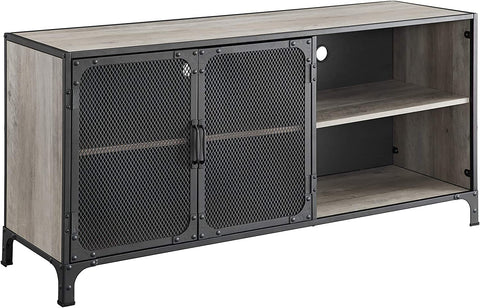 Customers give this edgy, industrial-style TV stand great marks for quality and style. It has an adjustable shelf with plenty of room for everything from enormous art and design books to miniature succulents for a pop of color. It also has black mesh metal doors, riveted hardware, and adjustable shelving. It is available in four additional widths, rustic oak, and dark walnut finishes, and can accommodate 58-inch TVs.
A satisfied 5-star reviewer exclaims, "I like the clean look of the piece. It harmonizes and modernizes a collection of TV, sound bar, and a separate Bluetooth speaker."

2. 

WLIVE TV Stand with Cable Management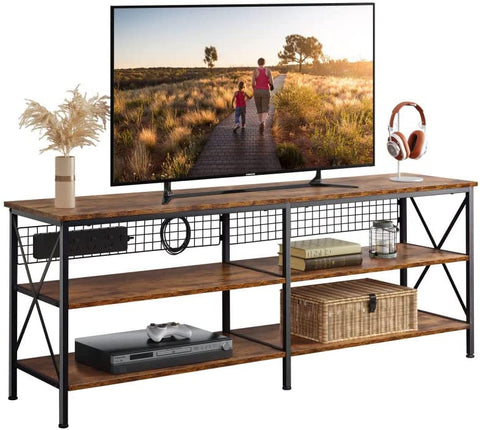 With its metal frame and bottom shelf, a great rustic yet contemporary TV stand lends you a touch of modern industrial style. The three open shelves give you plenty of room to organize and keep things in order as you store things like video games, remote controls, daily necessities, and decorations. The entertainment center is stabilized by the metal grid at the back, which also improves the overall industrial design. The power strip can be neatly fastened to the grid. If you like the appearance, it is also one of our more economical choices, so take that into account.

 3. West Elm Industrial Modular TV Stand
This console table from West Elm with a blackened steel frame will complete your industrial loft living room. A sturdy steel frame supports smokey mango wood shelves and cabinets on the melancholy TV stand. Each cabinet has slight variances in the wood, guaranteeing it will be a unique focus point for your room. Grab the eye-catching black option, or choose the raw mango, cool walnut, or cerused white finishes for a more natural appearance.
Genuine wood typically has a cost, but the investment is always worthwhile. The finely grained mango wood of this West Elm media console, backed by a geometric steel frame, gives the family room an architectural edge.

4. Yaheetech Industrial TV Stand
The industrial-style stand from Yaheetech is slim and adaptable. It can be used as a low bookcase, coffee table, or seat to place your TV on. The X-detailed metal frame is rather easy to put together. The aged wood surfaces give the space a low-maintenance, cozy, and customized appearance. The long, open shelves are 8" and 9" tall, making them easily able to accommodate most components. This piece of furniture is highly durable, lovely, and useful. All of your multi-entertainment gadgets, including routers, Blu-ray players, and even printers, fit snugly inside.

 5. 
Walker Edison 2 Shelf Industrial Wood Metal Bookcase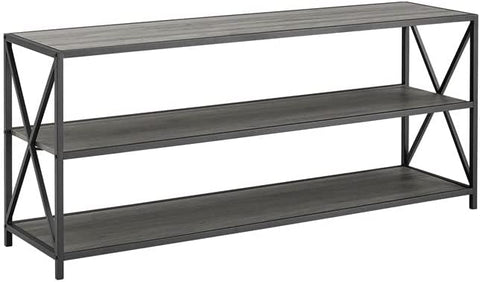 Numerous reviewers who gave this item five stars concur that, despite its branding as a bookcase, it also functions as a reliable and fashionable TV stand. "This is a great little bookcase, very sturdy, a good quality product that will last for a good while. I purchased the black metal with slate grey shelves and it looks perfect in my living room. I bought it as a television stand for a 55" TV and it holds it easily with room to spare. I'm also using the bottom shelves for stereo gear that is fairly heavy and, again, no issues with the shelves sagging or otherwise not being able to handle the load. A breeze to put together, there was no damage to any of the materials when it arrived as some customers have noted. A great product for what I feel is a reasonable price. "

6. Mustard

 

The Lowdown in Lilac
Let's get one thing straight: The Lowdown is adorable. With an industrial-chic color scheme that runs from strong to muted pastels, it elevates the middle-school locker aesthetic, earning points for nostalgia. With this console option, you can certainly put an end to clutter, but if you want to step up your organizational game (and prevent a repeat of the clogged locker incident from loose binders and papers of the tween years), there is a solution for that, too. There are a couple of hooks, wall attachment points, two adjustable shelves that may be divided into two halves, and a cable hole inside. Prior to checking out, we also advise adding the complementary wire baskets to your cart.

7.  West Elm Antique Finish Iron Media Chest
Allow us to introduce you to this rugged TV stand from West Elm if you like a more industrial style. Despite being brand new, it's easy to picture this worn item traveling across oceans and enduring decades on old steamships before it ended up in your living room.
The media console, which has a tarnished nickel finish, is made of durable iron and can support televisions weighing up to an amazing 235 pounds. A trio of glass cabinets with hidden cutouts for cord management and shelves to display a variety of valued things complete the console.

8. Industrial Reclaimed Pine Extra Large 72" TV Stand with Faux Metal Top
Reclaimed pine and false metal combine to give this TV console an industrial look. You have plenty of room to store all your entertainment systems and movies thanks to its extended length, two adjustable shelves. The rear of this item contains wire management holes that make it easy to plug wires directly into your wall and keep your workspace organized. Additionally, it has movable shelves that allow you to fit any type of object. For more space, just adjust the shelves' height or remove them entirely.



 9. VASAGLE Entertainment Center with Storage Shelves
The Vasagle is our runner-up for best Airbnb TV stand because it has lots of storage and a beautiful finish. Even though it lacks an electric fireplace, it still has a stunning appearance. The wood finish gives your living space a touch of elegance and fits wherever. So use this gorgeous TV stand with a vintage style to modernize and renovate your entertainment space.

10. 
The Galway 60" Industrial TV Stand
The Galway 60" Industrial TV Stand with Rivets made by Furniture of America is steeped in industrial style and flair. The rivet adorned drawers blend well with the wooden panel tops and shelving. The pier cabinets have three drawers and a bottom shelf giving them a unique look that breaks the mold. Your media center will be the perfect statement of modern tech, rough and tumble industrial design. 

---
---
0 comments