End tables are the most easily ignored in all the living room furniture since they're always being placed in the corner, which is inconspicuous. But there is no denying that it is essential because they are not only decorative but also necessary for ease and comfort in any space. Mobile phones, journals, pens, side lamps, flower vases, and other items can all be stored on end tables. 
End tables are one of the most affordable and functional pieces of furniture you can buy for your home. They're small, but they pack a powerful punch in terms of utility. What could be more appealing than a piece of furniture that is both decorative and functional? Mid-century modern side tables can aid in the creation of a sense of balance in your space. Here are a few of the best end tables we've hand-picked for you.
Article Amoeba End Table
The lovely Amoeba End Table is "elegant," for lack of a better word, and is meticulously built from solid wood for unrivaled durability, and features tapered legs and a walnut finish. The round top of the simple table has visible knots and color variations for interest. For a simple yet functional design, it is supported by three legs. There are so many details that could withstand the scrutiny of perfectionists.

AWASEN Nightstand Mid Century Modern Side Table with Rattan Drawer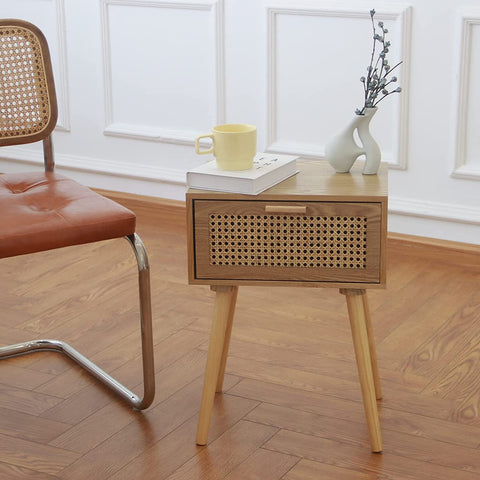 While this table is not made of wood, it comes close: rattan is still a natural material that lends a lovely decorative touch and a flair of minimalist aesthetic to this decidedly mid-century modern end table, which is perfect for any room to bring a modern and fashionable appearance. The ample storage space will accommodate your needs, such as books and chargers.

Castiglia 23'' Tall Solid Wood 3 Legs End Table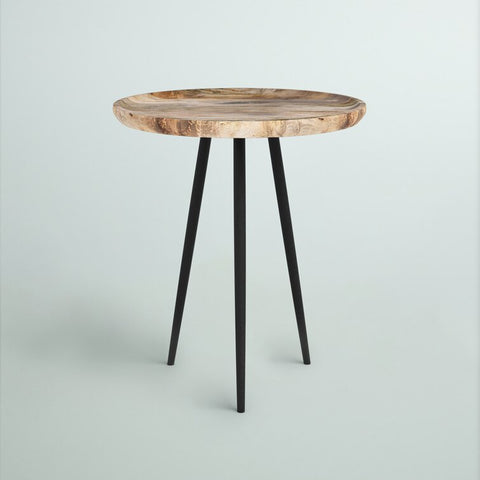 This powder-coated solid wood mid-century modern side table is handcrafted by skilled artisans. It is meticulously detailed and expertly crafted by hand, making it an ideal fit for any modern home. It has a sturdy top that is suitable for storing items of varying weights such as potted plants, lamps, or your iced latte. The metal legs are tapered and angled to elevate those awkward corners. This Castiglia mid-century modern side table is always in style- it's so classic!

Nathan James Hugo Nightstand Accent Rustic Wood Table with Drawer
The Hugo includes not only a drawer for living space necessities, but also a handy leather hammock for storing books, magazines, and throw blankets. Metal accents give the otherwise rustic and mid-century design an eye-catching industrial edge. Everything is constructed from solid, quality material, sturdy metal legs, and a chic leather hammock. With multiple compartments, store your belongings to keep your room clutter-free now!

West Elm Reeve Mid-Century Side Table
Marble lovers will adore this best-selling West Elm Reeve mid-century side table. With a delicate marble top in natural colors and veining variations, the walnut-stained wooden bottom shelves provide ample space for house planters, succulents, books, or your favorite magazines! Its compact size makes it ideal for narrow corridors and tight spaces. The stunning marble top can be decorated with a vintage lamp, flower arrangements, scented candles, and other items.

      6. Orlaith 24.5'' Tall End Table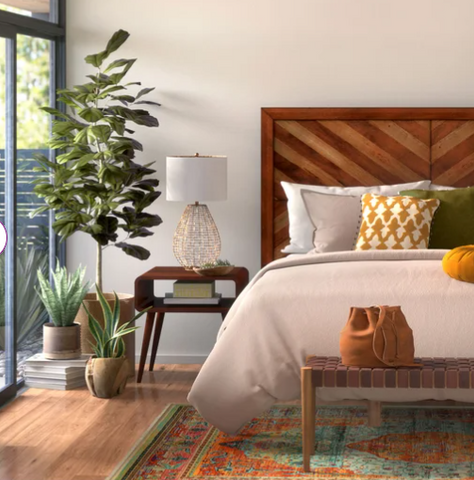 This next item is a stunning and appealing wood side table from Wayfair that you must have in your home. It is the most recognizable mid-century style: it is sturdy and distinctive, with tapered legs, wood grain, clean lines, and gentle curves with minimal design. Keep your favorite books, magazines, or entertainment controls organized by storing them on the open concept storage shelf. This would be one that would be a great piece for many years to come.

      7. Simpli Home Monet Metal End Table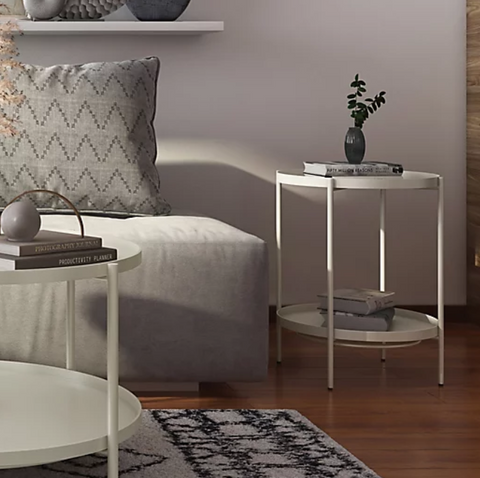 The Simpli Home Monet End Table will give your living room a touch of mid-century modern style. It is made of metal for long-lasting durability and has a removable tray top and bottom shelf for added functionality. Its overall clean lines and minimalistic appearance make it achieve extreme stylish.  

     8. Modrest Jett Modern Walnut End Table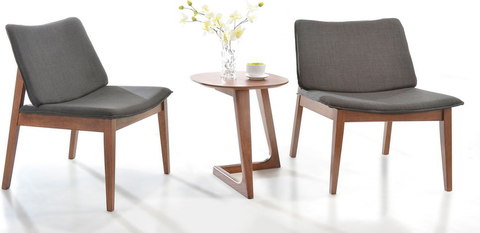 The Modrest Jett Modern Wooden End Table blends mid-century modern and Scandinavian styles. Its rubberwood frame is finished in a fresh walnut tone, and the base has a distinctive and eye-catching V shape. The table with a small footprint doesn't take up too much space. It's a nice and attractive addition to your mid-century mod living room. If you have space in a corner between a lamp, couch, and armchair, this table with its v-shaped legs will fit perfectly.

Terrace Side Table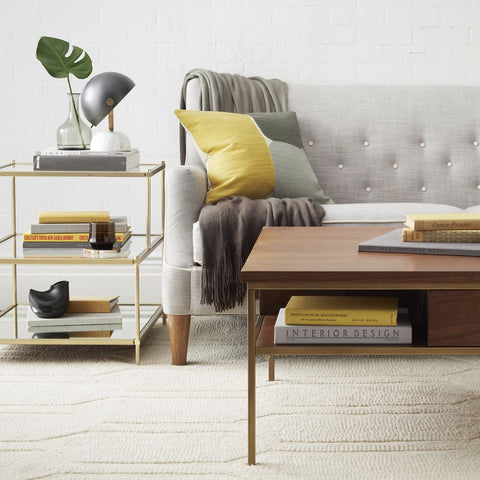 The Terrace Side Table from West Elm is a stunning piece of furniture that you'll never want to part with. Tiered glass shelves appear to float above a mirrored base in this mid-century design. Its refined silhouette makes it ideal for placing at either end of a sofa or beside a bed. As such, it's the ideal showcase for your favorite lamp, books, or trinkets. The handsome, refined piece works as a side table or nightstand and is available individually or in a set of two.

Azevedo 22'' Tall Solid Wood Drum End Table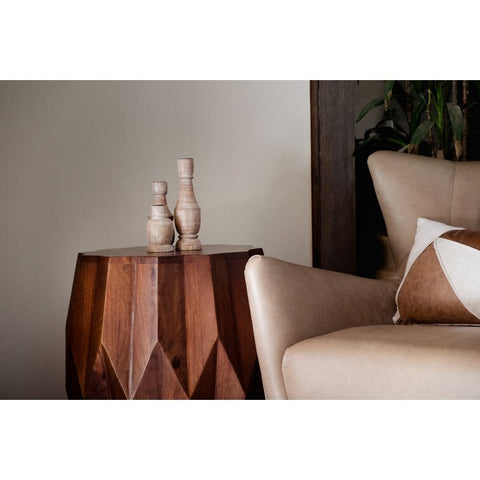 This solid piece of furniture has a geometric shape and a richly colored wood finish, making it a one-of-a-kind and captivating statement piece.
It is made of solid wood and is a carefully crafted table with a perfectly cut frame that is the perfect blend of shape and design. It can be placed between two accent chairs or used as nightstands on either side of your bed to complement the MCM room. It could work perfectly for holding plants or other decor and goes very well with the MCM color scheme. The only thing you should be aware of is that there is no internal storage.

---
---
0 comments