You may enjoy the homey qualities of farmhouse design whether you live on a farm or are situated in the center of a busy metropolis. This is because the farmhouse style is characterized by a combination of rustic and modern components. Creating a room in the farmhouse style involves making it cozy and welcoming while still being efficient and well-kept. When you're in the mood for farmhouse style, you'll want to prepare a hearty feast for your loved ones, bring everyone together in the living room around a stone fireplace, and cuddle up with a knitted throw. Who wouldn't want something like that? Designers discuss the history of farmhouse design and provide advice on how to create a home that is characteristic of the farmhouse style.

In a house designed in the farmhouse aesthetic, ease of access and practicality are of the highest significance. Any room that is designed to seem like a farmhouse needs to be used in the same way, since the concept of a farmhouse is based on the notion that it is a hub around which members of the community may congregate, including family and friends. This is a type of architecture that does not take itself too seriously, and as a result, it is an excellent choice for homes with small children.

Apron sinks and open shelving are two architectural and ornamental aspects that may help bring the farmhouse aesthetic to life. Features that provide a touch of that "worn in" appeal without being too kitschy, such as wood beams on the ceiling or a rustic dining table, are examples of such features. The character may also be added to a room by decorating with antique accessories, such as cutting boards, and artwork that catches the eye. We have compiled a list of the best 10 farmhouse TV stands for your rustic farmhouse living room in 2022 so that you can save yourself some time.
1. Wlive Charcoal Black Farmhouse TV stand
This TV stand, which is made out of a metal frame and particle board, achieves the ideal balance between individuality and functionality, and it is suitable for use in a living room decorated in a rustic manner. This TV console has two side cabinets, each of which may give a great amount of storage space. These cabinets can be used to store audio or video components, as well as games or books. The height of the shelf may be adjusted so that it corresponds with the various sizes of electronic media players. The cable clutter may be kept under control with the assistance of the 55-inch entertainment center's 2 cable holes.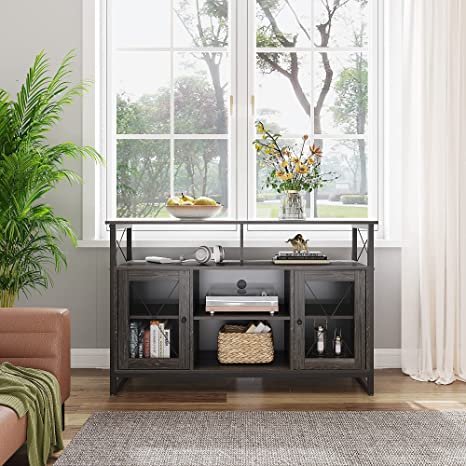 2. OKD Farmhouse TV Stand with Sliding Barn Doors
This barn door television stand is an adaptable furniture piece that can be used in a variety of settings, including your living room, bedroom, and other areas of your home. It is crafted from manufactured wood with a high density, and it has a pair of barn-style doors that slide shut for extra appeal. The metal hardware that finishes off the look completes the look. The cable management slots at the rear help you keep your area clutter-free, and the adjustable shelves provide you room to set up media players and put your collection of DVDs on show. The dimensions are as follows: 60 inches wide by 15.8 inches deep and 33 inches high.

3. 70 in. Navy TV Stands for TVs Up to 78 in.
This extra-wide TV stand measures 70 inches and has one cabinet in the middle that has two doors as well as two open shelf storage compartments on each end. Your audio and video cords will remain tidily organized and untangled thanks to the cable management cutouts. The ranch rustic look it has would go well with the décor you already have. This bald TV stand will provide sophistication to both your living area and your television set.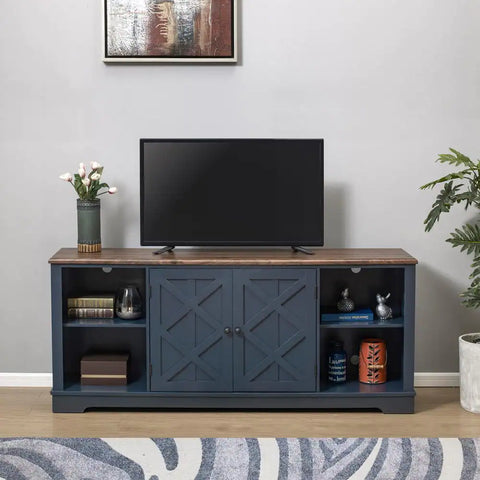 4. Rustic Corner Antique White Metal Corner TV Stand Fits TVs Up to 55 in. with Cable Management
The Rustic Corner TV Stand is intended to make the most efficient use of space in the living room without sacrificing either its functionality or its aesthetic appeal. Built from genuine New Zealand Pine with rough sawn accents, this piece has an ideal degree of weathering that allows it to effortlessly mix in with other rustic, distressed, warehouse, farmhouse, or loft designs. There is plenty of space available in the open cubby that covers the length of the TV stand, making it ideal for housing a sound bar, gaming consoles, or cable box. The design of the huge cabinet allows for a variety of storage choices, which may be used to house extra audio, video, or gaming components, as well as other items. Perfect for flat-panel televisions up to 55 inches. Hardware with a custom-finished black finish. consists of the Lightning Fast Assembly System, which enables quick and simple construction of the product.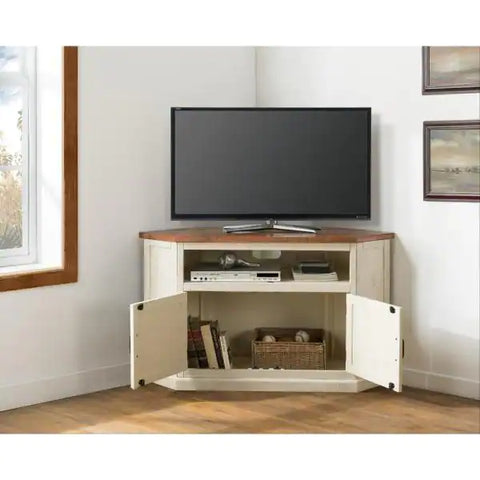 5. Omaha Honey Tabacco Metal TV Stand Fits TVs Up to 70 in. with Cable Management
The Omaha TV Stand is a stunning example of the rustic style in furniture design. Constructed out of solid pine and pine veneers in a Honey Tobacco Aged Distressed Pine finish. This finish has just the appropriate amount of weathering that allows it to effortlessly mix in with other rustic, distressed, warehouse, farmhouse, or loft styles. Two doors in the manner of sliding barn doors that move on a black metal track from side to side. The two side doors each have a metal mesh type aspect to them, which contributes to the overall damaged and rustic appearance. There are a total of four (4) detachable and adjustable shelves located on the inside, allowing a wide variety of possibilities for storing audio, video, and gaming components. Both the main cabinet and any outside cabinets may make use of the cable management cutouts that are supplied for them. Ideal for most flat-panel televisions up to 70 inches and those up to 65 inches.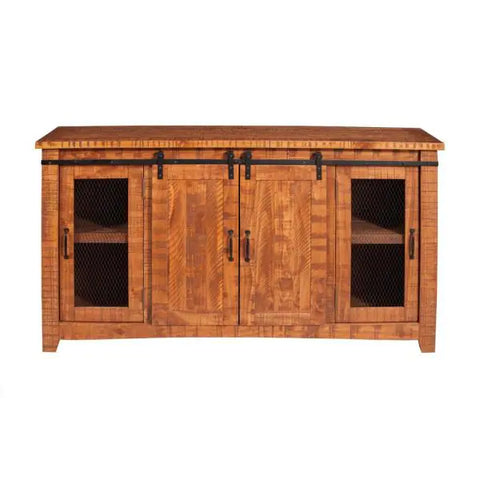 6.Elegant Teal Composite TV Stand Fits TVs Up to 42 in. with Removable Shelves
The Elegant Small Spaces series was created with utility in mind and can be used as a TV Stand, as well as an occasional or accent cabinet in any room in the house. This item has a refined transitional style and a gorgeous painted finish. The design was influenced by design cues gathered from antique markets in Paris. An excellent appearance is achieved by combining several distinct design elements, such as twisted bun feet, finely cast door knobs, architectural moldings, and elegant trellis decorations on the two glass doors. Each component has a touch of wear and tear, and there is just the proper amount of rubbing through at the corners to give the impression that this was something that was passed down through the years. Integrated with the Lightning Fast Assembly System, which enables the assembly to be completed in less than ten minutes. There are several storage solutions available, including possibilities for TV components, games, books, and other items, on one enormous shelf that is detachable and adjustable. Vertical wire management cuts make it possible to have numerous shelf designs while still providing convenient access. Perfect for televisions up to 42 inches in size. Anti-tip kit included for safety. The finished dimensions are 38 inches wide by 32 inches high by 18 inches deep.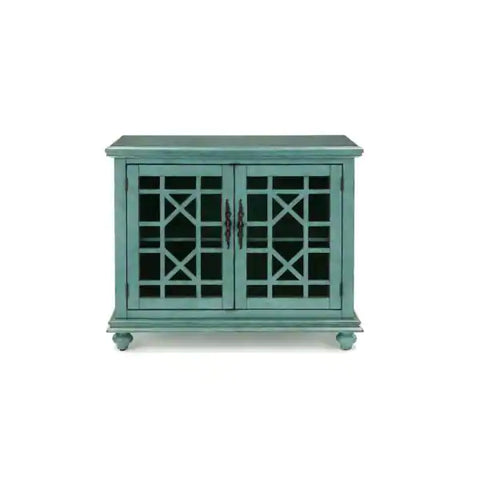 7. 47.48 in. W Carbon Oak TV Console with Fireplace
It's time to watch some movies around this entertainment/fireplace credenza that's part of the Sauder Select collection, so gather your pals, get some popcorn, and get ready to watch some movies. Because it can hold a television measuring up to 50 inches, the TV stand in the living room is an excellent choice for hosting movie marathons that last all day, binge-watching your favorite series, or playing video games with your friends. The electric firebox, which can heat an area of up to 400 square feet, may help you achieve a cozier atmosphere. It comes with remote control and has built-in protection against overheating. Your audio and video gear fits well in the cubbyhole storage, which is great for storing it. You have access to a large amount of space thanks to the open shelf, which enables you to store and exhibit a variety of goods, including framed photographs, colorful plants, organizing bins, and knickknacks. There is a home for every one of your possessions! This TV stand also has a cord management system, allowing you to hide all of your connections and keep everything looking nice and tidy.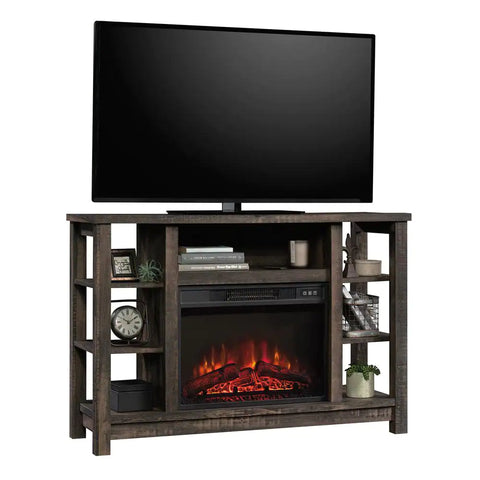 8. Middlebrook 58-inch Rustic 4-Door TV Console
This delightful television cabinet was designed by Middlebrook Designs and has a great combination of rustic and farmhouse themes. With its adjustable shelves and several choices for managing cords, this console makes the process of arranging media components, movies, and games both simple and aesthetically pleasing. Four doors are framed out of tempered glass and have soft-close hinges, metal corner accents, and extended handles. This console is likely to become a favorite in your contemporary farm home if you choose to display it there.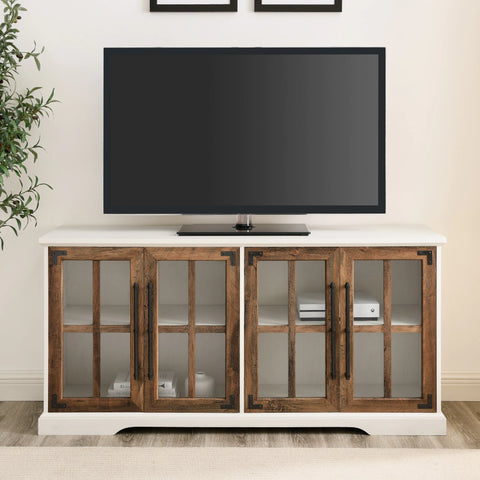 9.Middlebrook 52-Inch Sliding Barn Door Corner TV Console
With the addition of this beautiful 58-inch Corner TV console, you can infuse your living room with a style inspired by rustic farmhouse decor. This console has two sliding barn doors, adjustable shelves, and pre-drilled wire management ports on the back panel. It is constructed of high-grade MDF that is resistant to warping and durable imitation wood grain laminate. This console can handle most televisions that are up to 58 inches in size and is meant to nestle into the corner of the room. This stunning console will give the pinnacle of farmhouse style and serve as the focal point of any comfortable gathering space in your home.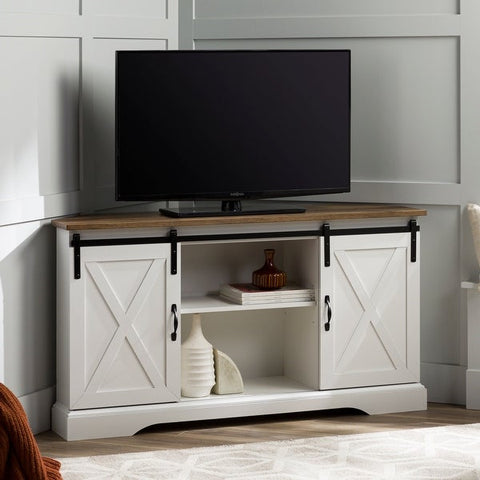 10.Farmhouse Wood 2 Door TV Stand with Storage Cabinet
Choosing colors that are more earthy and elegant might help it fit in better with your home. If you're looking for something that's both stylish and useful, this is your best bet. The socket board, as well as the TV and audio lines, may be neatly stored due to the concealed back panel hole. a sturdy metal frame, a small footprint on the ground, and ease of upkeep

High-quality materials include MDF (medium density fiberboard), which is environmentally friendly, scratch-resistant, and waterproof, as well as having a lovely and useful aesthetic in the home or workplace.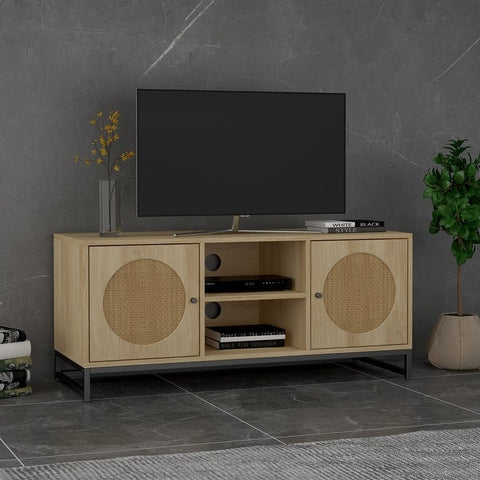 ---
---
0 comments