First and foremost, when I think of the mid-century style, I think of elegance and class. But does this suggest that things are mundane or uninteresting? No! Take a look at these bookcases that we have assembled just for you! You may find practically every kind of wood here, as well as a variety of various bookcase arrangements, ranging from open shelving bookcases to closed sideboards that have bookcase functions built-in. These mid century bookcases together with our coffee table and TV stand reinterpreted with a more stately presence. If you are searching for a fashionable bookshelf for your home, you will love some of these options: compact and dark sideboards that can also double as bookshelves or large open bookcases that can serve as a room divider. Both of these options are versatile and will look great in your space. Have a look at the following for some chic and sophisticated ideas, and pick out something for yourself!
1. Stiles 38'' Ladder Bookcase
Bookcases are versatile pieces of furniture that may show a wide variety of objects in addition to books. For example, if you had an enormous collection of bird miniatures, you might put them on display on a bookshelf, which would be quite convenient. This bookshelf provides enough storage space thanks to its four adjustable shelves and one convenient drawer. This bookcase is constructed out of engineered wood and has an A-frame ladder. It comes in a variety of finishes, allowing you to choose the one that is most suitable for the environment in which it will be placed. When it comes, it will need complete assembly.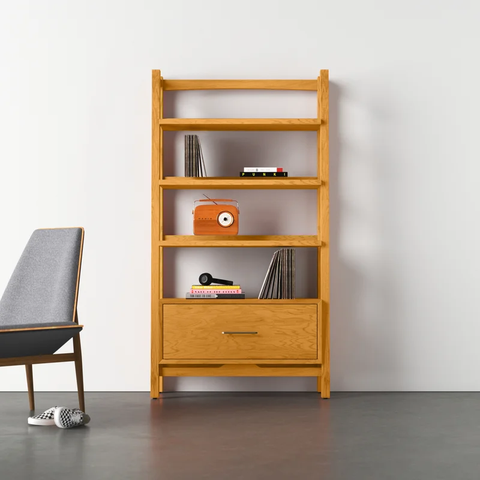 2. Gwyneth 72'' Etagere Bookcase
This bookshelf is likely to be a show-stopper in any room, whether it's decorated in an industrial style or a contemporary minimalist style. The rear of the open-style frame has an X-shaped crossbar and two rectangular supports for added style. The open-style frame is constructed of iron with a copper-black finish. For an aesthetic that is equal parts industrial and old, each of the four shelves is crafted from a single piece of fir wood. Upon delivery, there will be some assembly necessary. Even though it may function as a room divider, the open layout of this bookcase will allow it to appear excellent even in areas that are limited in square footage. This is because it will not visually block off any part of the room.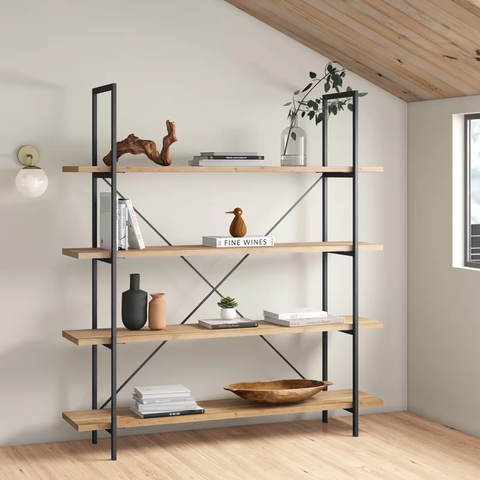 3. Archer Metal Black Accent Shelf
With this Portal Wall Shelf, you can take your easily accessible storage to a whole new level. This spherical metal shelf is a fascinating exhibit in and of itself, and it offers space for you to showcase the objects that give your space its personality. The fact that it has three large shelves and a straightforward design give the impression that it is more sophisticated than it is. Mount on the wall to provide storage for your most treasured books and necessities for interior design. This shelf, which is made of solid iron, is an excellent addition to any contemporary or modern room. You may improve the storage in your house without sacrificing its aesthetic value. Ready to hang. Iron detailing lends an air of understated refinement to this wall shelf. This decorative addition, which takes its cue from the industrial world, will provide your space with a sense of warmth and character.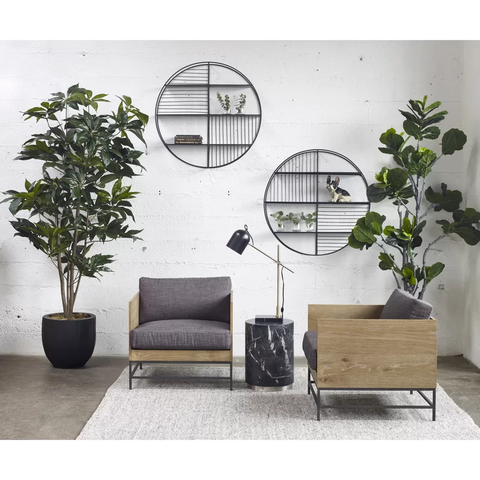 4.Olivia 41'' Solid Wood Standard Bookcase
This bookshelf has a homage to mid-century style while creating storage space and drawing inspiration from vintage furniture. It is constructed out of a single piece of solid wood and has an oval shape with slatted, light-filtering sides. This gives it a complete appearance, but you can still see inside of it. The overall vintage appearance is enhanced by four legs that are slender and tapered and layer in some contrast in the materials used. There are enough books and decorative items over three levels of shelves. This bookshelf has a low profile and is the perfect size to fit into a variety of different settings.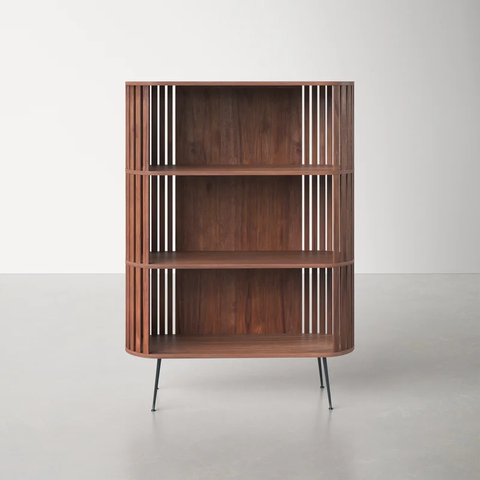 5.Kian 35.4'' Standard Bookcase
Striking caned panel and black wood finish on this mid century bookcase to create an eye-catching retro style that pops in the study room.  Crafted with solid engineered wood, this bookshelf features four tapered dowel legs. The door panels use soft hinges, so they can be closed quietly.  open to reveal four tiers of adjustable shelves, so you can easily tuck away books and other clutter.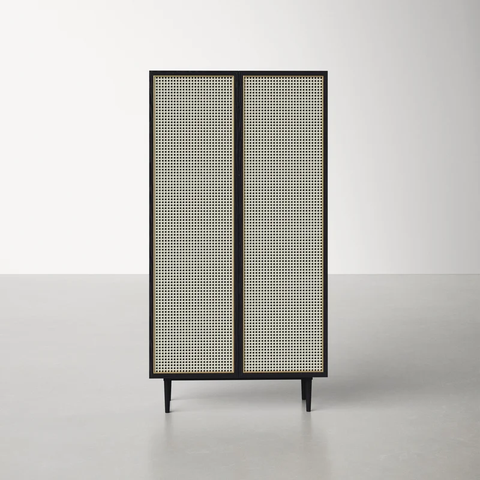 6.Rictu Walnut 75" Bookcase
The Rictu Bookcase, with its cubic sections and doors, that soft-close, helps to organize and maintain the condition of your collections. This contemporary shelf, which has rich walnut veneer and a black metal frame, allows you to showcase the books that give the impression that you have more knowledge while concealing the volumes that you have read (guilty as charged).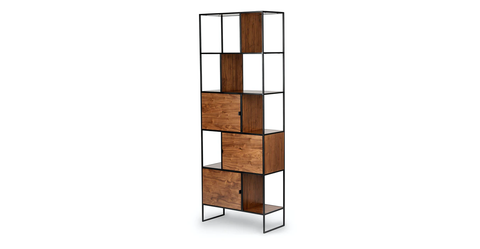 7.Caliper White / Walnut Shelf
The a-shaped frame of the Caliper shelf is made of solid wood from the very top-down, and it concludes with legs that are precisely positioned. You may use the laminated shelves as the ideal location to exhibit everything from your books to your stemware, depending on the person that you are wanting to make a good impression.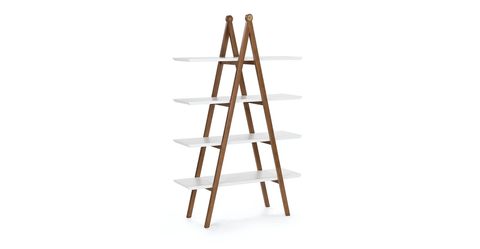 8.SIMPLIHOME Draper Mid Century Modern Wide Bookcase
The Draper Mid-Century Wide Bookcase with Storage is the perfect place to show off your most treasured treasures and books. This item is made from a single piece of solid mahogany and has a mid-century modern style that was thoughtfully combined with practicality. Because it has six shelves and two drawers, the Draper Mid-Century Wide Bookcase with Storage is the best option for satisfying all of your requirements in terms of storage space. Your living room, family room, or home office will have an air of modern sophistication thanks to the tapered legs and warm-toned, medium auburn brown finish. Although every attempt is made to ensure that the colors shown are true to life, there may be some variation in appearance due to differences in computer monitors and photographic techniques. Here at Simpli Home, we are committed to developing products that are of the highest quality and can be purchased at an affordable price. If you are not pleased with any of our items, you can easily return them and get a full refund within the guarantee period of one year.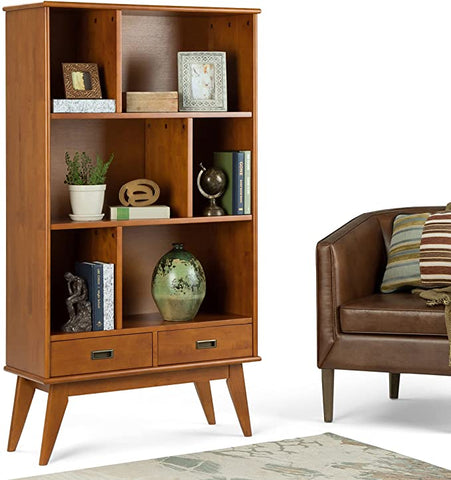 9.Adelmar 51'' H x 15.7'' W Wood Standard Bookcase
This contemporary bookshelf will give your living room, hallway, or bedroom a more streamlined design while also providing you with easy storage options. This bookcase is made of engineered wood and has a neutral finish, making it simple to coordinate with a variety of different styles of interior design. The frame of this item has elegant lines and is created in a vertical position, which saves space. It has four cube shelves that are suitable for storing your DVDs and books. Its simple, straight-lined frame is supported by four flared legs that provide a vintage feel, and the bottom shelf has a wooden door that can be closed for enclosed storage. This shelf has a width of 15.7 inches, making it ideal for use in spaces with limited space.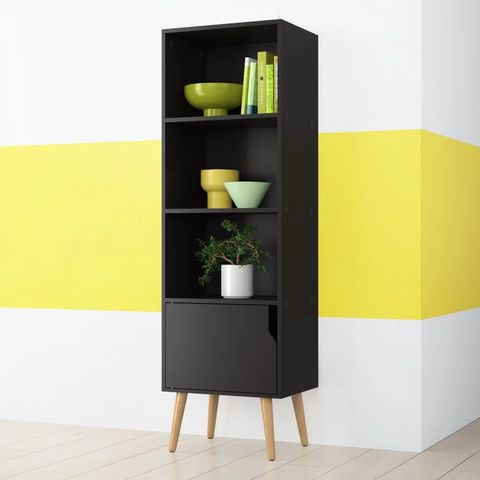 10.Bracken 44.5'' H x 23.75'' W Ladder Bookcase
This wooden bookshelf will help your midcentury modern decor reach its full potential. While the traditional spindle legs keep the overall footprint to a minimum, the bookcase has four shelves of varying widths to house notepads and books. This bookshelf with a walnut finish may also serve as a home bar, and it looks particularly classy when stocked with your favorite liquors and bar accessories. When you put this bookshelf in your home office or bar area, you'll get an upgrade that's reminiscent of the midcentury.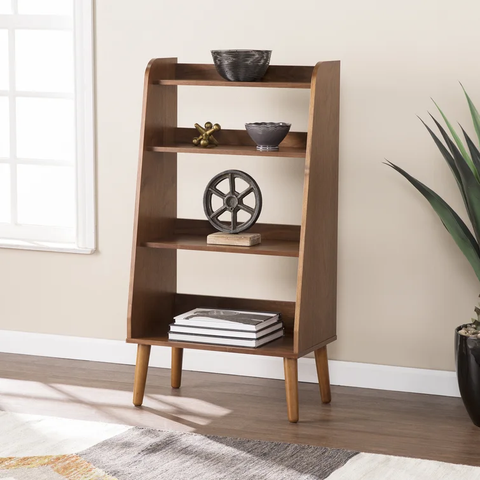 11.Nerbonne 71.5'' H x 12.8'' W Solid Wood Corner Bookcase
This corner storage shelf may be used in a variety of places, including the living room, bedroom, home office, kitchen, hallway, balcony, bathroom, and other areas with limited space such as a corner stand shelf or a compact bookcase or display shelf. A corner multi-layer rack with five shelves. This corner shelf may be utilized in any room of your house, and it has enough room for your plants, books, magazines, and other knickknacks. Make room for everything from a watch to a backpack to a towel. After two years of development, high-quality natural bamboo may be used to construct the primary framework of a piece of furniture. It will help us become more ecologically friendly and renew resources quicker. We can utilize it confidently while preserving the natural world. After polishing, the product has a dazzling color, is mold- and moisture-resistant, insect-proof, and is difficult to distort.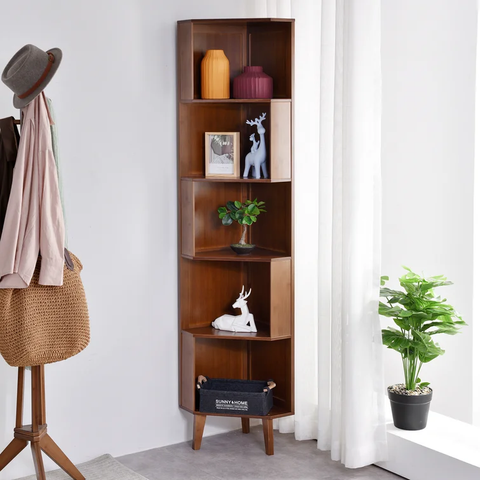 12.Gorski Standard Bookcase
If you have a lot of books, this bookshelf has plenty of room for them to be displayed. Add framed family photographs and other decorative elements to keep it seeming new and exciting. The clean lines and splayed metal legs of mid-century modern design make this item on-trend and let it can readily fit into a variety of settings while still maintaining its practicality and aesthetic appeal.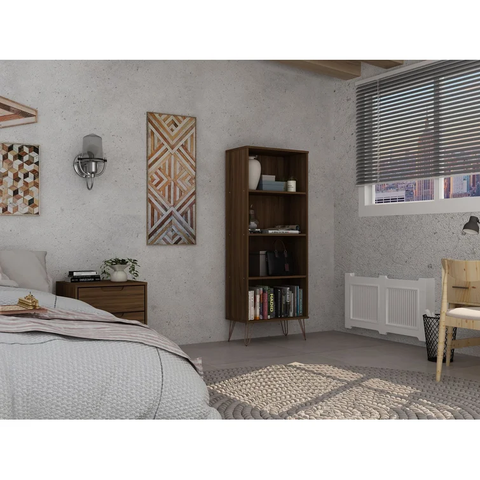 13.Fletcher 34'' H x 34'' W Geometric Bookcase
In a warm hazelnut finish, this one-of-a-kind bookcase will be the center of attention in your house. With six and a half nooks for books or souvenirs, you may add your unique touch to the design. In addition to giving a touch of mixed media to precisely balance this design, the black iron legs provide this item a robust foundation for supporting an astounding amount of weight.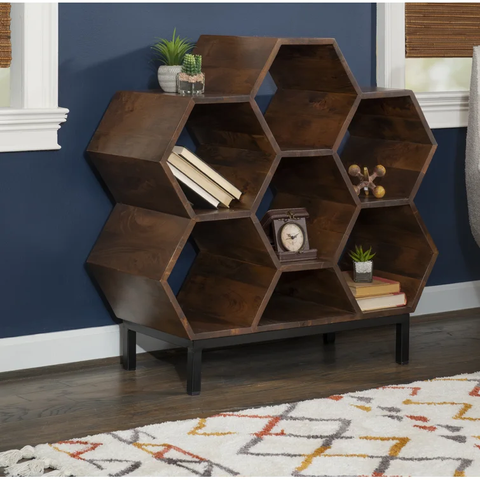 14. Alessandrina 62.9'' H x 11.8'' W Corner Bookcase
For all of your books, magazines, picture frames, potted plants, and other valuables, this 5-Tier corner shelf is ideal. It's a great organizer for keeping your space tidy and accommodating your everyday storage demands. Using a natural wood hue to create a vintage look is always in trend. In addition to enhancing the aesthetics, the added stability and security of the stored things are also enhanced silently. Your storage and display needs will be met by a multipurpose platform that is both beautiful and useful.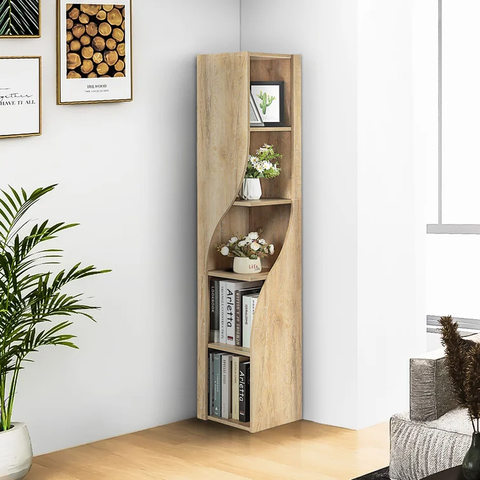 15.Mid-Century 96.5 cm Bookshelf - Acorn
The Mid-Century Wide Bookshelf is a piece of furniture that takes its architectural cues from American contemporary architecture. Its narrow legs and beveled edges are reminiscent of classic furniture shapes from the 1950s and 1960s. It is a functional storage item that is ideal for the living room or the study since it has three roomy fixed shelves as well as a drawer.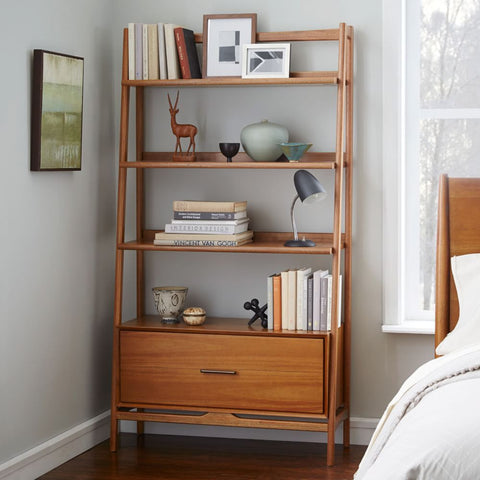 ---
---
0 comments