For the foreseeable future, southern homes will continue to include ceiling fans. Several architects and designers have been attempting to do away with them for some time now. But thanks to Joanna Gaines' ceiling fans on Fixer Upper, we now know that we can utilize them when the weather is really hot for around eight months out of the year.
Greetings, southern states! We simply let out a huge sigh of relief as a group. Fortunately, we are allowed to retain our cooling devices indoors or outdoors with patio set; anyway, look how adorable they are!
1. DIDIER 21" Low Profile Caged Ceiling Fan with Lights Remote Control
This fan in the shape of a drum is beautiful and comfortable from any angle. The metal mesh cage looks excellent with a matte black finish and rustically painted blades. This beautiful and functional design makes it a great addition whether your style is an edgy urban loft or modern country. This item should win a prize for its design. It's incredible how simple it is to design, build, put together, and read the instructions. It's well thought out in every way. Because the fan blades are so light, the motor can run at high speed. But it moves a lot of air because the fan blades can spin so fast and don't wobble because of where their center of gravity is located (stubby, short blades). This is one of the best things I've ever bought.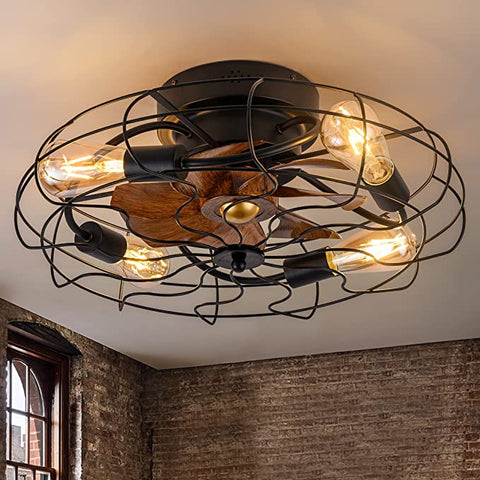 2. Springer Collection 60-Inch 12-Blade Distressed Walnut Coastal Windmill Ceiling Fan, Bronze
This fan looks great. Pretty easy to put together and install. It is hushed and has zero wobble - no balancing needed. Delivery was fast, and the description was spot on. I've only noticed that it is "smart," so when I start it up with the remote, it seems to hesitate for a second or two, even briefly reverse direction a time or two, and then it gets going. No quirks after startup, which is a minor thing, almost amusing! Probably has to do with intelligent sensors inside. We keep the speed set at speed 1, which is not that slow. Speed 2 is between a 2 and 3 on a 3-speed fan. The rods are decorative and add a nice touch. If you're thinking about a windmill fan, this is the one. It helps to have an assistant as you are attaching the blades. Otherwise, it's an easy install.


3. Hunter Fan Company 50409 Hunter Rustic 52 Inch Starklake Indoor or Outdoor Ceiling Fan with 3 LED Edison Bulbs
The industrial farmhouse style of the Starklake ceiling fan makes it the best choice for rustic indoor and outdoor spaces. This fan has five blades and a WhisperWind motor with three speeds. It also has energy-saving Edison LED bulbs and blades that can be turned around. It can stand up to rain and other outdoor conditions while giving your porch or patio the perfect look.
A few things you should know before you buy this fan: - It doesn't come with an extension rod. So, you will need to buy one if you want to put it on a vaulted ceiling. I could run to my local hardware store and get another one. It didn't even have to be the same brand.
- The light's covers are made of plastic, not metal, so be careful not to break them when you handle them.
- When the fan is in the box, the screws that hold the fan blade covers on can be hard to get out. This keeps the unit from spinning. If you find one that is hard to get out because the fan is spinning while you try to break it loose, I would suggest attaching a fan blade to the other side and using it to stop the fan from spinning, giving you more leverage.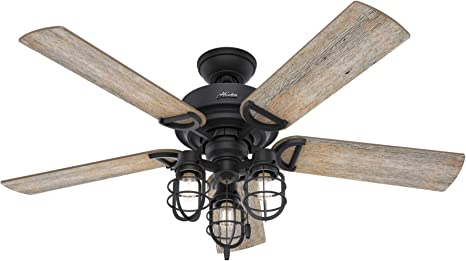 4. Ceiling Fan with Lights, Farmhouse Ceiling Fan Light Caged, IYUNXI 18" Industrial Flush Mount Fan Lights Ceiling Fixtures Vintage Bladeless Ceiling Fans Remote Control Bedroom 6xE12 Bulb Base
Compared to a traditional heavy-duty ceiling fan with lights and remote control, this low-profile fan and lamp 110V has more safety features. The wind is vital because the motor runs smoothly. The fan can be set to three speeds: high, medium, and low. A ceiling fan without blades that has a light helps bring fresh air into your home and keeps your family healthy. You can't even imagine how beautiful the way light and shadow are mixed on the ceiling is. You can put in 6x candle-style Edison or LED bulbs with a US E12 bulb base. They are easy to replace, but other small LED ceiling fans with lights can't replace the light source.

5. CLUGOJ 52" Ceiling Fan with Lights Remote Control, Outdoor Wood Ceiling Fan, Reversible Silent DC Motor, and Matte Black
3-blade modern ceiling fans are more aesthetically appealing and suitable for today's modern homes, with dynamic blade balance (more pleasant than 5-blade).
This 3-blade fan also has 6 speeds, can move more air (max CFM> 5,250), ceiling fans are 14.1 pounds lighter, and it doesn't need to consume as much energy, which can help you reduce energy bills.
The included remote control allows you to operate this ceiling fan without leaving the sofa.
Easy, 1-person setup. The instructions were not clear, but the pictures were enough for me to work out the installation. Just added to the time required. It's beautiful, stylish, and very functional. The three different light settings are a nice touch. Quiet at low fan speeds (<=3), but even higher speeds are not too loud. One disappointment was the setup did not allow for separate wall switches for the fan and light. Even though the house was wired with separate switches, the remote is key for control, so don't lose it!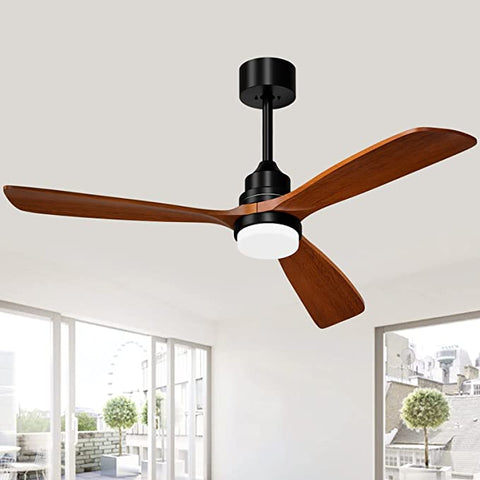 6. QUMFIXPU 20" Round Flush Mount Ceiling fan with Lights, Modern Dimmable LED Low Profile Fan, Hidden Reversible Blades
This QUMFIXPU 20" modern thin ceiling fan has 5 invisible ABS blades, a 6-speed reversible motor, an iron lamp body, a dimmable LED light kit, and a beautiful crystal Acrylic shade. A portable remote controls both the fan and light.
Our tiny fan's safer design and nightlight mode make it ideal for indoor or outdoor enclosed environments.
We loved this fan since it's near to the ceiling. Traditional fans from home shops made our ceiling seem low. Cheaper versions needed strange batteries (this takes 2 double A). This remote looked best in photographs. It switches the fan's direction (to cool or heat). If you keep the fan on at the switch and constantly use the remote, the light and fan settings stay the same. Using the light switch resets it. This review beat others. Installing and pairing was straightforward. Although the lowest level appears quick, it's pleasant and not too forceful. This fan is variable-speed. Brown looks well with bronze. The fake crystal shade looks fantastic with glass/crystal doorknobs. People also liked their customer service, and I agree since they answered my issue quickly.
Despite having a button (which makes it brighter), the night light stays on while running the fan. Only the switch can turn off the night light, thus you can't operate the fan if it's off. If you attempt to turn it on at night, everything is bright. This shot isn't as brilliant as the night light in our blackout-shaded room. If other lights are on, you won't see it, but in the dark, it shines brightly enough to see everything, even if the fan is off. Some may like this. My husband sees a flying spaceship disturbing his night. It doesn't wake us up like our luminaire candles when we keep the timer on longer. Other than that, everything is great. We hope they have more great looks in the future. We'd buy this fan again despite the spaceship shine.
Much nicer looking than the large fans found in home stores, with the same wonderful functionality.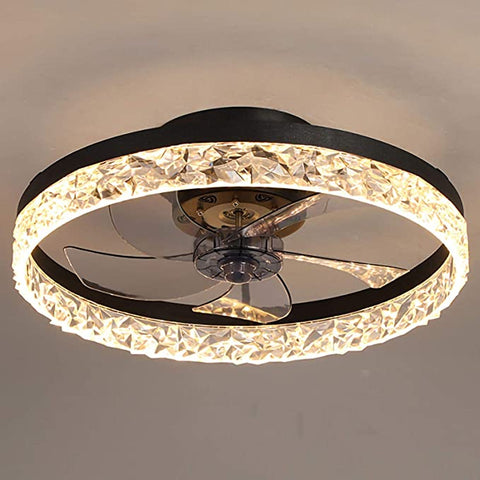 7. Big Ass Fans Haiku L Smart Ceiling Fan, 52", Caramel/Black
The award-winning, stylishly built Haiku L by Big Ass Fans provides both powerful airflow and remarkable efficiency. This 52-inch ceiling fan is available in matte black, glossy white, cocoa finish, and a caramel finish, bringing a touch of contemporary elegance to any room. With an inbuilt LED and 16 brightness levels, the light output can be adjusted to suit any situation. You may choose from ten distinct control settings, including fan speed, timing, sleep mode, and whoosh mode, which replicates natural breezes. The light and fan may be operated with the supplied remote, the free mobile app on your smartphone, or by voice with an Alexa- or Google Assistant-enabled device. Each Haiku L has airfoils that are precisely balanced and sound-tested to ensure that your fan will never shake, rattle, or click. The Haiku L from Big Ass Fans is a stylish and practical comfort solution for any environment. Haiku L ceiling fans need an active grounding wire, which may not be present in residences constructed before 1950. This product is only intended for indoor usage.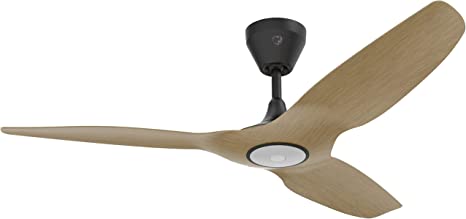 8. Ohniyou Cage Ceiling Fan with Light, 21 Inch Farmhouse Low Profile Ceiling Fan with Light Remote Control
Farmhouse-styled, clever ceiling fan with a caged design. Beautiful and spacious loft-style semi-open layout. The metal mesh cage is complemented by the rustic painted blades and matte black finish. Whether you're going for a trendy urban loft or a relaxed contemporary rural look, this attractive but practical design will fit well. Great band, great light, great kitchen fan. The one letdown is that it cannot be dimmed as claimed; but, if you also purchase smart lights as I did, you can have Alexa control it; however, you will need to keep the light switch on at all times.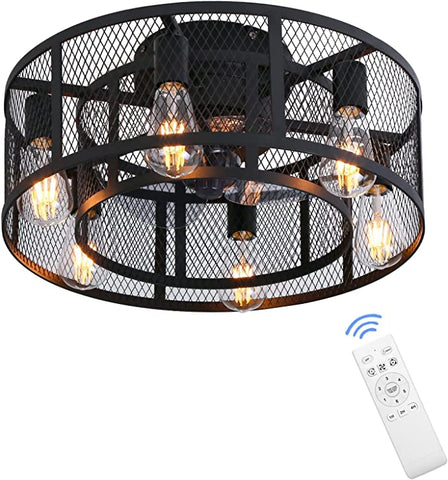 ---
---
0 comments