Adding multiple sources of lighting to your room (such as floor lamps and table lamps) is a tried and true way to make a space feel cozier. Lighting has a significant impact on how a room feels by adding character and style to the space.
The addition of a floor lamp is one of the simplest ways to add a touch of farmhouse flair to your home. If you're looking for affordable floor lamps to light and style your home, these ideal modern farmhouse floor lamp options are perfect for you!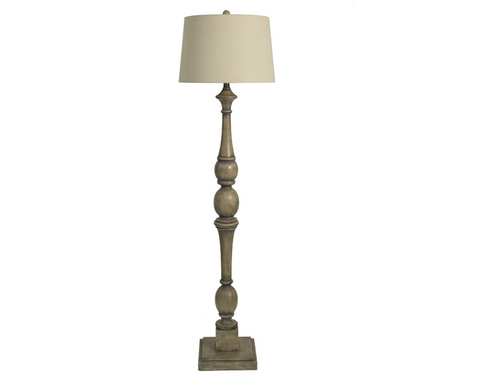 Decor Therapy's farmhouse floor lamp is a lovely floor ornament made of alloy steel and has a warm washed-out gray finish with a natural linen hardback shade. The stand can support a 150-watt incandescent bulb. With a sturdy lamp base, itself was heavy enough to avoid tipping over. With this gracefully sculpted Distressed Baluster Floor Lamp, you can bring vitality to the dull corner of your living room or reading nook. This item has received 4.4 out of 5 stars from 708 buyers. "Well made, easy to assemble. Shade is a tweed-like neutral color with goes great w my darker wood decor", a comment from one of the satisfied customers.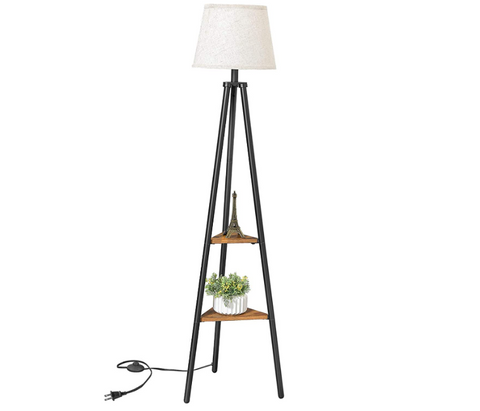 Turn on the light, curl up in bed or on the couch, grab a book from one of the shelves, and watch your child become engrossed in their imagination as you read together before bedtime beneath the radiance of this standing lamp. We adore furniture with dual functions, and this deftly designed piece combines lighting with useful shelf storage. The black steel tripod base holds two sturdy shelves that we found ideal for housing our current reads and those specs we keep losing, as well as a trailing house plant to bring the piece to life. Vasagle floor lamp got a high rate core at 4.6 out of 5 stars from 688 ratings. It was commonly considered that this lamp was easy to assemble and serves its purpose. You could have it in a corner of your living room and be able to place small succulent plants on the little shelves. It has a nice modern look and was worth the price.

Traditional does not always imply dull or outdated. Take the venerable floor lamp by Kenroy Home as an example. This floor lamp has a brushed-steel finish and a linen lampshade, both of which draw inspiration from Art Deco style but are adjusted with a modern sensibility. Dual pull chains are used to control the brightness of the dual bulbs, which can be turned on and off simultaneously or independently to provide a dimmer or brighter overall light. A 100-watt incandescent bulb or its LED equivalent can be used in each socket.
With a height of 5 feet, this lamp can be used as a focal point in a living room, office, or bedroom. Although it looks great in traditional settings, the bronze finish also works well in rustic settings to blend with your farmhouse interior style. We believe that this lovely lamp is ideal for those who prefer simple decor.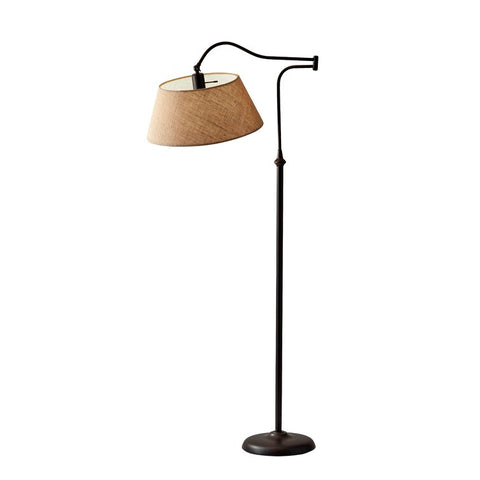 Previously relegated to hotel bedside tables, swing arm lamps have gained popularity in our homes and hearts due to their elegance and adaptability. These lamps are a great option for placement over nightstands, next to reading chairs, and close to desks at workstations because they can direct light anywhere. This swing arm floor lamp has a vintage and rustic look but is just as useful as any of our other suggestions. It's made of stainless steel and sits on a circular base with a curved arm on top. A burlap empire shade adds ambiance and houses one lightbulb inside.
"Beautiful floor lamp, love that it has the ability to adjust lighting and with the lamp shade, it throws off a warm light that is very pleasing to the eye." There are many such comments among the more than 900 reviews. Thus it can be seen that its swing arm makes it perfect to be put in a studying corner or beside your bed, in which you could modify the attitude of the lights regularly.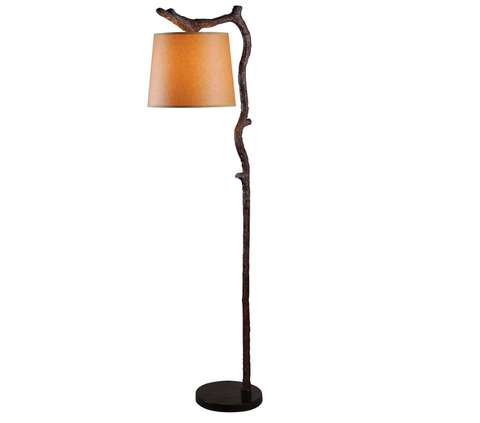 This Kenroy Home farmhouse floor lamp is a gorgeous addition to any room with its bronze branch-like finish and tan oil-paper shade. Its hardened resin construction, bronzed finish, and oil paper shade give your lodge-themed living space a lovely organic accent and whimsical flair.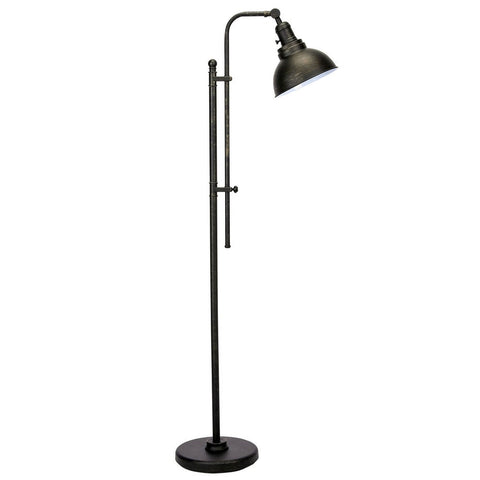 This antique-inspired floor lamp in aged bronze will provide the perfect glow for your modern farmhouse style. This vintage floor lamp is easy to fall in love with because it is space-conscious and lightweight while still delivering on-trend style and illumination. From the lampshade to the base, every detail of this lamp is consistent with its overall style, delivering a rustic and vintage vibe. This lamp is made entirely of metal before being slightly distressed and finished in aged bronze with gold highlights hand-painted by experienced artisans. The height could be adjusted from 55"-65" H to just the height to use as a reading lamp next to your bed or couch. It could also go well with any other interior style.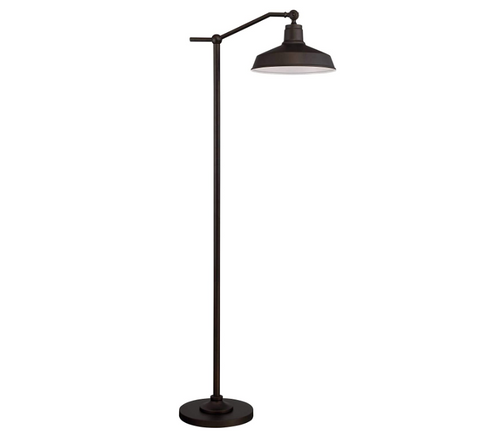 Down bridge floor lamps shine downward and are ideal for reading or task lighting. Because it casts a pool of light onto your work or page, this design is ideal for placing next to a chair. The Kayne Modern Farmhouse Downbridge Style Task Floor Lamp is for sale. Its Satin bronze finish adds texture and interest and is appropriate for traditional, rustic, and eclectic styles. The stand employs the A19, which has a maximum output of 60 watts. This one has received 4.6 stars out of 5 from 194 customers.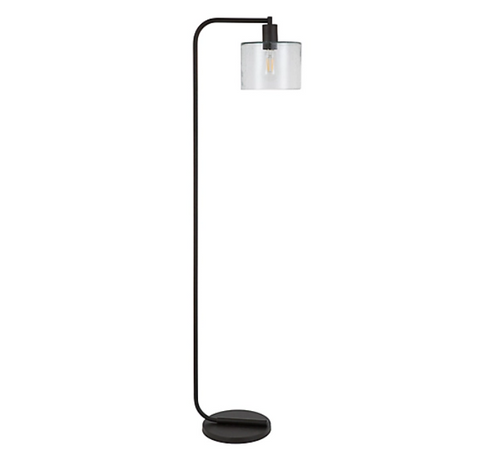 In the world of interior design, copper is currently very trendy. It's a great metallic to add to a space to add some warmth while also making it look stylish and modern. Here is a gorgeous floor lamp with a whimsical copper shade and a bronze post. Let this lamp's appealing combination of curves and angles stylishly illuminate your space.

---
---
0 comments