A filing cabinet is an extremely important tool for office employees. A filing cabinet is an ideal choice for a work-from-home arrangement, a shared workplace, a co-working space, or a large office because it occupies a small floor space, is spacious for your possessions, and is safe with a lock and key system. A compact home office filing cabinet may be the best buy you make for your office because it eliminates most of your workplace clutter, accommodates your office supplies, and even maximize the extension of your desktop. And we are all aware of how important it is to have a clutter-free desk to have a productive mind. These days, file cabinets are excellent for both simplifying office organizing and enhancing the aesthetics of your home office. You may need to choose the best small cabinet organizing ideas and small office file cabinet designs that work for the type of work environment you want to create. Below, you'll find a selection of our favorite inexpensive and practical file cabinets. For all of your organizational requirements, you can discover the ideal one.
Best for Small Offices:DEVAISE 2-Drawer Wood Lateral File Cabinet with Lock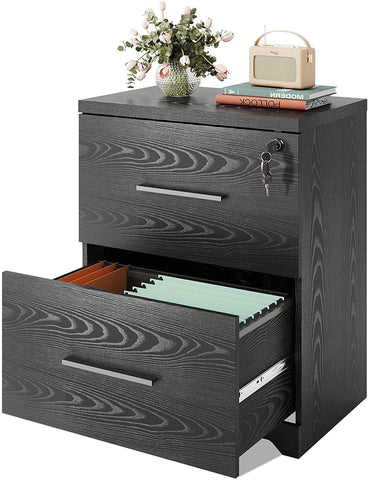 You don't have a large home office, do you? Well, you're in the right place. This 23.6"W x 15.7"D x 29.3"H compact piece allows you to keep private data without taking up the entire area. Letter, legal, A4, and legal size hanging file folders can be stored in the two spacious drawers with detachable dividers. These filing cabinet drawers operate smoothly and open entirely thanks to high-quality full-extension slides. Hence the contents of the drawers on the back are easily accessible. It conveniently fits next to your desk or in a compact nook. You can also use the extra surface for a printer or scanner since there is enough room on top. This wood file cabinet gives maximum flexibility and is anti-tilt by allowing only one drawer to be opened at a time. Furthermore, if you're serious about your files, these heavy-duty drawers lock, keeping your paperwork safe and secure.

Best for Versatility: Sauder Costa Lateral File Cabinet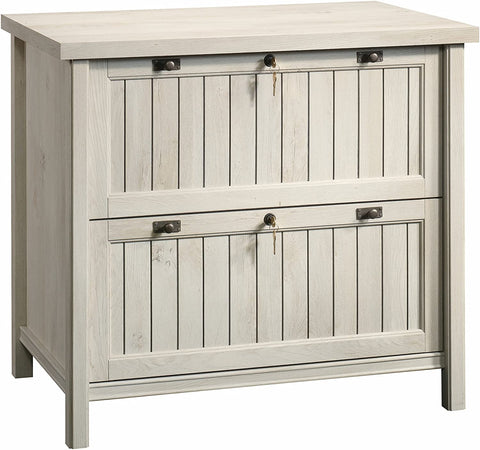 If you prefer something less office-like and more adaptable,  this file cabinet blending style and function together is for you. With a contemporary outline and slat-front detailed design, you could use this item to update your decor in an office or even a corridor. This lateral file cabinet has full extension slides and can accommodate letter or legal-size hanging files. We are always concerned about your safety, this is why this two-drawer file cabinet features a proprietary, interlocking safety mechanism that allows only one drawer to be open at a time. Furthermore, both drawers have a lock for secure document keeping. It truly is the ideal component for all of your storage requirements. This cottage-inspired, legal-size lateral file cabinet, finished in Chalked Chestnut and detailed with a sophisticated, framed, slat-front, will look stunning no matter where it exists.

Best for Storage: DEVAISE 3-Drawer Wood File Cabinet
We were drawn to this cabinet on account of how much storage it provides. The open storage areas, file drawers, and storage cabinet in this file cabinet are intended to keep office supplies, print paper, and piles of files organized. It may be secured to the edge of the desk or beneath it. Its simple design makes it both utilitarian and elegant, which goes well with the study or home office. Your printer or scanner may fit on the roomy desktop, and the open storage shelves make it simple to divide the space into several uses. Letter-size file folders, paperwork, and periodicals can all be hung in the filing cabinet. For easy file access, the drawers from the cabinet can be simply removed. The file boxes include portable handles that allow you to empty the entire drawer and may be used to store the folders horizontally for convenient access.

Best for Long Time Use: Scalzo 15'' Wide 2 -Drawer Steel Vertical Filing Cabinet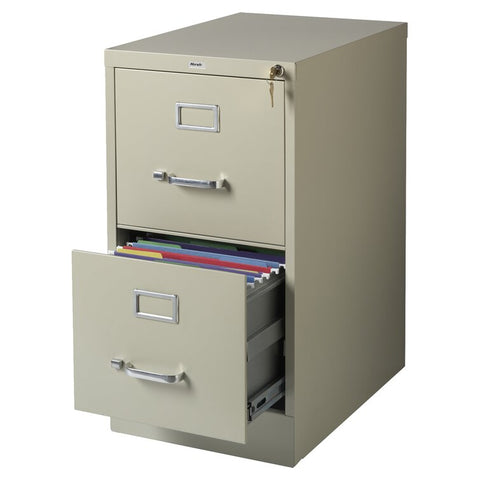 The fact that metal file cabinets from the 1940s can still be found at markets and antique shops is proof that they are durable. They are made from commercial-grade steel, which has the same level of durability as those old-fashioned filing cabinets. With the help of this crucial filing cabinet, reduce clutter while keeping those crucial documents secure and arranged. There are two roomy cabinets in this storage unit, and they both include ball-bearing glides for effortless opening and closing. A detachable lock is also included to protect your confidential documents.

Best for Commercial Use: Lorell 4-Drawer Vertical File Cabinet

Drawers are piled on top of each other in a vertical filing cabinet. Drawers in this sort of cabinet are often deeper than they are wide or tall. It is a traditional filing cabinet that is perfect for minimizing floor space. This commercial-grade file cabinet has four high-sided drawers and provides adequate capacity for letter-size filing. It was capable of hanging file folders without the use of any other accessories. Steel ball bearings ensure a smooth, silent drawer operation. These drawers open easily, even when completely laden.

Best For Confidentiality: Devaise 3-drawer Mobile File Cabinet with Lock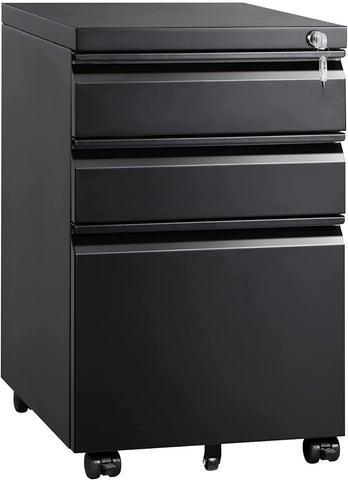 In terms of privacy, this choice is ideal if you wish to take extra precautions. Your workstation will feel well organized and well-planned thanks to the elegant item that fits underneath your computer desk. The sheet metal is thicker than the metal file cabinets you see at Wally World. There are no drawer pulls to worry about installing or breaking, since the sheet metal is factory press molded into handles and the width allows for easy front hanging of letter file folders after the spacer bar is inserted on the right.
Its innovative interlocking technology secures all of the drawers with a single lock and two keys. To put it another way, no one is getting in. The filing cabinet has one removable hanging bar and can handle letter, legal, and A4 hanging file folders through free adjustment. Furthermore, the drawers glide smoothly on ball bearing glides and fully open to the end stops, preventing them from spilling out onto your toes. With wheels, you may easily move the cabinet around your office or bedroom. When the drawers are fully extended, the 5th wheel at the front prevents them from tipping over.

Best for Home Office: Sauder Costa Lateral File Cabinet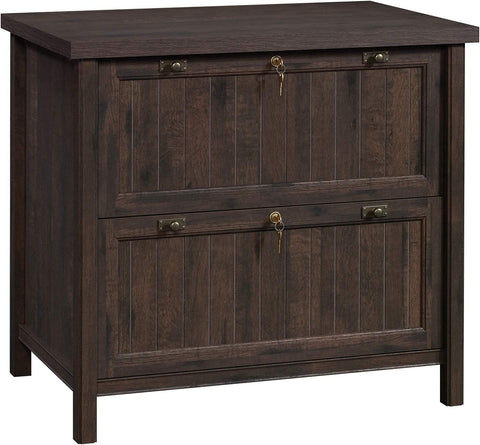 To keep all your files and paperwork organized, the Sauder Costa Lateral File Cabinet has two sizable drawers with full-extension slides that take the letter or legal-size hanging files. Additionally, it has a proprietary interlocking safety system that restricts the opening of more than one drawer at once. To store valuables and essential documents safely, each drawer has a locking mechanism. This filing cabinet looks fantastic in every room of your house, including the living room, office, foyer, and even the bedroom, thanks to its farmhouse-inspired charm. No matter where it is placed, it looks good! This lovely side file provides your home with the flair and functionality it requires. It is finished in Coffee Oak and embellished with framed clapboard front doors.

Best for Low budget: DEVAISE 2 Drawer Mobile File Cabinet with Fabric Dresser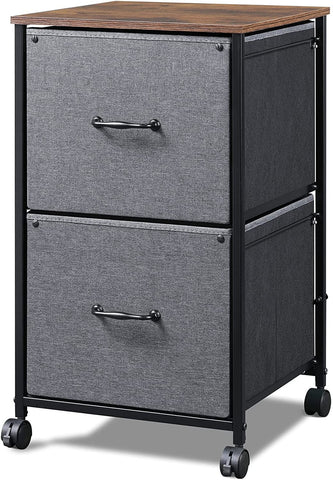 When starting a business, I would recommend using this before upgrading to a larger office-style cabinet. If you're a student and just want to organize your bills and personal documents at home, this is also the ideal option. The Devaise cloth file cabinet takes up very little space and is portable enough to move about your home office with ease thanks to the wheels. The stability is guaranteed by the robust steel frame and wooden top. The drawers are foldable and have a bottom that you fit into the drawer when you extend it. With two file drawers for A4 / letter size hanging file folders, the Vertical filing cabinet can hold huge volumes of files while taking up little room, potentially increasing productivity via decreased clutter and quick access.

---
---
1 comment